Forget Packaged Beef Jerky: Here's How to Make Your Own (Healthier) Version at Home
Making your own beef jerky is super easy – and way healthier than packaged products. Follow our step-by-step recipe to create a savory, flavorful jerky that's also clean.
Heading out the door? Read this article on the new Outside+ app available now on iOS devices for members! Download the app.
Salty, crunchy and a little chewy – beef jerky is the ultimate snack. It has all of our fave qualities covered, from texture to rich flavor to satisfying protein. But unfortunately, the convenient ready-to-eat packages of jerky found in the aisle of your local supermarket are loaded with preservatives and additives to make this meaty snack more shelf-stable.
Don't give up on beef jerky yet, though. It's surprisingly easy to make right at home, with no special equipment required. You don't need to have a fancy dehydrator or a specialized smoker; with your oven alone, you can turn strips of store-bought beef into perfectly crisped strips of jerky.
While jerky might seem like a specialized food, it's actually pretty straightforward. It's made by stripping out all of the moisture hiding in a cut of beef. And, with your oven at just the right temperature, you can dry out meat over the course of a few hours. Worried about getting the flavor just right? We've got you covered. An easy marinade made with deeply flavorful ingredients like Worcestershire sauce, soy sauce and all of your frequently-used spices (garlic, onion and pepper to name just a few) will infuse your homemade beef jerky with layers and layers of delicious crave-worthy tastes.
Just follow these 6 easy steps, and you'll have a stash of beef jerky you can snack on for months.
Section divider
What you'll need
Plastic wrap
Cutting board
Chef's knife
Whisk
Measuring cups (up to 2 cups in size)
Zip-top bag
Large baking sheet
Paper towels
Foil or a reusable drip pan
Skewers
Dish towel or wooden spoon
Cooling racks
Airtight containers (for storage)
Section divider
The recipe
Step 1: Slice beef into strips
If using a large roast or steak, slice beef into 2 or 3 equal pieces. Wrap beef in plastic wrap and place in freezer for about 1 hour to ease slicing. Remove from freezer and transfer to a cutting board. Using only the tip of a chef's knife, slice beef along the grain into equal ⅛-inch-thick strips.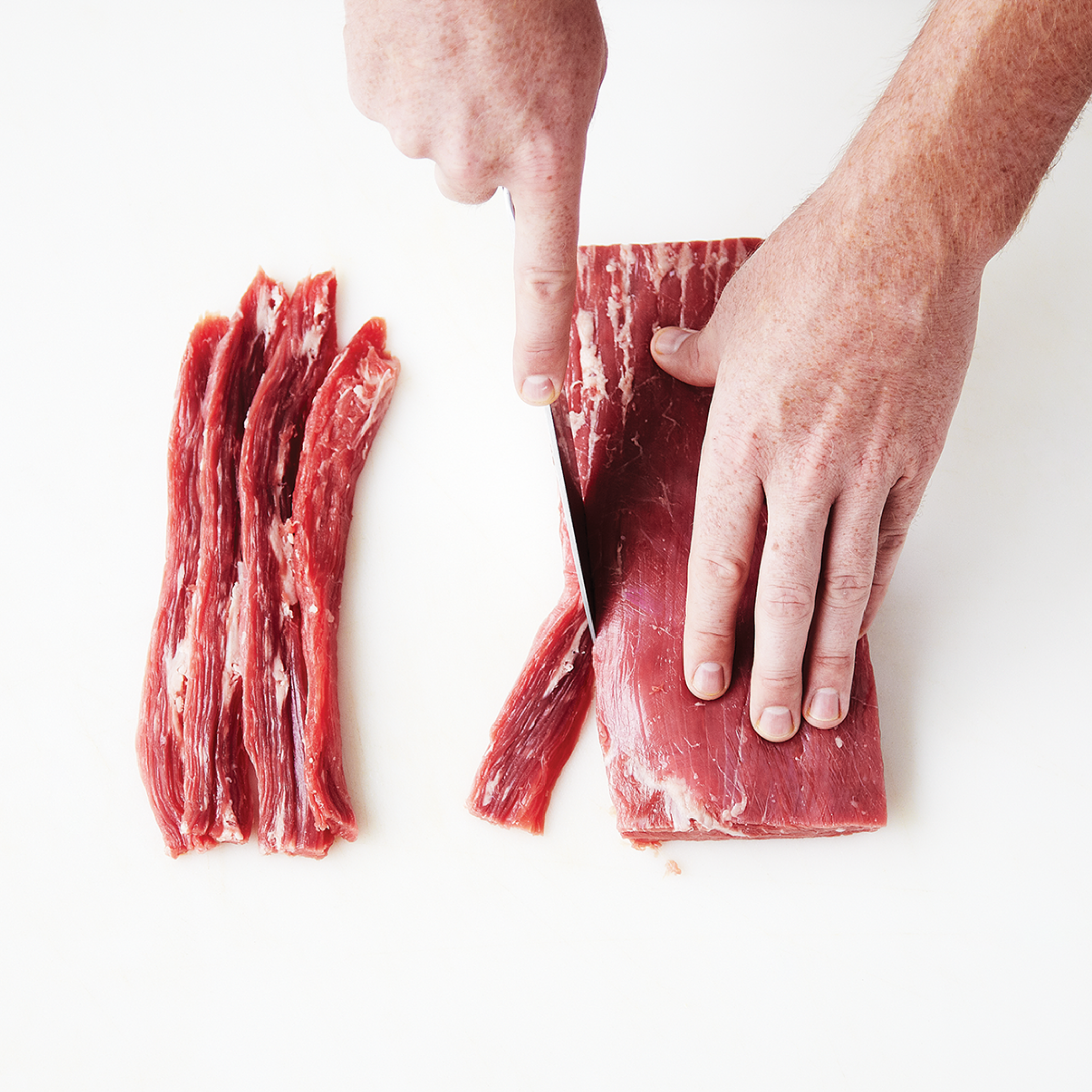 Step 2: Make your marinade
Meanwhile, prepare marinade. In a 2-cup measure, whisk remaining ingredients and, if desired, paprika, until smooth.
Transfer beef to a large, heavy-duty zip-top bag. Pour marinade into bag, seal tightly and turn to coat beef. Lay flat in refrigerator and marinate for 3 to 6 hours, turning bag 1 to 2 times (NOTE: Don't marinade for more than 6 hours).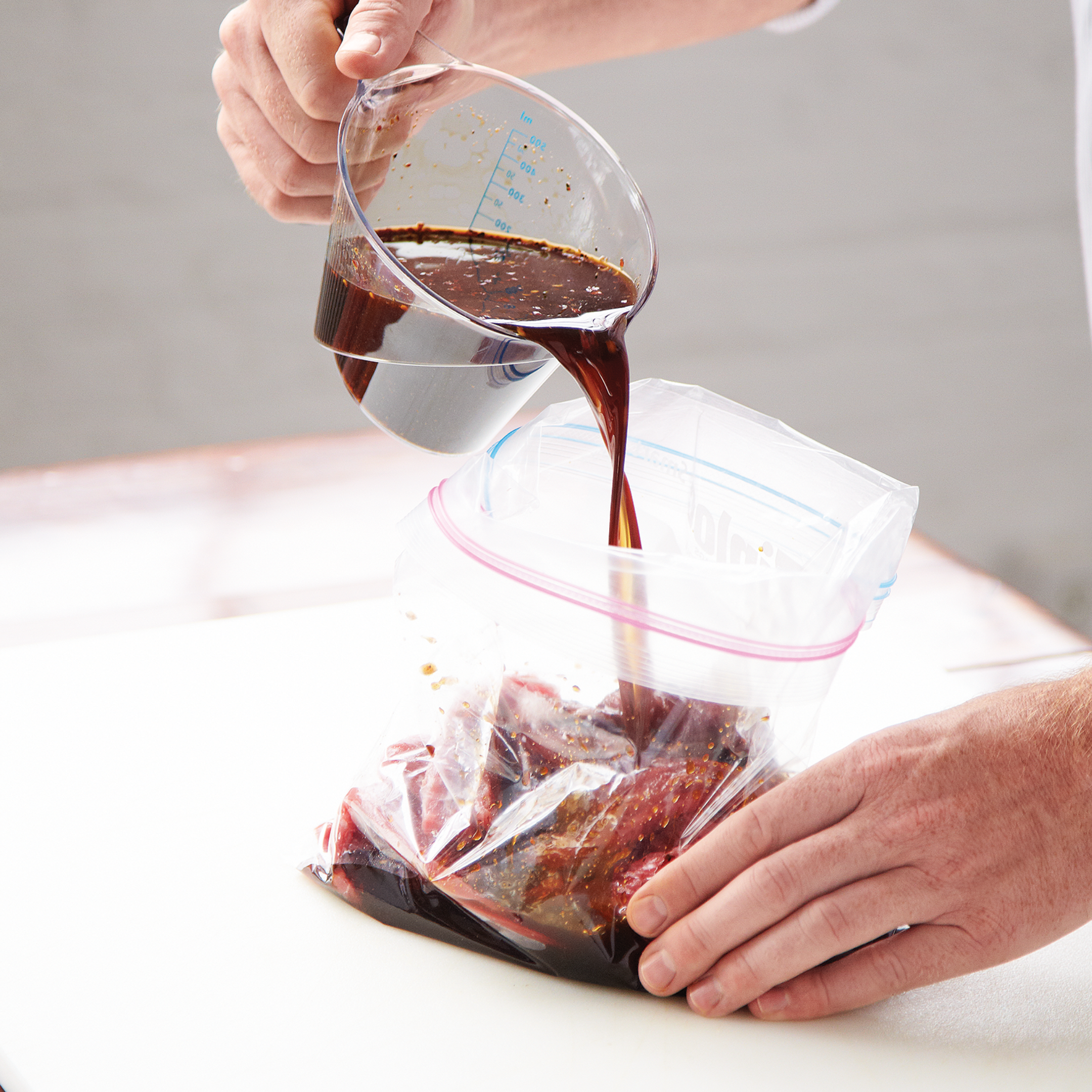 Step 3: Get beef ready to bake
Line a large baking sheet with 2 sheets paper towel. Remove beef from bag, shaking or gently wringing each strip to remove excess marinade. Transfer to baking sheet and cover with additional 2 sheets paper towel. Press down through towel to flatten strips and absorb as much marinade as possible. Remove oven racks and place a foil drip pan in bottom of oven, or line bottom with foil. Preheat oven to lowest setting, 140 to 170°F.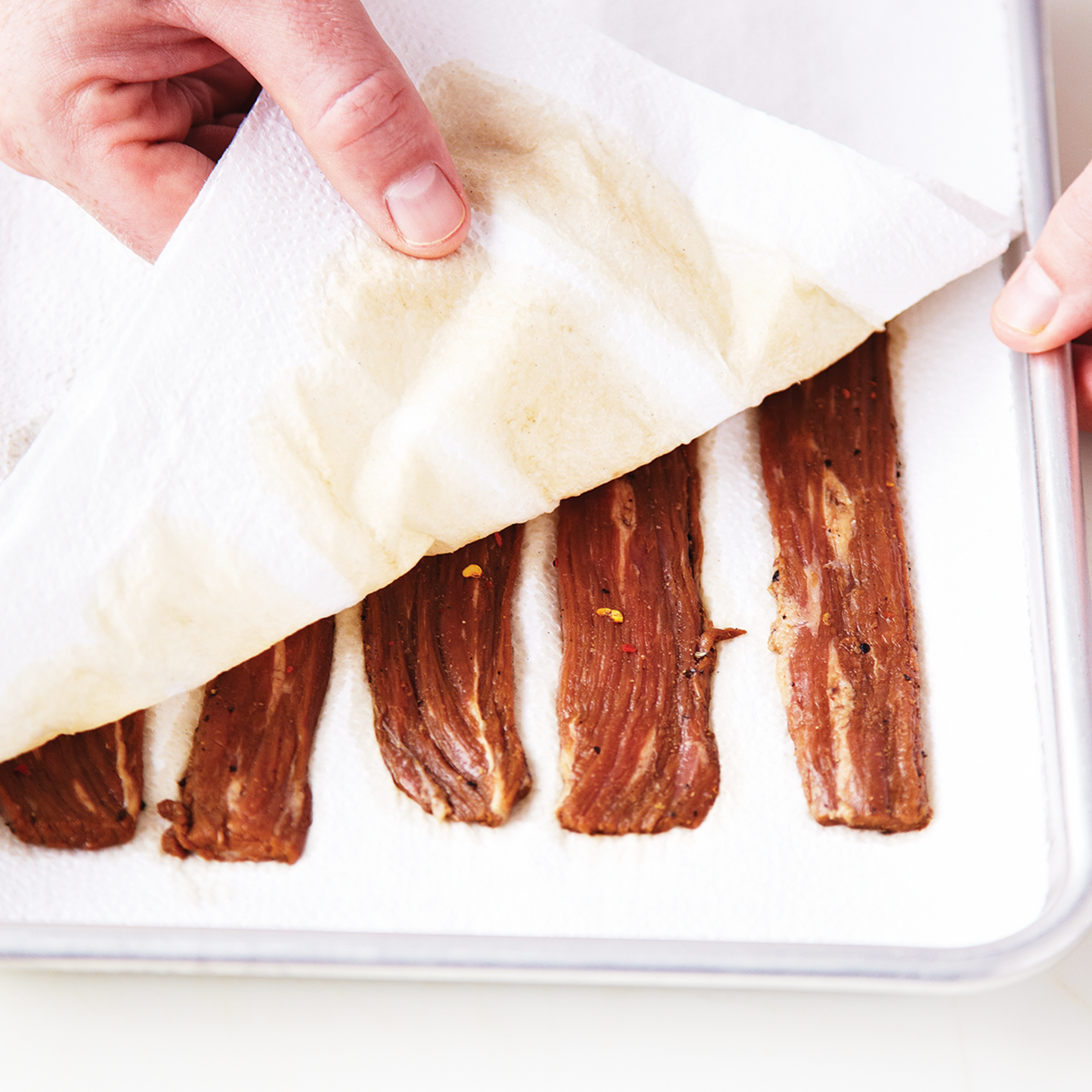 Step 4: Skewer your strips of beef
Thread skewers through 1 end of strips, leaving 1 inch between each strip.
Step 5: Hang skewer from your oven racks to cook
Lay skewers horizontally across 1 oven rack. Transfer rack to highest position in oven, allowing strips to hang without touching oven walls. Close oven, propping door open a crack with a small, dry, rolled-up dish towel or a wooden spoon. (NOTE: This is necessary to allow moisture to escape from the oven; the oven temperature is low enough that this is not a fire danger.) Cook for 5 hours.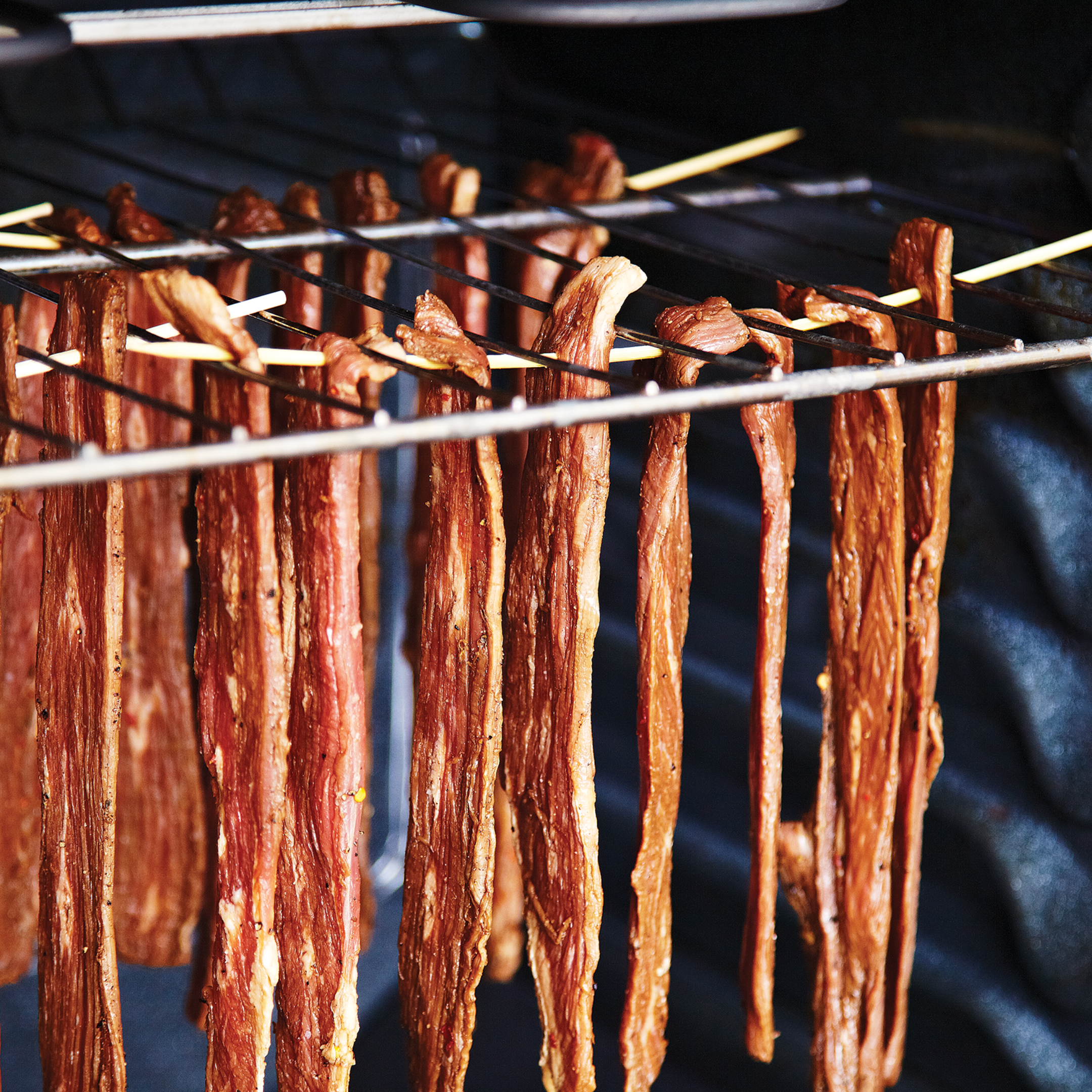 Step 6: Let jerky cool before storing
Check strips for doneness; remove dry, hard and darkened pieces from skewers and place on a cooling rack. Cook remaining strips for 1 to 2 hours, checking often for doneness. Transfer to cooling racks. When strips are fully cooled, transfer to airtight containers and store upright at room temperature for up to 2 months (NOTE: Do not pack strips tightly).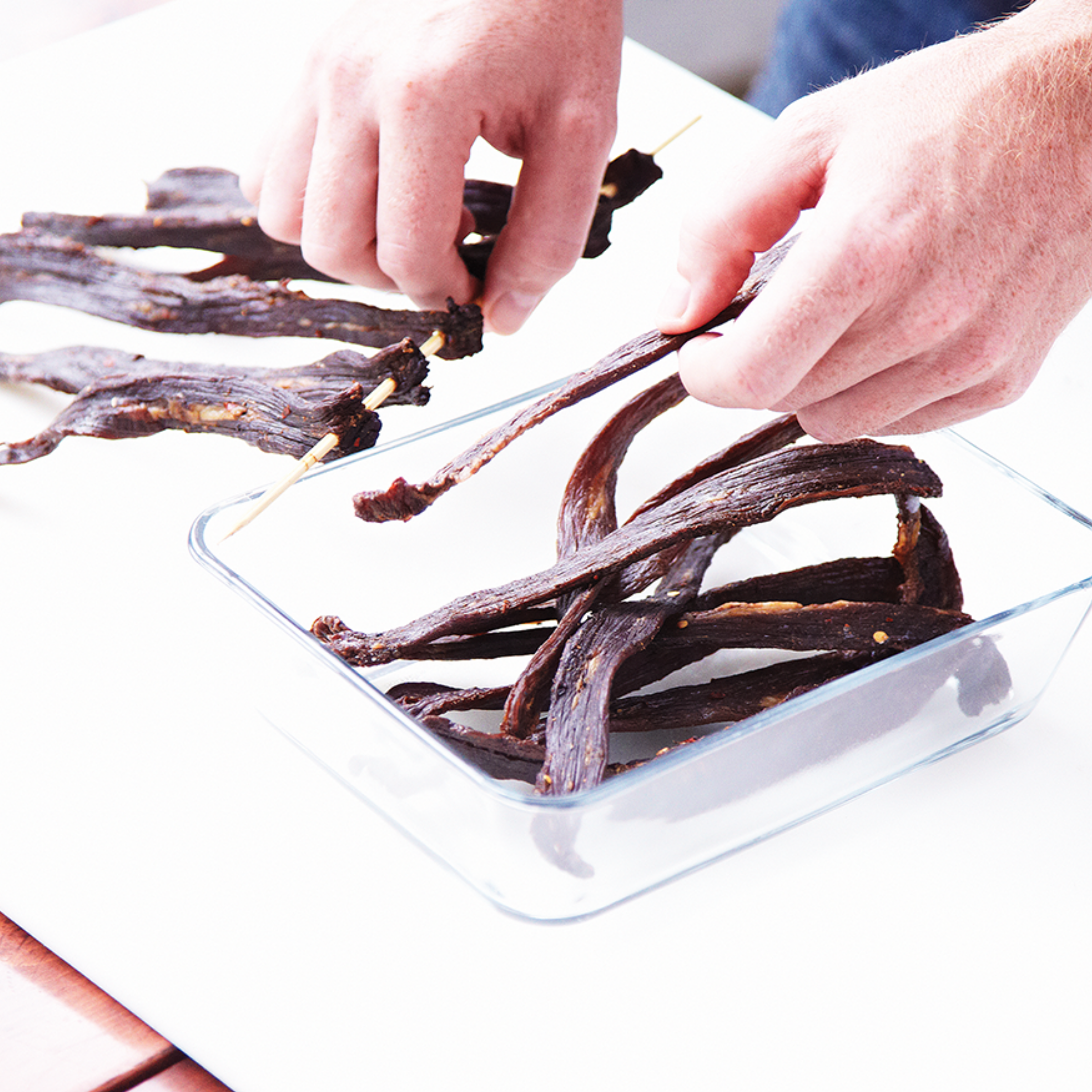 Once your jerky has completely cooled and you've packed it away, you can enjoy it for weeks – and months! – to come. Just make sure to check the jerky for any signs of spoilage, like mold or an unpleasant odor, so you know when it's time to toss.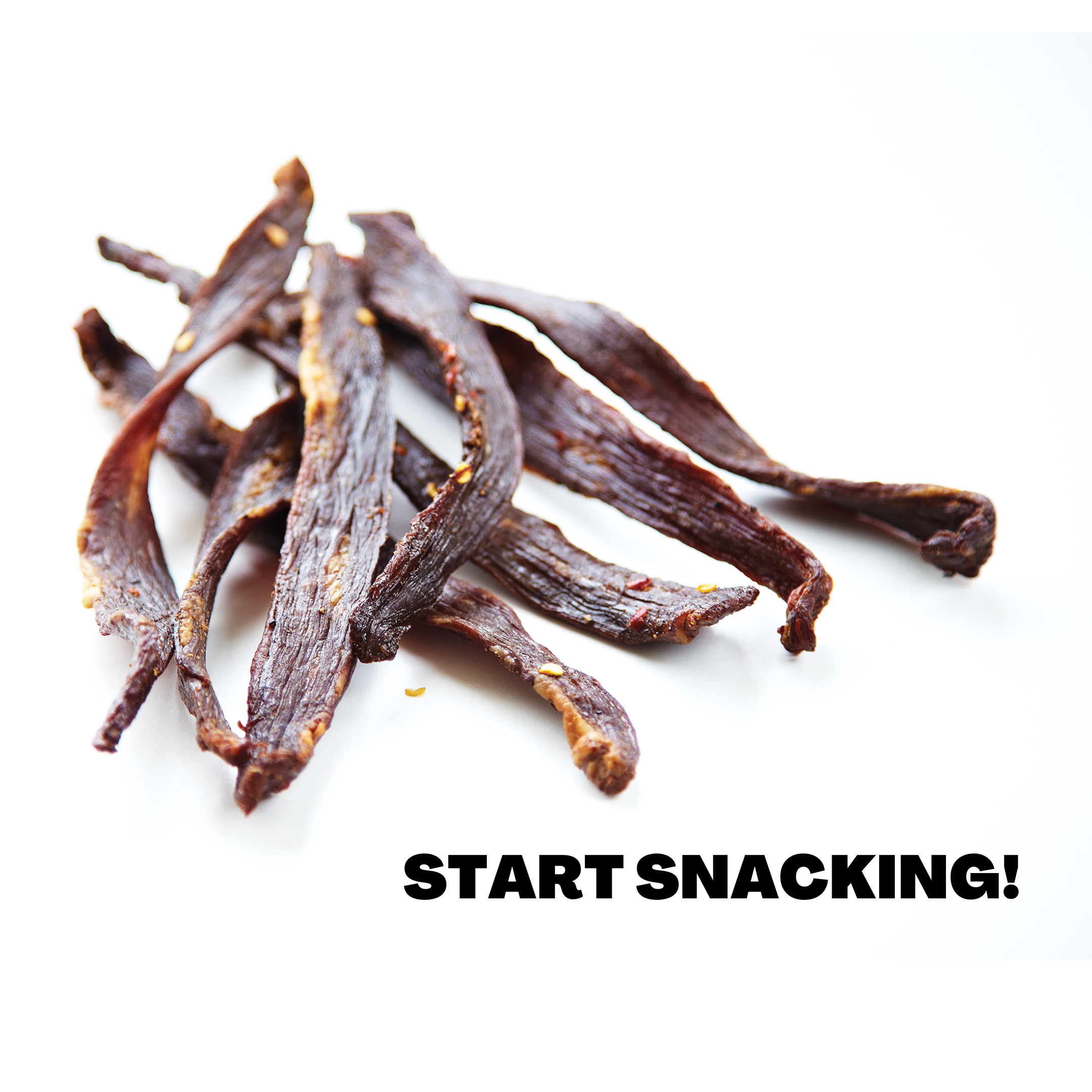 Section divider
More ideas
Once you've mastered the art of slow-baking and drying out your very own cuts of beef to create jerky at home, you can play around with the steps of this recipe to create your own flavors and spice blends. We created the marinade above to offer a bit of a spicy kick with plenty of pepper, smoked paprika and red pepper flakes. But if you prefer your beef jerky to be more savory than spicy or even a bit on the sweet side, you can change it up! All you have to do is tweak the seasonings you're using as you make your marinade.
Amp up the heat
Love a good, extra-spicy stick of jerky? You can customize your marinade with even more fiery spices and seasonings. Instead of red pepper flakes, you can use dried, ground chipotle peppers; or, keep it simply and spicy with a few sprinkles of cayenne. Regular ol' chili powder works great too, either on its own or with a mix of dried herbs.
Skip the spice
If you don't want a lot of spice or heat in your jerky, omit the red pepper flakes altogether. Stick with just a touch of pepper and 1 teaspoon each onion and garlic powder. You can also add seasoned salt for a bit more nuance without any extra kick.
Go sweet instead of savory
A slightly salty, slightly sweet piece of beef jerky can be just as good as more savory options. To make a sweeter marinade, you can sub in brewed coffee for the liquid smoke (or smoked paprika). Molasses, along with pure maple syrup, is also a great choice to give you a more candied-like flavor. And you can take it even sweeter by adding pineapple juice into your marinade. Just make sure you aren't opting for a juice that's loaded with sugars or additives!
Change up your meats
While we're talking about beef jerky, you don't want to overlook other kinds of protein. Sure, beef is the classic option – but you can also swap out the beef for chicken or turkey too. Even pork and lamb can be turned into homemade jerky! You may need to adjust your cook time for different proteins, but the basics of this recipe will have you covered no matter what you decide to make.