10 Olive Oil Facts You Need to Know
Few people know olive oil as intimately as The Olive Oil Hunter T.J. Robinson and we were fortunate to ask him our most important questions about this superfood oil and how to choose the right one. Here are the olive oil facts you need to be smarter consumer.
Heading out the door? Read this article on the new Outside+ app available now on iOS devices for members! Download the app.
T.J. Robinson, aka The Olive Oil Hunter, has a job that's at once glamorous and demanding. Culinary- and hospitality-school trained, he was a chef and food and travel journalist for eight years when his life's work took a dramatic and tasty turn. On assignment in Sicily, he was invited to participate in the local olive harvest, the highlight of which was tasting olive oil as it was pressed. He was transformed by every aspect of the experience, notably the intense aroma to the spicy taste of true extra-virgin olive oil, and decided he had to find a way to share this secret ingredient with the world. That unexpected experience turned into the Fresh-Pressed Olive Oil Club, in which subscribers receive a shipment of three bottles of extra virgin olive oil every four months, timed to immediately follow harvests as they occur in the northern and southern hemispheres. Here, Robinson answers our 10 most important questions about olive oil to better inform your selections when shopping this superfood ingredient.
Clean Eating: What's the difference between artisan-produced extra virgin olive oil (EVOO) and the oils available at a local gourmet store or even the supermarket?
T.J. Robinson: When you see the words "extra-virgin," know that they have a very broad scope. Extra virgin means that the olive was made from the first pressing of the olives, which is a good thing. But if that olive oil wasn't made by mechanical means only—without heat or chemicals—and if it wasn't bottled and shipped right away, there's a chance it won't taste much better than a lesser grade and that it won't have the high levels of antioxidants and polyphenols that give extra-virgin olive oil its superfood status. It's wonderful to follow a Mediterranean Diet, known for its brain, heart and overall health benefits, but remember that people living in Mediterranean countries are eating the freshest olive oil—they have access to freshly pressed oil from their own personal or from small community farm, and that helps account for the benefits of their diet.
CE: How does olive ripeness at harvest time play a role in olive oil quality and prices? 
T.J.: Here's a secret that I only found out when I got involved in the olive oil business. The highest quality, best tasting olive oil comes from olives harvested and pressed when they're still green and contain only 10% oil—low yield but maximum flavor. Fully ripe olives that have turned black produce three times as much oil but nowhere near the taste. This is what many mass producers will use to get more product. Yes, you pay more for fresh-pressed olive oil, but you benefit in many ways. This oil has the highest levels of nutrients, which in turn keeps the oil fresher longer in the bottle and prevents oxidation when you cook with it.
CE: How does the olive fruit variety play a role in the taste of an oil? 
T.J.: It's a huge component! The same way that a chef combines herbs and spices for the perfect dish, I bring together different varieties to create flavor profiles, using the best of what my network of small artisanal growers harvest each season. I might choose just one variety or use up to, say, three to create the three oils for each of my collections—one mild, one medium, and one spicy.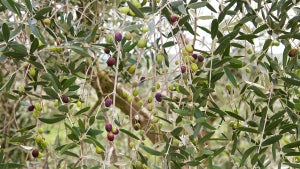 CE: Should I buy a blend? 
T.J.: I want to clear up any confusion regarding what I do when I create a blend of artisanal olive oils from one of the family farms I work with and what's in some supermarket bottles of olive oil that might contain what they label as a blend. Independent investigations in the past have revealed some off-the-shelf bottles contained olive oils, not from an identified country of origin, but from unidentified countries that were blended and bottled in yet another location or, worse, that the olive oil was diluted with a lesser oil, like canola. Not only do these low-quality oils taste unappealing, but you're also not getting the nutrients you thought you were. You're most likely to find the word "blend" tucked away in a corner of the label on a store-bought brand whereas in the Pressing Report I include with every shipment I write in great detail about the varieties I choose for my oils.
CE: Is there any truth to using the refrigerator test to confirm that an olive oil is pure 100% extra virgin olive oil?
T.J.: No, that's a myth. The fridge could solidify any oil. Also, it can't tell you the acidity of the oil or its nutrient level—it's just not an accurate gauge. Let me clarify more label confusion—"pure" olive oil is the lowest quality because it's from the last pressing of the oil and uses chemicals to squeeze out the remains. "Light" olive oil is also highly processed, removing flavor and nutrients.
CE: What are your tips on shopping for olive oil?
T.J: Look for the harvest date on the label, not just an expiration date. You want to buy oil within 6-12 months of harvest. The expiration date doesn't tell you when that was. Buy olive oil in dark glass, which helps protect it from damaging light. Choose a store with high turnover and that lets you taste it before you buy it, if possible. Light, time and temperature destroy olive oil. Keep in mind that a fancy cut-glass bottle and an arty label don't make up for a 3-year-old pressing date.
CE: How can I educate my taste buds?  
T.J.: Once you try really fresh pressed olive oil, you'll notice the difference right away. It's easy and fun to do a taste test, and I recommend it if you don't have someone like me who can curate oils for you. Here are the simple steps to take:
At a market, there will probably be disposable paper cups for sampling, but when possible use a blue glass so your eye won't trick you into liking an olive oil based on its color. Yes, if it's very green, it's from very green fruit (which is good), but that's not an indicator of quality. Pour about one tablespoon into the cup. Put the cup in the palm of your hand and swirl the oil around to warm it and release all the aromas.

Inhale deeply. There are many notes that define an oil's fruitiness—it may smell grassy, herbaceous, fresh and clean. Depending on the olive varieties, you might notice hints of grass, mint, and oregano, among many others.
Now taste. Put a scant teaspoon of the oil on your palate and chew on it a bit. You should taste fruitiness, but also bitterness (this tells you it's from green fruit), and spiciness. You might get a taste that reminds you of arugula or black peppercorns or fresh ginger. It should tickle or pinch the back of your throat as you swallow it.
CE: Is it true that really high-quality olive oil makes you cough?
T.J.: Yes! In Italy, they often refer to great olive oil as a one-, two- or -three-cough oil—the more the better! The cough reaction actually tells you how high the oil is in healthful polyphenols (high is a count of 300 or more, and for a low quality oil, it's closer to 150). This is the type of testing I do on my oils, but you're not likely to find any number indicated on oils sold in retail stores.
CE: What are your tips for storing olive oil so that it stays fresher longer? 
T.J.: Most important is to never keep your bottles out on the counter, near a window, in a cabinet above the stove, or any area that's warm. The bottom shelf of a pantry cabinet is excellent. On the other hand, do take it out and use it—don't save it for special occasions. In our house, when we set the table, we take our olive oil out of the cabinet and put it alongside the salt and pepper—it's a "sauce" that Mother Nature has made for you, so enjoy it.
CE: Can I use extra-virgin olive oil for high-heat cooking? 
T.J.: Yes, cook up a storm! Olive oil is wonderful for so much more than salads and other cold dishes. In fact, it's a myth that you can't use olive oil for high-heat cooking. The same antioxidants that help high quality extra-virgin olive oil stay fresh also help keep it from oxidizing during sautéing and frying. Of course, olive oil is too expensive for the large amounts of oil needed for deep frying, but if money's no object…
We sampled the club oil, here's our review: 
I had the extreme pleasure of sampling Pruneti Olive Oil from producer Frantoio Pruneti, San Polo in Chianti, Tuscany, Italy, bottled in winter 2020. Available nowhere else in the world (!) other than via The Fresh-Pressed Olive Oil Club, the info packet that accompanied the oil told me the season was ideal for all oils offered as part of the winter 2020 shipment thanks to "a spring that treated flowers tenderly; a warm summer that discouraged attacks by pests; well-timed rains; and a cool but frost-free fall that accommodated an early harvest," making this selection of oils from award-winning artisanal producers all over Italy an unprecedented harvest – and boon to members – especially during an unprecedentedly trying time.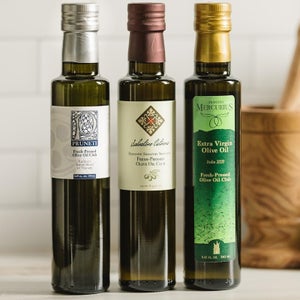 The Pruneti is considered a substantial, bold olive oil with notes of wild greens, black kale, sage and the spiciness of peppercorns. Scents described are almonds, green bananas, apples, vanilla, oregano and wheatgrass, though I'll admit my sniffer isn't so refined to detect all of this. But I will tell you that it was the most complex and interesting olive oil I've tasted and I savored it very slowly – eyes closed – and just the way TJ described his first taste of first-pressed oil in Sicily, drizzled over bread smeared with ricotta. (It should be noted that I've been enjoying that same decadent combination every day since, as an anytime snack). My only con is that the Fresh Pressed Olive Oil Club isn't available to Canadians (where the Clean Eating team is based), because I'd become an instant member!               
 -Alicia Tyler, Editorial Director
About FPOOC
Club founder T.J Robinson (aka The Olive Oil Hunter) travels the world meeting with artisanal olive oil producers and tasting oils in order to partner with purveyors for his club. Each and every oil is certified by an independent lab to be 100 percent extra virgin. After harvest, oils are "rushed to the US jet to preserve their intoxicating aromas, flavors and healthful polyphenols." And the next thing you know, 3 bottles of freshly-pressed olive oil arrive on your doorstep every season with an info packet with details around each producer, their farms, the oils, food pairings, tasting notes, harvest time, recipes and more. It is truly buonissimo in every sense of the word!
Get more olive oil tips and learn more about the Fresh-Pressed Olive Oil Club.
Related content: