3 Ways with Beets
Think you don't like beets? Think again. A member of the chenopodiaceae family, along with Swiss chard and quinoa, beets are bursting with antioxidants. Our resident organic farmer, Mary Brower, shows you three simple and tasty ways to include this winter root vegetable into your diet.
Heading out the door? Read this article on the new Outside+ app available now on iOS devices for members! Download the app.
You know who you are. You think you hate beets. Or maybe your partner hates beets, or your kids do, and you're the only one in the house who will eat them, so you never get to enjoy them.
But I'm telling you, you're making a terrible mistake. Beets are part of the family chenopodiaceae, cousins of fellow superfoods spinach, quinoa, and Swiss chard. At our organic farm, we're committed chenopodophiles like beets that are rich in antioxidants, folate, and manganese. Plus, beet greens are particularly high in eye-protecting lutein. Because some people don't fully digest the red pigments in beets, called betalains, post-beet urine can be alarmingly pink. Never fear! This is a harmless reaction.
See also3 Ways with Chard and Swiss Kale.
This time of year, beets regularly show up on our table in numerous forms. We put the greens in smoothies. We eat them up sautéed. We love them pickled. But when you come down to the brass tacks, we do have three favorite ways: roasted, shredded, and sautéed.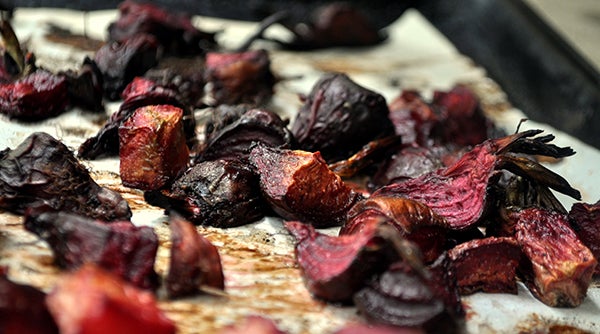 1. Easy Roasted Beets
INGREDIENTS:
2 bunches beets
drizzle of olive oil
a pinch of salt
optional pizazz: add ginger, dill, orange zest, or goat cheese after roasting
INSTRUCTIONS:
Pre-heat the oven to 400 degrees.
Quarter or cube the beets if they're big. If they're smallish and uniform, just cut them in half. We never, ever bother with peeling them.
Drizzle the beets with olive oil, sprinkle on a little salt, and give everything a stir with a spoon.
Roast the beets uncovered for at least 40 minutes, depending on the size of the beets. Give them a stir once or twice if that's the conscientious kind of cook you are. They should be quite soft when you pierce them with a knife. We like them when the cut surfaces are a little wrinkly from the heat.
Remove the beets from the oven to a bowl and toss them with the options above, or just stand over the bowl and eat them.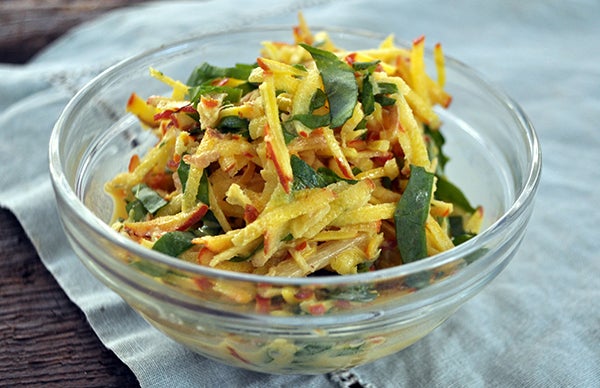 2. Golden Beet Tzatziki with Sorrel and Ginger
INGREDIENTS:
1 pound golden beets
1-inch nub of fresh ginger
3 sorrel leaves
1/2 teaspoon salt
1 tablespoon lemon juice
1/2 cup plain Greek yogurt
INSTRUCTIONS:
Swish the beets in water and grate them along with the fresh ginger. (A food processor makes quick work of this.)
Chop the sorrel and toss it with the grated vegetables, salt, lemon juice, and Greek yogurt.
Serve as a condiment for grain dishes or grilled meat.
3. Tomato-Beet Puree with Dill
INGREDIENTS:
1 onion
Oil for the pan
1 pound red beets
1 pound tomatoes
1/2 cup fresh dill
6 cups water
Salt to taste
INSTRUCTIONS:
Slice and sauté the onion with the oil in a heavy-bottomed pot or Dutch oven.
When the onions are beginning to relax, quarter the beets and tomatoes and add them to pot.
Sauté them until the tomatoes soften, then add the water and salt and simmer until the beets give at the point of a sharp knife.
Puree with an immersion blender. Stir in the dill, and top with strained plain yogurt.
Still hate beets? Not anymore!
—
Mary Brower and her family own Bluestem Farm, a year-round organic farm in northern Michigan that offers community events and food outreach programs. Find out more at www.bluestemfarm.net.
Find more ideas from our blog here!