5 Weeknight Meals for a Steal
Perk up your Monday-through-Friday with 5 healthy, seasonal meals that are as easy on the waistline as they are your pocketbook. Plus, download our grocery list to make shopping a breeze!
Heading out the door? Read this article on the new Outside+ app available now on iOS devices for members! Download the app.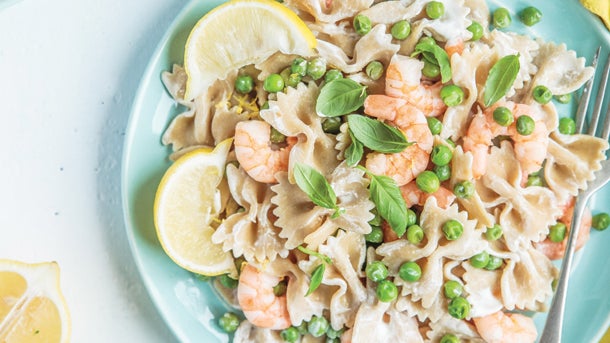 Monday: Creamy Shrimp & Sweet Pea Farfalle
COST PER PLATE: $2.88
TOTAL COST: $17.29
A short ingredient list and quick cook time make this pasta a no-fuss weeknight rock star. For even brighter flavor, add a splash of white wine to the skillet before you add the cream cheese.
Get the recipe.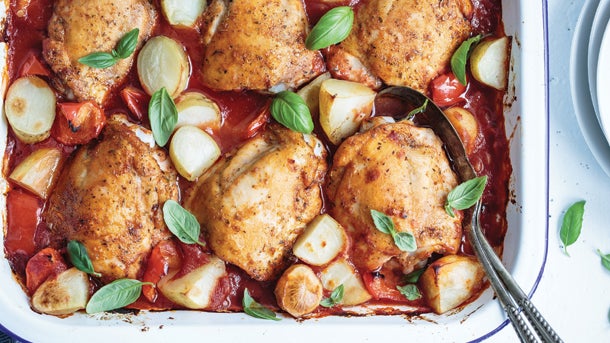 Tuesday: Smoky Tomato-Baked Chicken with Baby Potatoes
COST PER PLATE: $4.21
TOTAL COST: $16.85
Smoked paprika is a time-strapped cook's best friend – it instantly lends a smoky flavor and rich aroma to everything it touches. Here, it makes this saucy dish taste like it's been simmering for hours. Bone-in chicken thighs are often sold with the skin still attached, but it's easy to remove yourself: Simply grasp the edge of the skin with paper towel and pull it away in one go. Sprinkle with fresh herbs, such as oregano or basil, just before serving.
Get the recipe.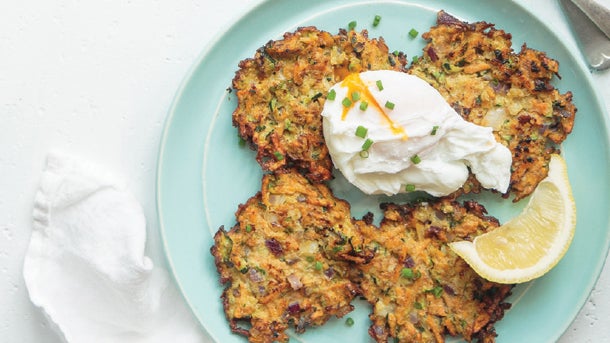 Wednesday: Zucchini & Sweet Potato Fritters with Poached Eggs
COST PER PLATE: $1.30
TOTAL COST: $5.19
Zucchini is packed with moisture, so be sure to squeeze the flesh dry to remove the excess water. It takes only a minute and will ensure you get perfectly crispy fritters. Don't worry about peeling the zucchini before you grate it – the peel is loaded with fiber and antioxidants and adds a nice texture to the fritters. Serve with a dollop of tangy sour cream with chives for an ultra-satisfying weeknight meal.
Get the recipe.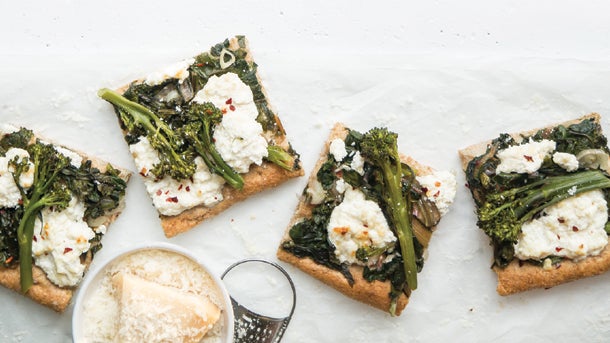 Thursday: Pizza Bianca with Rapini & Swiss Chard
COST PER PLATE: $1.43
TOTAL COST: $8.56
Rapini, which also goes by the name broccoli rabe, is a calcium-rich green with an assertive, bitter taste that mellows nicely when cooked. You can make the dough the night before; once it's kneaded, simply place in a large greased zip-top bag and let it rise in the fridge overnight. Bring the dough to room temperature before using to make it easier to roll out.
Get the recipe.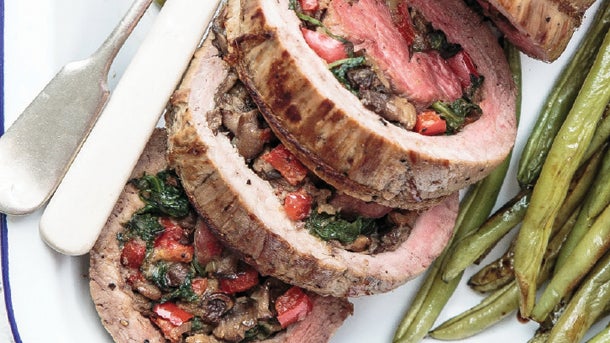 Friday: Mushroom-Stuffed Flank Steak with Balsamic Green Beans
COST PER PLATE: $3.75
TOTAL COST: $22.47
Flank steak is a relatively inexpensive lean cut that boasts a fantastic beefy flavor. It can be tougher than other steaks, which is why we pound it out thin before stuffing with the savory mushroom filling.
Get the recipe.