Holiday Recipe Slideshow
We're once again upon that time of year, for festive dinners and holiday cheer. From appetizers to desserts, sides and many a main, these recipes will impress.
Heading out the door? Read this article on the new Outside+ app available now on iOS devices for members! Download the app.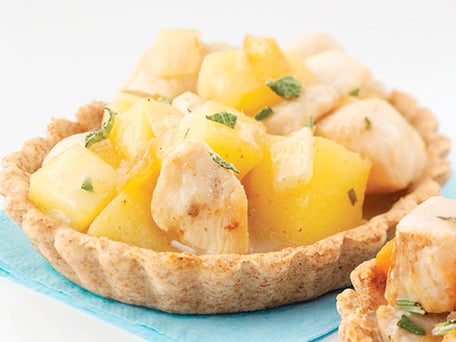 1. These charming little tarts are an excellent hors d'oeuvre to tide hungry guests over before the big meal. You can create vegetarian versions by subbing cheese or veggies in the place of chicken – they'll showcase ripe autumn apples either way.
See the complete Sweet & Savory Tarts recipe here.
2. This sweet-tinged turkey may stem from our arsenal of Thanksgiving recipes, but the main (and its measly 4 grams of fat per serving) easily translates to the December holidays too!
See the complete Pomegranate-Glazed Stuffed Roast Turkey recipe here.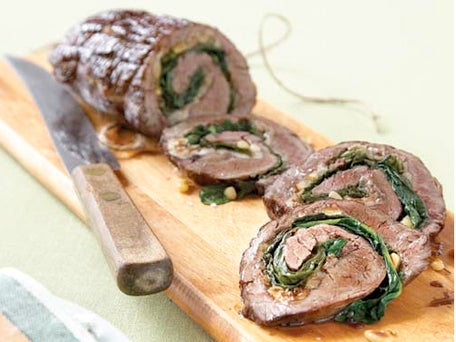 3. This gorgeous roll is guaranteed to impress, with not only its full flavor but also its lowly calorie count of just 230). We've even got step-by-step instructions on how to assemble your steak roll, so the process is foolproof!
See the complete Flank Steak Roll with Spinach & Garlic recipe here.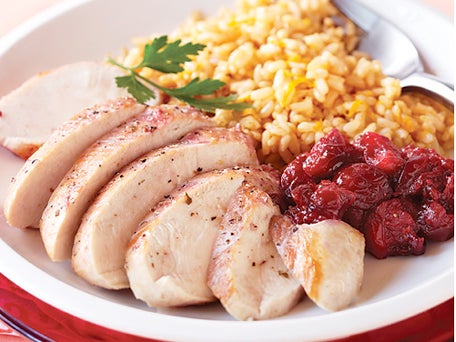 4. If you're having a smaller crowd for dinner and making an entire turkey seems unnecessary, try our cranberry-tinged chicken. It blends key holiday flavors and takes just 40 minutes to make, including the rice side!
See the complete Honey-Cranberry Chicken with Orange-Paprika Rice recipe here.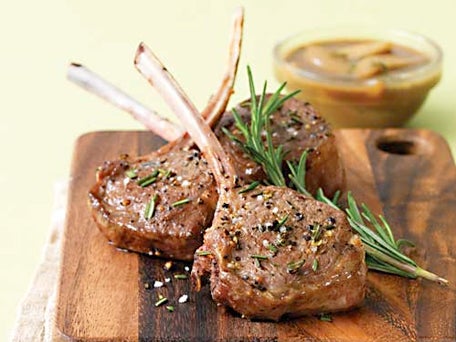 5. 'Tis the season to enjoy perfectly primed pears, and this dish pairs the seasonal fruit with lamb chops and a balsamic pan sauce. It's a great source of protein and B-vitamin niacin, and a great cure for holiday hunger!
See our complete One-Skillet Lamb Chops with Pears recipe here.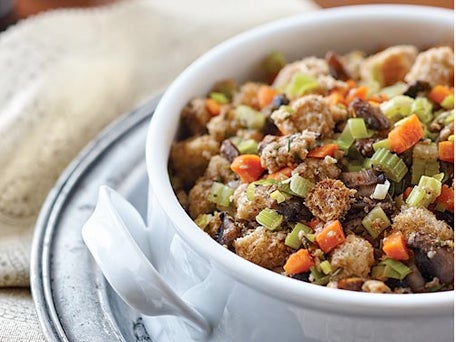 6. We'd never tell you to skip the stuffing! Ours boasts fleshy mushrooms and whole-wheat sourdough bread and brims with riboflavin, capping off at just 3 grams of fat!
See the complete Mushroom & Leek Stuffing recipe here.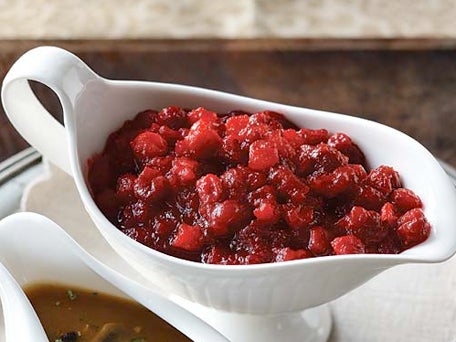 7. What beats the gelatinous mold you plop out of a (hopefully BPA-free) can? Clean, homemade cranberry sauce, of course, with the added zing of ginger to boot! Oh, and it's fat-free…
See the complete Cranberry Sauce with Apples & Ginger recipe here.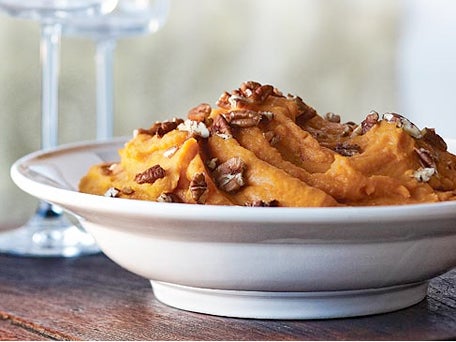 8. The holidays love sweet, indulgent sides – but your waistline doesn't have to hate them! Our tangy sweet potatoes have just 100 calories per serving.
See the complete Coconut-Cardamom Sweet Potatoes recipe here.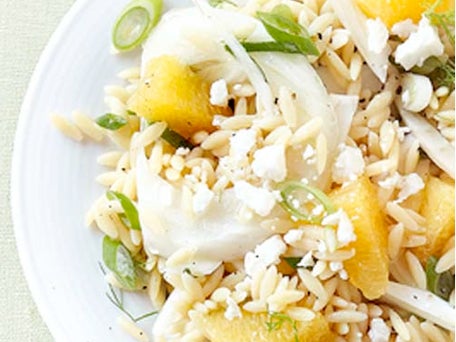 9. Holiday feasts can be heavy, so make sure to have at least one lighter side. This orzo dish is replete with refreshing orange segments and savory fennel, fueled with ample vitamin C and little weight!
See the complete Orzo with Citrus & Fennel recipe here.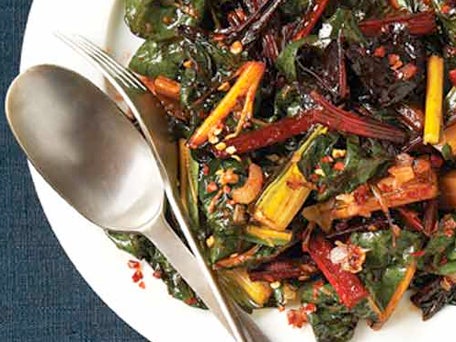 10. Swiss chard is in season throughout the autumn months, and is especially striking on a holiday table if you can get your hands on the rainbow variety. It doesn't hurt that his impressive side takes only 15 minutes to make!
See the complete Sweet & Sour Swiss Chard recipe here.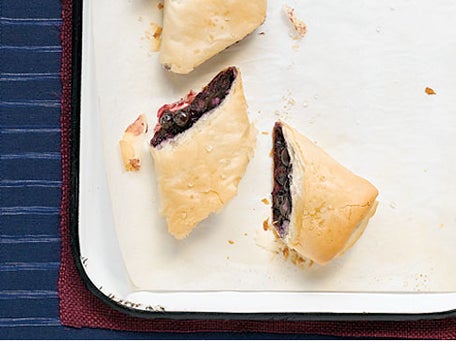 11. Splurge on a flaky pastry without really splurging at all! Two pieces of our super-satisfying strudel have just 210 calories, despite their rich, decadent appearance.
See the complete Blueberry Strudel recipe here.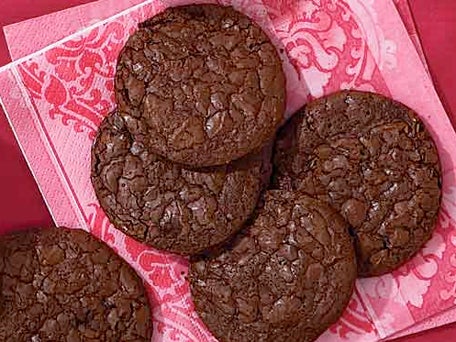 12. Give your chocolate fiends their fix with our chewy, chocolaty cookies. None of your guests need to know that they're actually low in calories and fat!
See the complete Chocolaty Cookies recipe here.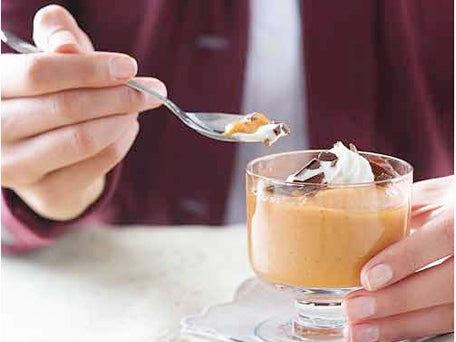 13. Give your sweet tooth its saccharine fix for just 3.5 grams of fat! Our creamy mousse is cholesterol free thanks to silken tofu, the ultimate clean texture booster!
See the complete Spiced Pumpkin Mousse recipe here.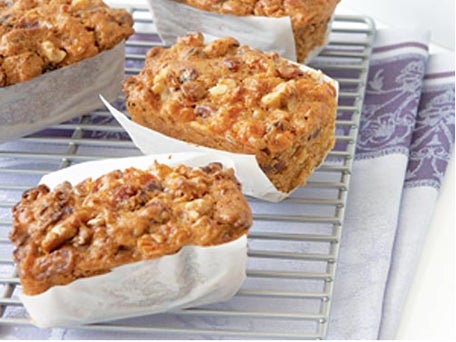 14. Don't give up the fruitcake just yet – after all, it's only on the table once or twice a year! By making your own using dried cranberries and apricots in lieu of candied fruit, you save on calories without losing any flavor!
See the complete Cranberry, Apricot & Walnut Fruitcake recipe here.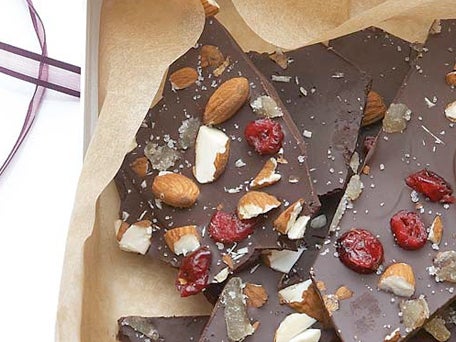 15. Whether you're serving it to guests or bringing a slab as a gift for the hostess, this tangy bark will win you instant fans! Its dark chocolate base means it has heart-healthy properties, and little bits of ginger, dried cherry and raw almond give it an irresistible texture.
See the complete Sweet & Sour Chocolate Bark recipe here.