The Quest to Live a Plastic-Free Life
A garbage truck's worth of single-use plastics enters the ocean every minute – yet we live in a disposal-centric culture that won't quit the throwaway coffee cup. I used to be one of those people, until I embarked on a 2-week journey to de-plasticize my life. Spoiler alert: Plastic is much more insidious than I thought, but there's a surprising amount we can do at the consumer level.
Heading out the door? Read this article on the new Outside+ app available now on iOS devices for members! Download the app.
It's not news that our landfills, entire islands, beaches and oceans are overflowing with – and marine life is literally choking on – plastic, far from sight and mind. Only 9% of plastics get recycled globally; in fact, a whopping 80% of the plastic that's winding up in the oceans comes from throwaway plastic consumer goods – that's most of the containers, bottles, coffee cups, bags or wrappers that you've ever used that ends up in a landfill and ultimately drifts, blows or flows into the ocean.
You're probably ready to pass on the guilt trip, but stick with me. This is not a story of doom and gloom or one to make you shamefully question your entire existence up until this point, but it is time we stop collectively wondering, Why didn't anyone do something about this? and realize that somebody is you. Take it from me, someone who was blindly racking up the daily takeout coffee cups not so long ago and adding plastic straws to my hot Americanos to avoid staining my teeth! Yep. It was less than a year ago that I was also forgetting my reusable bags every other time I did my weekly food shop. Uh huh. Not proud. But I've come a long way – and you can too.
Related: The Push to Use Reusable Packaging
Full disclosure: I was utterly overwhelmed at the prospect of going 100% plastic-free to research this article, but then I remembered one of my favorite pieces of advice: "The best way to eat an elephant? One bite at a time." So that's how we're going to take the following steps to de-plasticizing your life, one department of your life at a time. I found the secret was not to overwhelm myself thinking I need to live with a single Mason jar of trash or be 100% plastic-free for life. Be compassionate with yourself, try your best every day, be aware of your consumption and your waste, thoughtfully monitor everything you bring into your home and then strive to be a little better each time. Believe me, if I can do it, anybody can. Here's what I discovered along the way:
Where it all starts: The store
Bags
For years we've been told that one of the biggest changes we can make is to pass on plastic bags at checkout – and it still is. If you're not doing this yet, let me hit you with this fun fact: Every year we use up to 1 trillion plastic bags globally, and only one in 200 gets recycled.
THE FIX: Because I was forgetting my bags too often, I started returning them to my car immediately after unpacking my groceries. If I somehow still forgot to do that, I simply forbid myself to take the plastic. No more excuses. If you find yourself in that scenario, ask for cardboard boxes at the store, or transport your loose items to your car in the cart. Do that once or twice and I'd be willing to bet it won't happen again.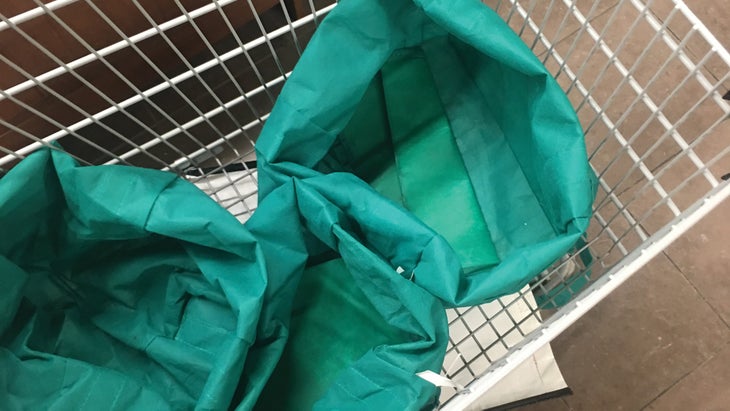 Plastic Produce Bags
At my store, I was surprised to realize that what felt like half of all fresh fruit and veggies are wrapped in some sort of plastic, which is entirely unnecessary. Commit to skipping these. That means no rainbow-pack of bell peppers or the plastic-covered cauliflower, pre-riced or spiralized veggies or ready-to-go stir-fry mix. The upside here is you'll shake up your regular rotation by having to buy what's free and clear of the clear stuff.
THE FIX: Either place loose produce right in your cart like a badass (just wash it well at home) or purchase reusable, washable mesh produce bags (I found mine on Amazon). What about berry containers? Being a blackberry addict, this was the most tragic for me. Still, try to skip the plastic and get your berries from a farmers' market when possible. If they come in a plastic basket, politely decline and carefully transfer berries into your own container (glass, mesh bags or a resealable silicone bag all work great). I spent all last summer transferring my market haul from producer baskets into my own vessels and not a single stand minded.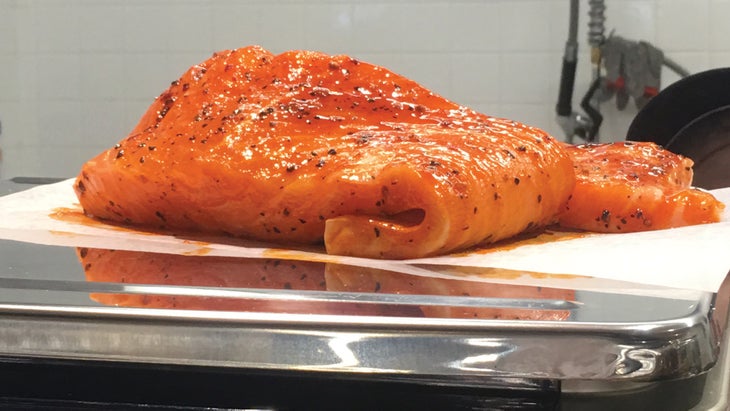 Packaged Foods
This is where you start to negotiate with yourself and must decide how much you will allow. I truly believe this is a personal decision and any level of effort is commendable. But be warned, just about everything has some element of plastic. And let's face it, you don't always have time to make hummus, salsa and nut butters from scratch.
THE FIX: Don't panic. Try to find a comparable product packaged in glass or cardboard or, better yet, in bulk bins that you can load into your own containers from home. If your store doesn't have bulk bins, hit up a store dedicated entirely to bulk shopping. If you still can't find what you're after, remember that you don't have to be 100% perfect. Allow yourself a few choice items and make up for them in other ways. When it comes to meat and fish, bypass the prewrapped fridge/freezer section and head straight to the butcher or fish counter and request that all your protein be wrapped in butcher paper only. Also consider talking to your store manager about your desire for less plastic packaging. The more they hear from valued customers, the more likely they are to make a change.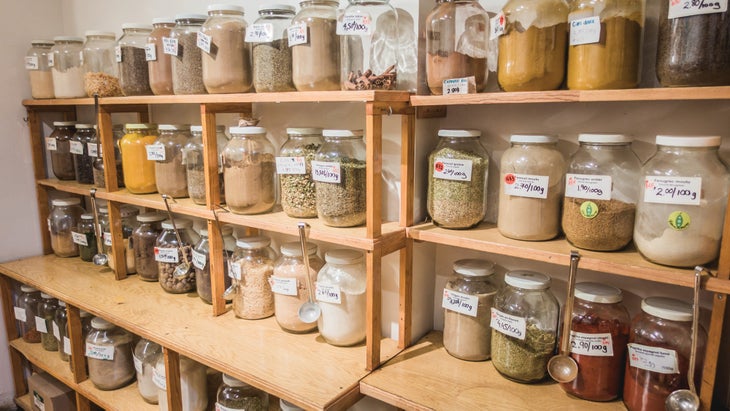 Smarter Food Storage
It's time to break up with the all those plastic food-storage crutches. Luckily, there's an abundance of super-cute long-term items you'll have fun shopping for and using that will lighten your eco footprint almost immediately.
Zip-top bags: Invest in reusable silicone storage bags for loose items like nuts, crudités, berries, granola and more (I love Stasher bags!).
Plastic wrap: Swap out plastic wrap for moldable and washable beeswax paper (beeswrap.com is my new best friend!).
Paper products: Consider going paperless. Paper towels are wasteful and always come wrapped in plastic, but a stack of washable cloths will last you years. Reusable paper towels you boil to clean is another brilliant option.
Out in the World
Eats
Packing your own lunch or snacks is a no-brainer but all too often not possible in our time-strapped culture. And even the most well-intentioned takeout spots are still relying on some combination of recyclable/compostable containers (great!) paired with a plastic lid (not so great).
THE FIX: Dedicate one fair-sized glass container with lid to all your takeout needs. Ask the restaurant to use your container instead of theirs. Wash well when done and keep it in your car, gym bag or on your desk for your next takeout meal. You can do the same when dining in at a restaurant – think of it as planning ahead for leftovers. Ordering in? This one's more tricky. Try to pick up your order with your own containers, but if you really don't want to leave the house, call ahead and request cardboard containers and keep a casual running list of spots near you that do it. In the end, if your favorite delivery spot can't do it and it's a raging snowstorm outside, forgive yourself for the slip.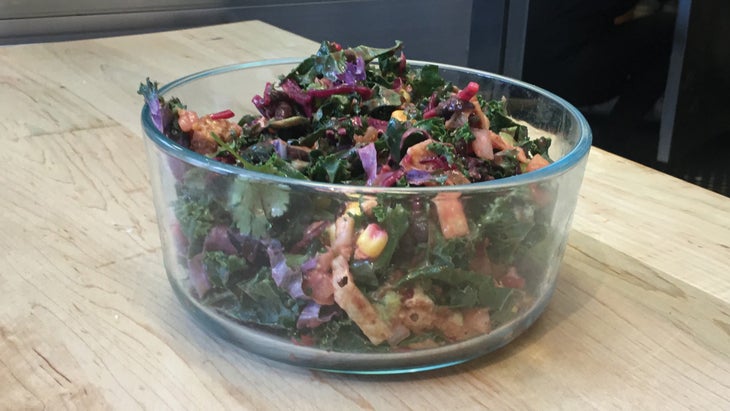 Drinks
Bar none, this one should be the easiest, yet is the most ubiquitous, egregious and continuous waste vice around. Stop buying or accepting plastic water bottles. Period. American humor writer David Sedaris writes in his latest book, Calypso: "Everyone in America is extremely concerned with hydration. Go more than five minutes without drinking, and you'll surely be discovered behind a potted plant, dried out like some escaped hermit crab. When I was young no one would think to bring a bottle of water into a classroom. I don't think they even sold bottled water. We survived shopping trips without it, and funerals." Come to think of it, I don't recall my parents ever mentioning a death- by-dehydration case that predated plastic water bottles.
THE FIX: Hydration is healthy, so go buy a couple of water canteens. I keep one at work and one at home so I'm not transporting and forgetting them constantly. And if you do forget? Just wait until you're reunited with it. Seriously guys, you're not a hermit crab. You will not die.
The same goes for coffee, tea and everything in between. Always bring your own reusable mug. I'm obsessed with my white Zoku tumbler, and it comes with me everywhere. Whether you make coffee at home or stop at your favorite takeout spot, bring a clean cup and ask them to fill it. For straws, I'm obsessed with glass straws, which are surprisingly resilient and can go right into your dishwasher's utensil rack. Metal straws are another solid option. And get some portable, reusable cutlery while you're at it, and cut ties with throwaway forks and knives for good. Some even come in cute little cases for easy portability and to keep them clean and away from lint balls in your bag.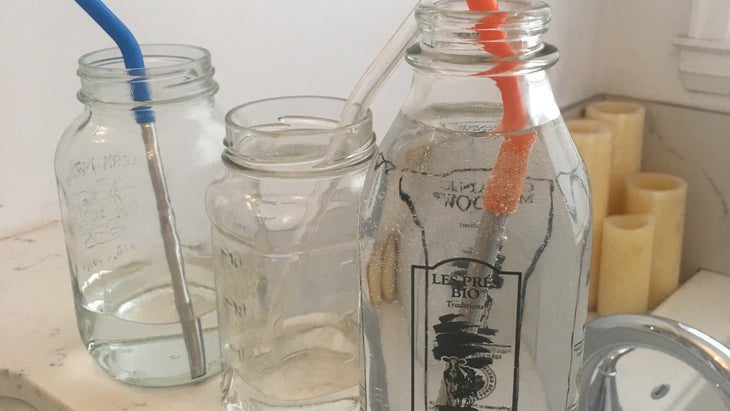 Home & Body Care
Admittedly, this was the last area I worked up the courage to shine a light on. A lot of my lotions and potions are still housed in plastic, but I'm slowly trying to phase them out in favor of comparable glass-jarred options. Here are the top swaps you can make with minimal effort.
Razors: Replace plastic disposables with a metal safety razor.
Feminine products: Make the switch from throwaway to washable pads and from tampons to reusable menstrual cups.
Dryer sheets: Try a nontoxic reusable dryer sheet spray or use a wool dryer ball.
GARBAGE BAGS: First, try to reduce the amount of waste in your home (which should happen naturally with even a modest application of the tips in the article), and second, switch to 100% post-consumer compostable paper bags. (If You Care has multiple sizes.) For soaps, detergent, cleaning agents, shampoo, creams, hairspray, beard oil and more: If you're not into DIY, seek out refill stores in your area, or road trip to one and stock up a few times a year. Most cleaning agents can be replaced with a simple mix of vinegar, water and baking soda.
A History of Plastic
So how did we get here? After the Second World War, plastics gained popularity out of the desire for and novelty of convenience, and fast-moving consumer-goods companies embraced plastic packaging to optimize costs and efficiencies. A lethal combination. Just look around at any given store: Plastic pervades every aisle and every shelf. Greenpeace reports that we've produced plastic as heavy as 1 billion elephants in just 60 years.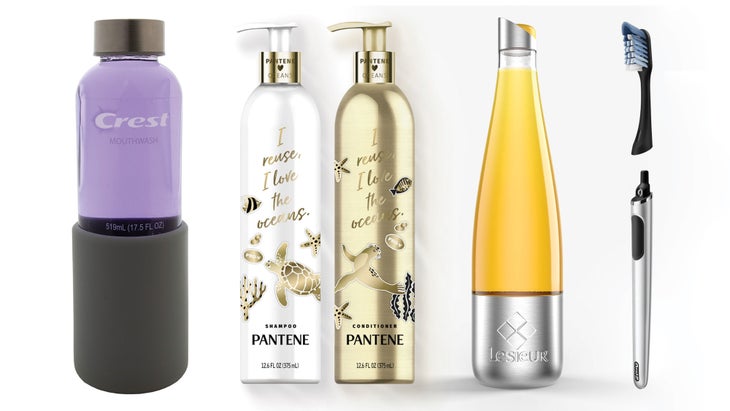 Hope for Change at the Source
Ultimately, consumer-goods companies need to shut the tap off at the source and stop producing so much plastic in the first place. But, reducing the amount of plastic we purchase as consumers can send a strong message that we're looking for change. Now, some major retailers are announcing they will start testing reusable packaging supplied by TerraCycle's Loop as early as later this year. The concept is likened to the glass-bottle milk deliveries of yesteryear where consumers will be able to order all the necessities – shampoo, shaving cream, moisturizer, toothpaste and more – from mega brands Unilever, Procter & Gamble and Nestle, and their products will be delivered in stainless steel reusable vessels that can be collected when they're empty and washed, refilled and returned.
Break Free From Plastic

Source, shop, connect and petition for a life with less plastic.
Meet The Gurus
Special thanks to Sarah King, Head of Greenpeace Canada's Oceans & Plastics Campaign and Dayna Stein, founder of Toronto's first package-free market Bare Market (baremarket.ca) for their depth of knowledge, environmental facts and stats and wealth of actionable advice during my research phase of this story.