Best Canning Kits
Humans have been using a variety of techniques to preserve fresh food for millennia. Once upon a time, the only way to preserve something was to use copious amounts of salt. Long before refrigeration and easy access to ice existed, people started using pots, jars, and–eventually–cans to allow ingredients to last long after the harvest season. Though canning is a relatively simple science, it does take a lot of technique and practice to perfect. Fortunately, it's relatively easy to learn and modern technology has made the art of canning accessible to anyone looking to connect with their roots or make the most out of their own garden harvest–whether for necessity or want. In our quest to learn about the canning process, we tested some canning kits and compiled a list of what we considered to be the best options available. Check them out here.
Heading out the door? Read this article on the new Outside+ app available now on iOS devices for members! Download the app.
Best Overall
Norpro Canning Essentials Boxed Set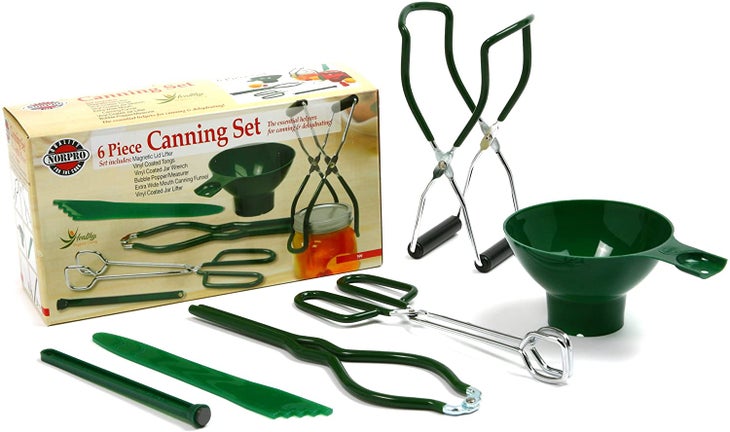 Beginner Canning Must Haves
With long tongs, vinyl and magnetic lid lifters, wide mouth funnel, jar wrench, and bubble popper, you get everything you need to elevate your canning game with this Norpro essentials set.
What We Liked
Whether you're venturing into canning for the first time or a seasoned pro, this Norpro set gives you everything you need to elevate your canning skills. To keep your hands away from the heat of boiling jars, this set comes with a vinyl-coated jar lifter that securely grips and lifts jar tops. The set also includes a wide mouth funnel for easy filling and a vinyl-coated jar wrench for effortless lid tightening. In addition to the clamp jar lifter, the set comes with a magnetic lid lifter for one at a time removal from boiling liquids. With the addition of a bubble popper, this set has all the canning essentials you need. Order Online.
Most Versatile
Presto 7 Function Canning Kit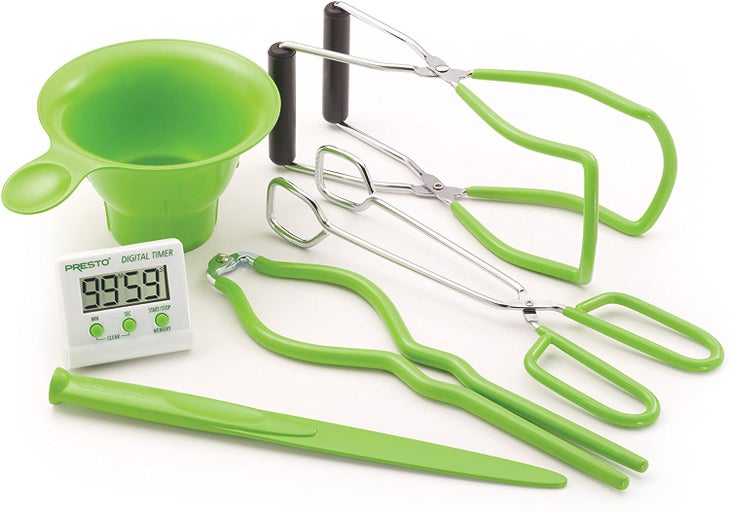 Handy Tools for Home Canning
From filling and bubble removal to pulling from the boiling pot and securing the jar lid, this 7 function canning kit from Presto takes the guesswork out of each step of the canning process.
What We Liked
If you're looking for a beginner level canning kit to help yield professional level results, the Presto 7 Function Canning Kit has all the tools you need. Included in the set is a digital timer with clip, easel stand and magnet, canning funnel, dual bubble remover and magnetic lid lifter tool, jar lifter, tongs, and jar wrench. Minus the jars themselves, your ingredients, and a pot of boiling water, the set contains all the tools you need to easily and safely can your favorite fruits, vegetables, sauces, and more. Purchase Yours Today.
Most Functional
Weston 5-Piece Home Canning Kit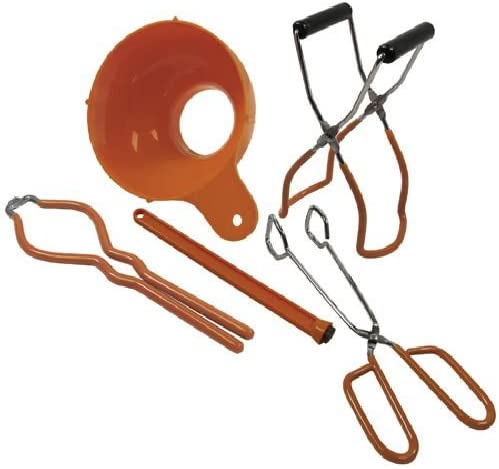 Stay-Cool Handles
With vinyl-coated, stay-cool handles, the tools in this Weston canning kit ensure your hands stay safe throughout the canning process, allowing you to make the most of your harvest during the canning season.
What We Liked
Some canning kits throw in extra gizmos to make the set appear more fancy and professional, when in reality you can just use the everyday tools in your kitchen for the same job. This Weston 5-Piece kit contains only the essentials, including vinyl-coated tongs, jar lifter, jar wrench, and magnetic lid lifter, and funnel. The tools are durable, compact, and can be useful additions in the kitchen–even if you're not using them for canning. Get It Here.
Most Compact
Prepworks by Progressive 3-Piece Canning Essentials Kit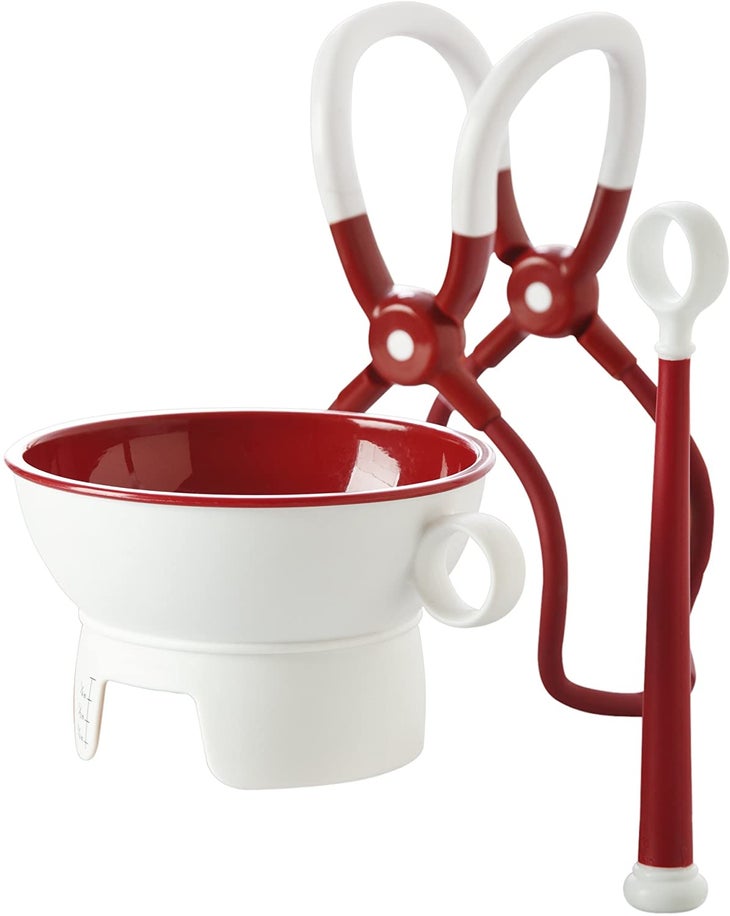 Less is More Canning Essentials
Stripped down to the basics, this 3-piece canning kit includes a one-handed jar lifter, magnetic lid lifter, and canning funnel made of durable, heat-resistant, dishwasher safe materials.
What We Liked
You don't need a dozen tools to can at home when three will do. The Prepworks by Progressive 3-Piece Canning Set took this theory to produce a kit that truly contains the essentials only. The one-handed jar lifter gives you a secure grip to easily remove jars from boiling water, thanks to its 10.5-inch long, spring-loaded handle made of TPE. At 9.75-inches, the magnetic lid lifter provides a more sterile way to place lids on canning jars once they're ready to rest and still cooling off from the boiling process. The included canning funnel fits a variety of jar sizes and features headspace measurements for more accurate filling and air space needed for sealing. All of the materials are heat-resistant, stain-proof, and dishwasher safe. Buy Now.