Best Electric Pasta Makers
An ingredient virtually everyone on planet earth will recognize and has likely eaten, pasta has been around for centuries. Though most people associate pasta with Italian cooking, it's likely pre-dated by the noodles used in Asian cuisine. Regardless, pasta is a dish with humble roots that's evolved into countless varieties, shapes, flavors, and iterations. At its core, pasta is made from mixing flour with water or eggs that's formed into a dough and cut into various shapes. While this was done by hand for years, as technology has advanced so have the methods used to make a variety of pasta. While your favorite hometown Italian restaurant may boast "handmade" pasta, chances are they have a machine or two in their kitchen helping with some of the labor. And if you're a pasta aficionado, you can have one too! We went on a search for the best electric pasta makers and boiled them down to three of our favorites–check them out below.
Heading out the door? Read this article on the new Outside+ app available now on iOS devices for members! Download the app.
Most Authentic
Marcato Atlas Pasta Machine Electric Motor Attachment
Italian Made
The Marcato Atlas is an Italian-made machine pasta sheet maker that quickly transforms your homemade dough into three different styles of pasta,including flat sheets, with nine adjustable levels of thickness.
What We Liked
With its nickel-plated and chrome-plated steel construction and 110V motor, this Italian-made Marcato Atlas machine allows you to spend less time cranking and more time tending to your freshly made pasta to create hands-free, restaurant-quality pasta. Three different rollers allow you to make even sheets of pasta for hand-cutting or forming into raviolis or tortellini, flat fettuccini style noodles, or thin spaghetti-style pasta. It's sturdy, user-friendly, easy to maintain and is likely to have you ditch boxed pasta forever once you taste your homemade creations. Order Online.
Most Versatile
Philips Kitchen Appliances Pasta Maker Plus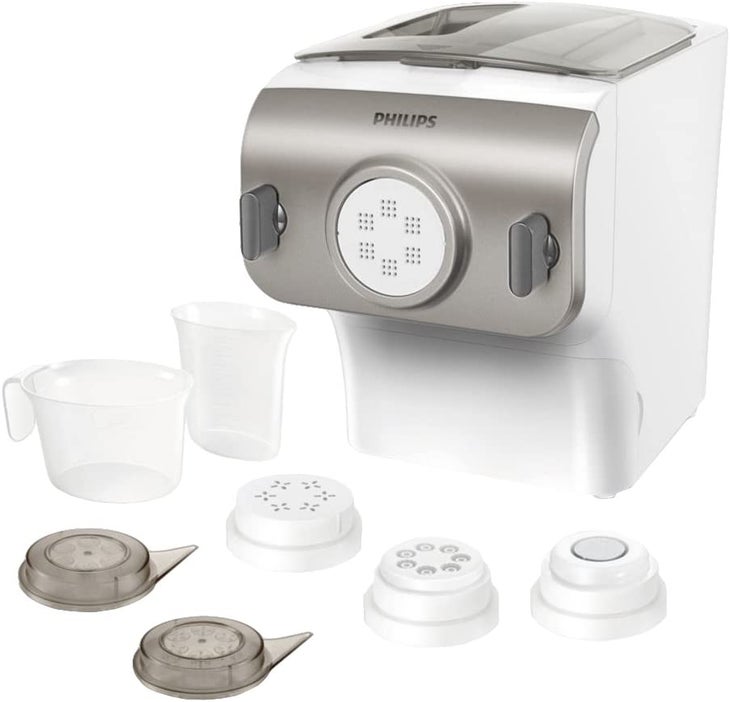 All-in-One Mixer, Kneader & Extruder
This Philips Pasta Maker Plus allows you to make homemade pasta from start to finish with its built in mixer and kneader and four shaping discs to produce spaghetti, fettuccini, penne, and lasagna.
What We Liked
Making fresh pasta at home can seem like a chore. You have to make the dough, knead the dough, feed your machine, and cut the pasta–a seemingly endless process just to make a small batch. This Philips machine takes the guesswork out of the equation and allows you to complete every step in the convenience of a single machine. It comes with a recipe book and measuring cups, so all you need to do is fill the top of the machine with your ingredients, choose your pasta style, and watch as your freshly made pasta pops right out the extruder. Additionally, the kit comes with a scraping tool, specialty cleaning tools for the spaghetti and fettuccine discs, and a built-in storage drawer for all the accessories. Purchase Yours Today.
Most Professional
Shule Electric Pasta Maker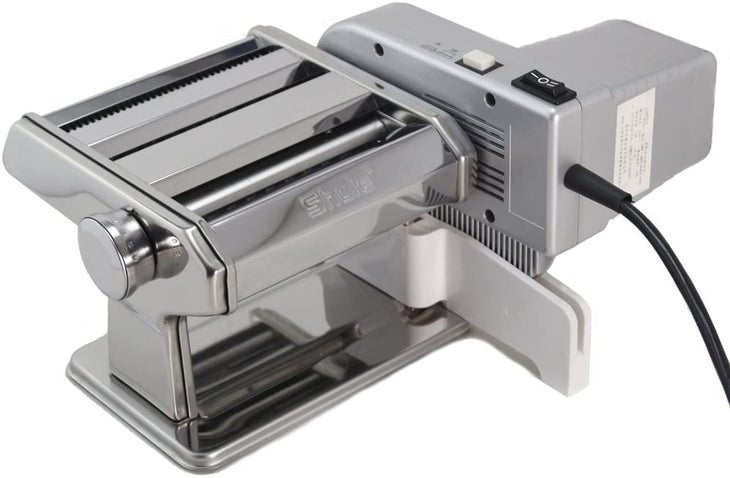 Easy to Adjust, Use & Clean
Made of stainless steel with anodized aluminum cutters, the Shule Electric Pasta Maker has a 110V motor for hands-free pasta making in thicknesses up to 6.6mm and the ability to use the hand-crank for more controlled distribution.
What We Liked
Whether you like your pasta razor thin or rustic and thick, this Shule pasta maker allows you to customize your favorite recipes with easy adjustments and user-friendly controls. A nine position dial and included attachments allow you to shape pasta from 0.5mm up to 6.6mm in thickness and a two-speed control to shape out perfectly shaped fettuccini-style square noodles. If old-school is more your style, the machine also comes with a hand crank mechanism so you can control the precision and speed at which the pasta is shaped, cut, and extruded from the machine. It's easy to clean, easy to adjust, and compact enough not to take up all the room in your appliance cabinet–even though you're likely to want it out on the counter so you can whip up homemade pasta anytime! Buy Now.