Best Plant Saucers
You either have a green thumb, or you don't. But like any hobbyist, gardeners often feel they need every tool and accessory designed to make planting and harvesting a bit more convenient and even effective. When it comes to planting in pots, there are few things worse than a pot with no drainage. But worse yet is the pot that leaks its murky, wet contents onto your patio, deck, or living room floor. While many plant pots come with built-in or matching saucers to catch excess draining, some don't or otherwise fail the test of time. Ready to make sure your new favorite houseplant doesn't ruin your floors? Want to ensure your outdoor tomatoes and herbs don't leak onto the porch? Check out some of these great plant saucers we found that get the job done–and help save your floors and furniture in the process.
Photo: Getty Images/iStockphoto
Heading out the door? Read this article on the new Outside+ app available now on iOS devices for members! Download the app.
Most Versatile
Mudeela 6 Pack of 12 Inch Plant Saucers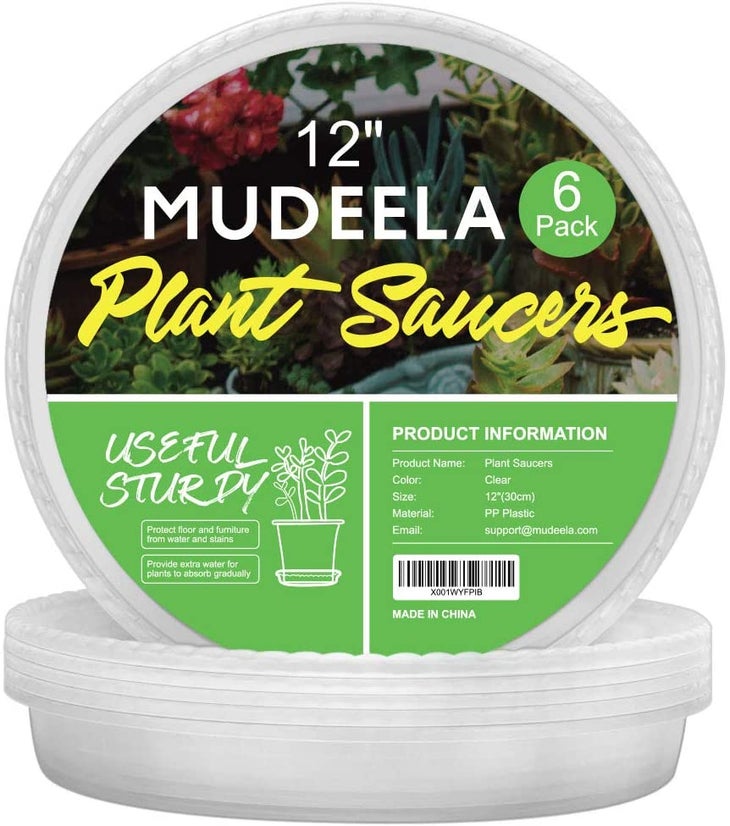 Sturdy Clear Plastic Plant Saucers
These strong, clear plastic plant saucers come in packs of six and are available in sizes ranging from 6 to 15 inches to match most houseplant pots.
What We Liked
These 100 percent waterproof plant saucers are a great convenient option for a variety of indoor and outdoor gardening needs. The clear plastic matches most pots and indoor/outdoor aesthetics, and it allows for easy lifting and drainage of excess water. It also allows for overwatering to reabsorb back into plants, thanks to the ridged bottoms. They're made from recycled plastic that's thicker and stronger than most disposable, clear plastic plant trays. The sizing options let you choose the perfect fit for most round pots. You can otherwise use the extra space to display stones, marbles, or other decorations within the tray perimeter. Get them here.
Best Outdoor
Hydrofarm Green Premium Saucer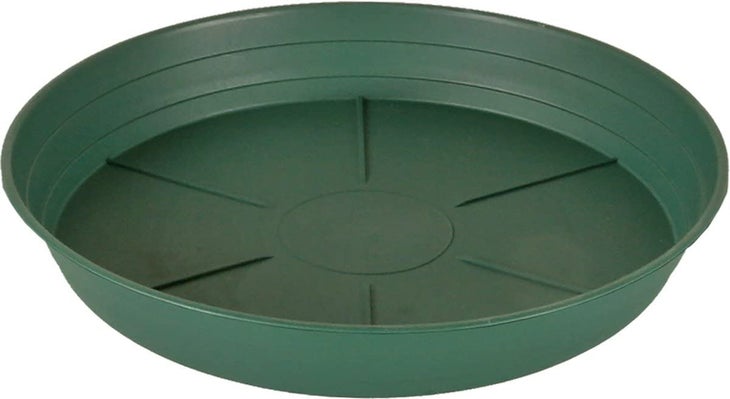 Durable Green Plant Saucer
This pack of 25 saucers from Hydrofarm ranges in sizes from 6 to 14 inches. The saucers are made of thick, durable, green plastic.
What We Liked
Though equally suited for indoor use, these green Hydrofarm saucers are great for outdoor potted plants with a color that accentuates the plant's foliage and matches the green of the grass and trees around your yard. The saucers feature a series of ribs along the bottom to elevate your pots, keep water out, and prevent the pot from sticking to the saucer when moving around. With 25 saucers in the pack, you can rest assured your outdoor space will remain dirty-water-free with these trays. Buy them now.
Editor's Choice
Akro-Mils Classic Saucer

Weather-Resistant, Colorful Patio Protection
Available in a variety of colors in sizes from 6 inches up to 24 inches, these durable plastic saucers make it easy to match sizes and colors of both your pots and surrounding aesthetic.
What We Liked
With color options including warm grey, slate blue, sea foam, terra cotta, and chocolate, these round plant saucers are easy to match (or mix and match) and enhance the look of both indoor and outdoor potted plants. The durable yet lightweight plastic construction is weather-resistant, meaning the color won't fade in direct sunlight nor will the trays crack or leak. What that means is you're getting a product that not only makes your plants look (and grow) better, but also protects the space they're in. Buy them here.
Most Durable
The HC Companies Classic Saucer

Durable, Lightweight, and Traditional
Made of durable and lightweight plastic, these plant saucers from the HC Companies come in a variety of colors and sizes to protect and enhance the look of your indoor and outdoor potted plants.
What We Liked
With aesthetically pleasing styles to choose from, these round plastic saucers fit into virtually any setting indoors or outdoors. They do the job efficiently of allowing your planters to drain excess water, preventing them from dying of overwatering. What's more, they're lightweight enough to remove, dump excess water, and mix and match with your potted plant set up. They're also built to withstand the color-fading effects of direct sun that often leads to plant saucers cracking and leaking. So, you can protect your indoor and outdoor floors and furniture for years to come. Get them now.