Best Reusable and Resealable Storage Bags
Resealable bags are an essential tool for homes and businesses. At home, resealable and reusable storage bags can help with meal prep, storing leftovers, and more. They also help save money and reduce your environmental footprint since the bags can be washed and reused. Additionally, you can use these bags to store makeup, organize personal items for trips, or have a waterproof bag at the beach. Businesses can use these bags to stylishly display and send their products to customers, including food items, specialty items like bath salts, herb packs, and more. Here is our review of four different resealable and reusable storage bags so you can find the right one for you.
Heading out the door? Read this article on the new Outside+ app available now on iOS devices for members! Download the app.
Most Fun Design
100 Pack Smell Proof Bags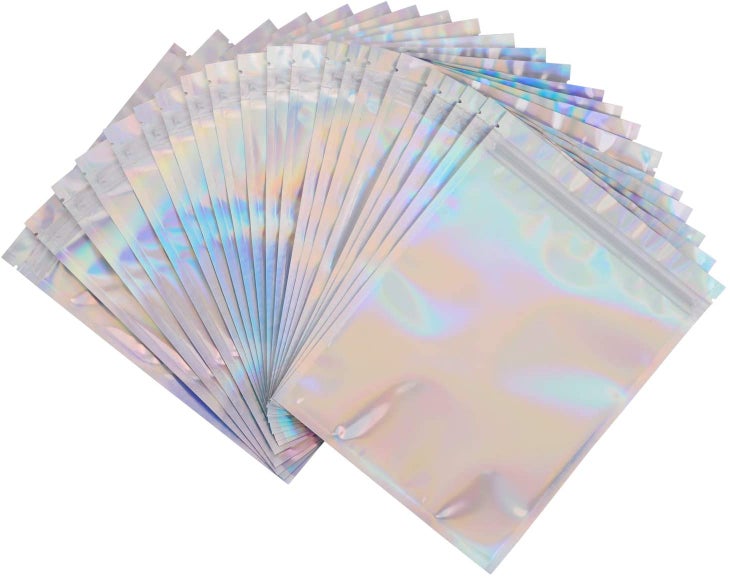 100 Holographic Resealable Bags. These stylish, holographic, rainbow-colored resealable bags can beautifully display products, gifts, or everyday items while keeping them safe.
What We Liked
This pack of 100 resealable bags has a shining, holographic silver front with a translucent back to display the items inside. The five-inch by seven-inch size is perfect for storing small products, like essential oils, herbs, candies, and more. These bags are durable and hold up well when used to ship products to customers. In addition, these bags are smell proof and prevent odors from items like scented bath salts or herbs from leaking out. These bags are FDA approved food-safe and form a tight seal to keep moisture out and your belongings safe. We liked the stylish holographic rainbow color combined with a translucent side to make items easy to see. Order Now.
Most Transparent
UNIQUEPACKING 100 Pcs 3×4 Crystal Clear Resealable Reclosable Cello/Cellophane Bags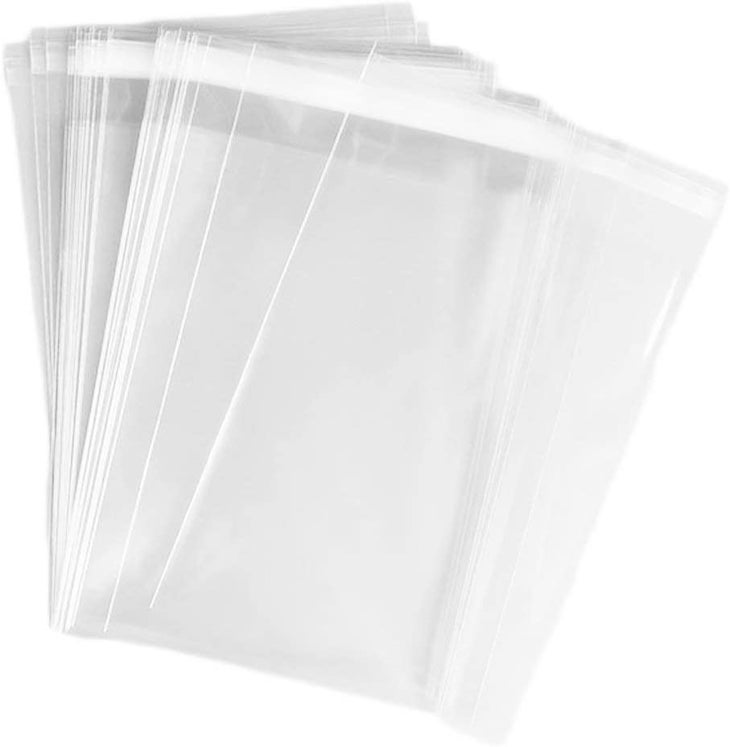 100 Crystal Clear Resealable Cellophane Bags. These durable cellophane resealable bags are food-safe, FDA and USDA compliant, and perfect for packaging food and displaying retail merchandise.
What We Liked
These small, crystal clear, resealable bags help display merchandise and food items clearly. These durable bags keep products safe even when shipped. The cellophane material is non-porous, non-stretching, and stronger than Polyethylene bags (like sandwich bags). They measure three inches wide by four inches tall and come in a pack of 100. Bags are sealed with a resealable, self-adhesive sealing strip. We liked that these resealable bags are crystal clear, which allows you to display contents easily. Click Here to Buy.
Most Versatile
Homelux Theory Reusable Silicone Food Storage Bags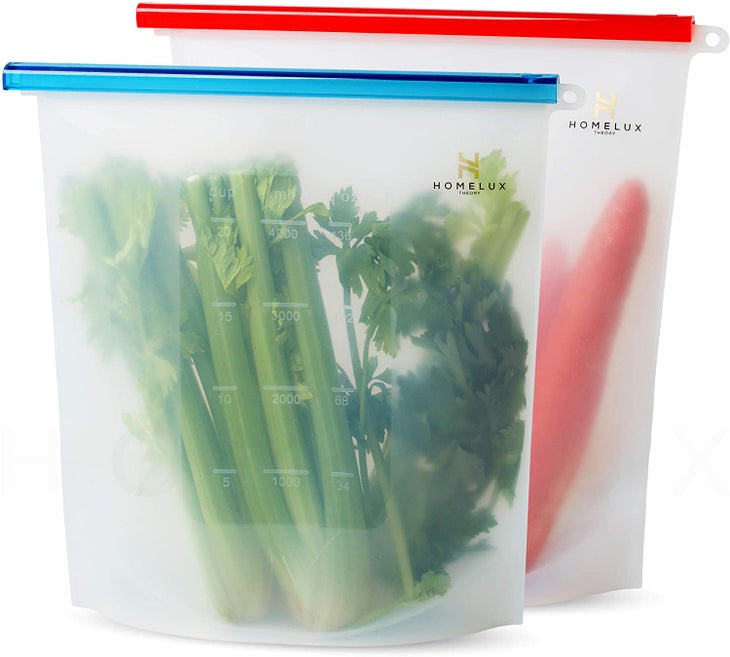 7 Reusable Multipurpose Silicone Storage Bags. These eco-friendly, reusable silicone storage bags provide airtight storage to keep leftovers fresh, while included measurements on the outside make meal prepping easy and the hanging storage hook helps with organization.
What We Liked
These reusable bags make storing food simple. These leak proof bags are made of 100 percent food-grade silicone and are non-toxic, non-reactive, and non-allergenic. You can microwave or cook your food using sous vide methods with these bags. Plus, they can withstand heat up to 428 degrees Fahrenheit. You also can use them in the freezer, which makes them perfect for storing freezer meals and smoothies. It's easy to keep track of the bag's contents by writing on the outside and later wiping it off. The bags are dishwasher safe for easy cleaning and have a hanging storage hook. This pack of seven bags comes with three large (holds six cups) and four medium (four cups) bags. These bags can also be used to store non-food items, such as makeup or office supplies, and they can keep possessions dry while at the beach or on a picnic. We liked that this set of seven bags is offered in two sizes with the ability to use the bags for a variety of purposes. Purchase Here.
Best Bonus Items
Reusable Silicone Food Bag (7 Pack) Reusable Silicone Food Storage Bag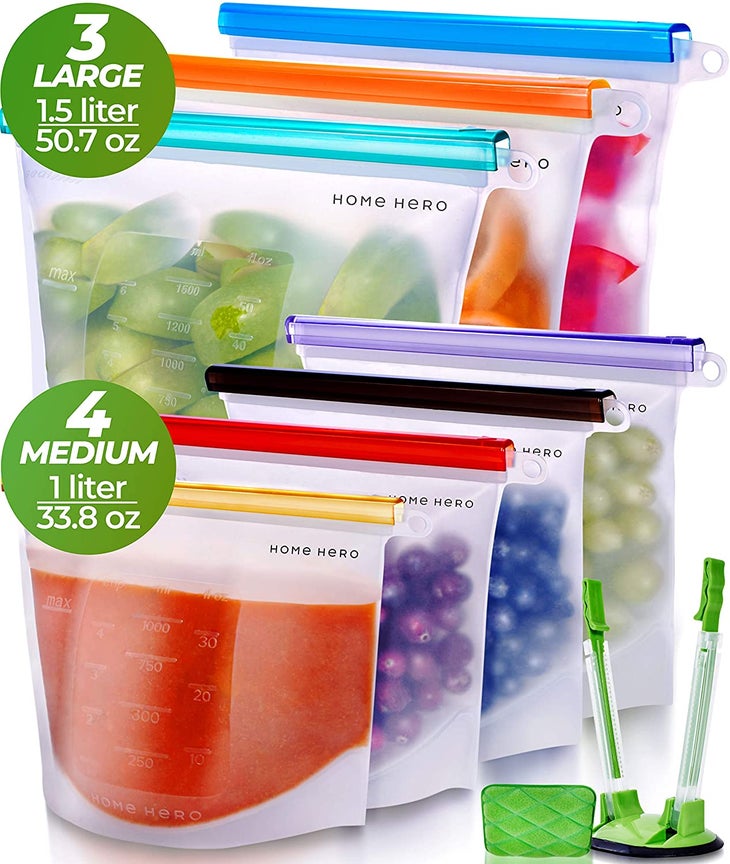 7 Reusable Silicone Food Bags. These seven reusable silicone bags are made with non-toxic silicone that is leakproof and perfect for storing freezer meals, using in the microwave, or using for sous vide cooking.
What We Liked
This set of seven clear food storage bags will make meal prepping and cooking easier. The set includes three large (1.5-liter) and four medium (1-liter) bags. The bags are made from non-toxic, FDA approved, BPA-free, PVC-free, and phthalate-free silicone. The bags are stain and odor resistant and recyclable. You can use them in the freezer or the microwave, and they are perfect for sous vide cooking. The free bag holder keeps the bag open while you ladle or place in foods, so you can have two hands free. The bags seal securely, so food stays fresh, and you never have to worry about liquids leaking. The set also includes a free cleaning sponge. We liked that these non-toxic, leakproof, silicone bags come with a free bag holder and cleaning sponge and can be used in the microwave, freezer, or for sous vide cooking. Order Yours Today.