Best Stemless Wine Glasses
Stemless wine glasses are more durable than stemmed glasses and easier to store, making them appealing for many people who drink wine at home. Most stemless glasses are also durable enough and small enough to fit in a dishwasher for easy cleanup. When shopping for a wine glass, consider whether you need a double-walled design to help reduce condensation, a universal shape, or if you want specific glasses for red wine and others for white. Here is our review of four stemless wine glasses, so you can find the right one for you.
Photo: Getty Images/iStockphoto
Heading out the door? Read this article on the new Outside+ app available now on iOS devices for members! Download the app.
Best Double-Walled
Epare Wine Glasses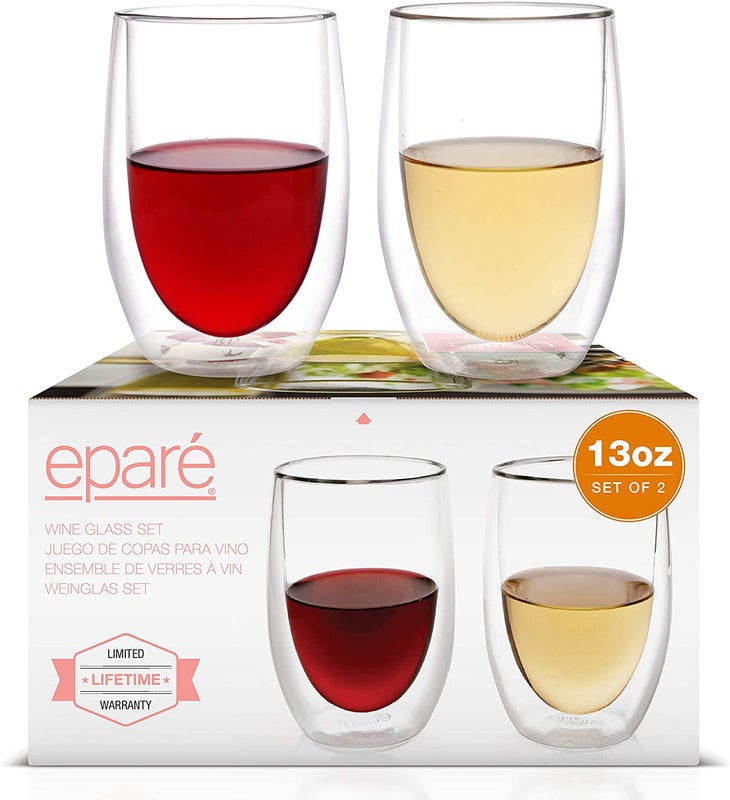 Keeps Drinks Cold (or Hot) Longer
This set comes with two double-walled, hand-blown wine glasses. This design helps resist condensation and keeps the drink at the right temperature longer.
What We Liked
This set of two double-walled wine glasses work well with red or white wine and hold up to 13 ounces. They are made of hand-blown Borosilicate glass, which makes the glass thin but durable. The double-walled feature helps resist condensation on the outside of the glass and helps keep your drink the right temperature longer. They are 5.25 inches tall and 3.5 inches in diameter. These glasses are microwave-safe and dishwasher-safe, and they come with a limited lifetime guarantee. Get them here.
Most Shatter-Resistant
JoltJolt Spirits Stemless Wine Glasses for Red or White Wine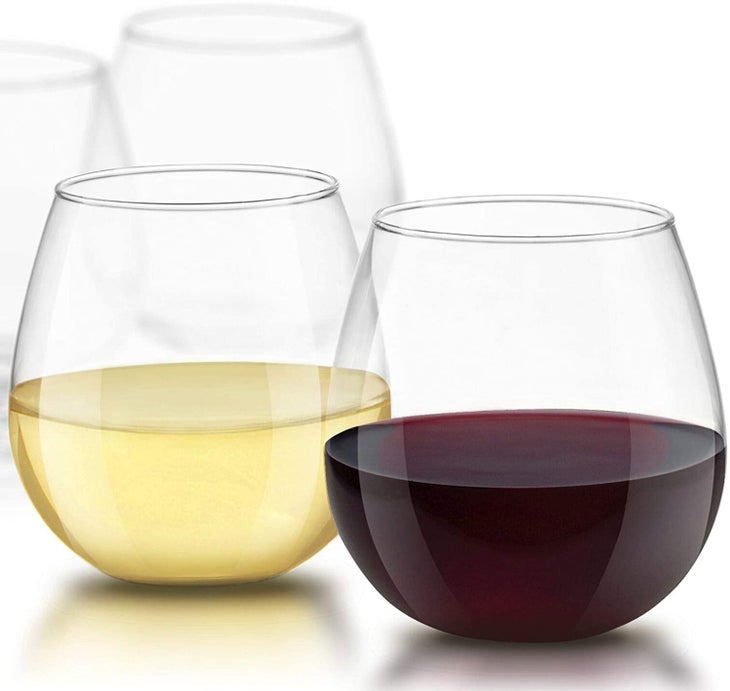 Set of Four Wine Glasses
This set of four stemless wine glasses works well with red or white wine. Each glass has a wide base to avoid tipping and is made from shatter-resistant, high-quality glass.
What We Liked
This set contains four stemless wine glasses that are easy to hold. A broad base makes them tip-resistant to help prevent spills. The bowl shape also helps enhance the flavor of the wine. Each glass holds up to 15 ounces and is 3.75 inches tall and 2.75 inches in diameter. The rim edge is thin with no bumps for comfortable sipping. In addition, the glasses are dishwasher-safe. Buy them now.
Most Specialized
Libbey Stemless 12-Piece Wine Glass Party Set for Red and White Wines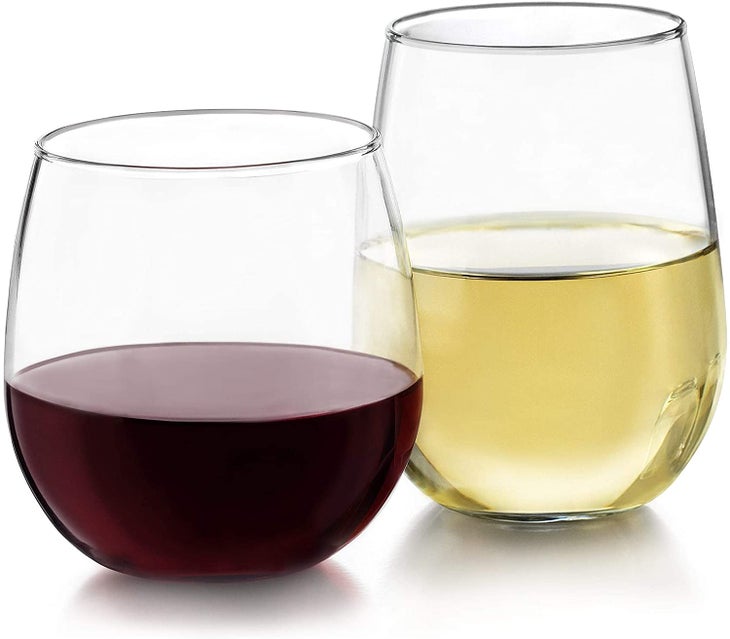 Two Styles of Glasses
This 12-piece set comes with six red wine glasses and six white wine glasses designed to enhance the flavor of the wine.
What We Liked
Receive six red wine glasses and six white wine glasses with this set. The red wine glasses have a wide bowl, and the white wine glasses have a taller, more slender profile. Each style is designed to enhance the flavors and aromas of that type of wine. The glasses are durable, easy to hold, and allow you to swirl the contents. The bases of the glasses are stable, so tipping and spills are less likely. In addition, they are lead-free and dishwasher-safe for easy cleaning. Buy them here.
Most Environmentally Friendly
TOSSWARE 14oz Vino SET OF 12, Recyclable, Unbreakable & Crystal Clear Plastic Wine Glasses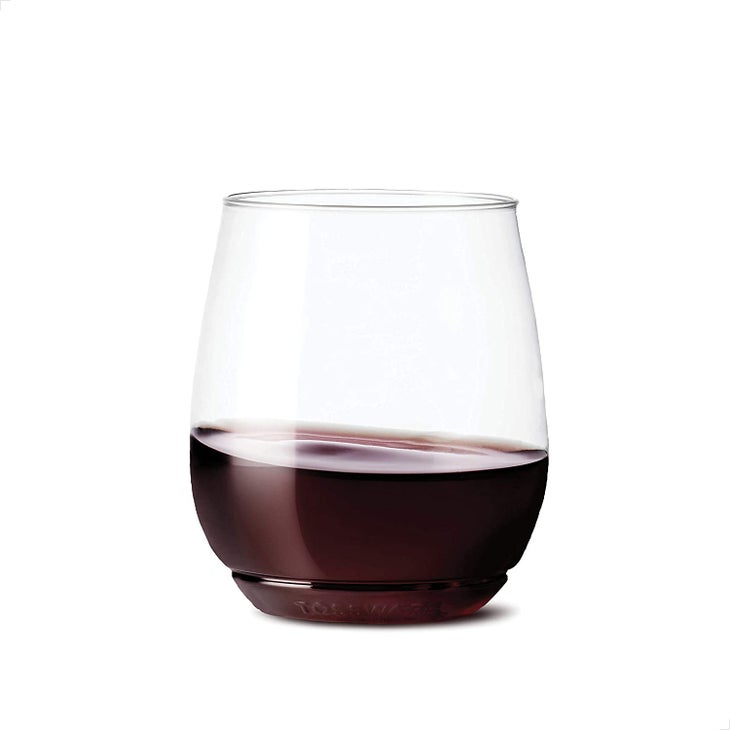 Reusable Plastic Wine Glasses
This set includes 12 stemless plastic wine glasses that are reusable, shatterproof if dropped, and environmentally friendly.
What We Liked
This set comes with 12 stemless wine glasses made from high-quality, BPA-free plastic. The environmentally friendly glasses are reusable and recyclable. These glasses are stylish enough for parties and gatherings, and they won't shatter like glass if dropped. The rounded rims are smooth and comfortable for sipping, and you can stack these on top of each other when not in use for easy storage. These glasses are hand wash only. Get them now.