Our Top Four Sushi Plates
Enjoying sushi at home has become a special occasion for many. Sushi takes time and care to prepare, and eating sushi in a more traditional style can bring even more enjoyment. For some of us, that means using chopsticks, sushi platters, and soy sauce dishes. Yet, others are happy to have a solid, utility platter that can be used versatilely. The sushi dinnerware we've selected is commonly made of porcelain or stoneware designed to add elegance and style to the table. Take a few moments to browse four of the best sushi plates to use at home or as a tasteful gift.
Heading out the door? Read this article on the new Outside+ app available now on iOS devices for members! Download the app.
Most Practical
LIFVER 10 Inch Porcelain Serving Platters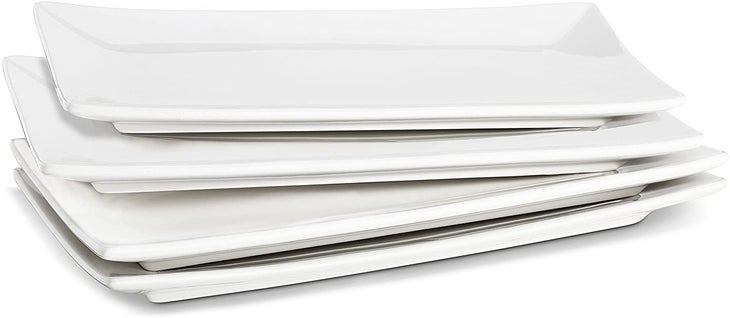 Infusion of Practicality and Style. Arc-shaped edges and gleaming white AB-grade porcelain platters match any choice of décor. An easy to grip design makes them practical for serving any dish.
What We Liked
At 10 inches by 4.7 inches, these platters are bigger than most sushi plates. They're easy to clean, either by hand or in the dishwasher. Serve up your favorite dish right out of the oven, microwave, or freezer without worry. LIFVER rectangle platters are made of lead-free porcelain and stack well to save room in the cupboard. Get yours here.
Best Artistic Design
MySushiSet Cherry Blossom Japanese Sushi Set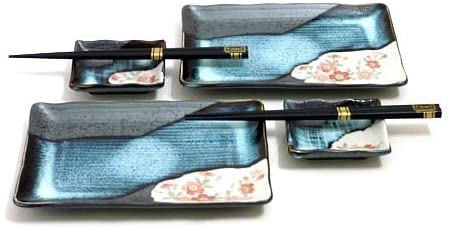 Too Pretty to Cover. Black flecks are speckled on a black and gray backdrop with a beautiful slice of white adorned with flowers in the corner. These dishes are so pretty, you'll be reluctant to cover the intricately-painted designs.
What We Liked
Artistry is found everywhere in these dishes, from the delicate veins of each petal to the care taken in shading the leaves. This lovely dinnerware set makes a perfect birthday, wedding, or housewarming gift. The set comes with two sushi plates (8 inches by 5⅛ inches), two soy sauce dishes (3⅜ inches by 2¾ inches by ⅞ inches), and two black and gold chopsticks (8⅞ inches). Plus, everything is easy to clean, so you can display the beautiful dishes proudly. Pick one up today!
Best Gift Set
MIYA Brush Stroke 6 Piece Dinnerware Set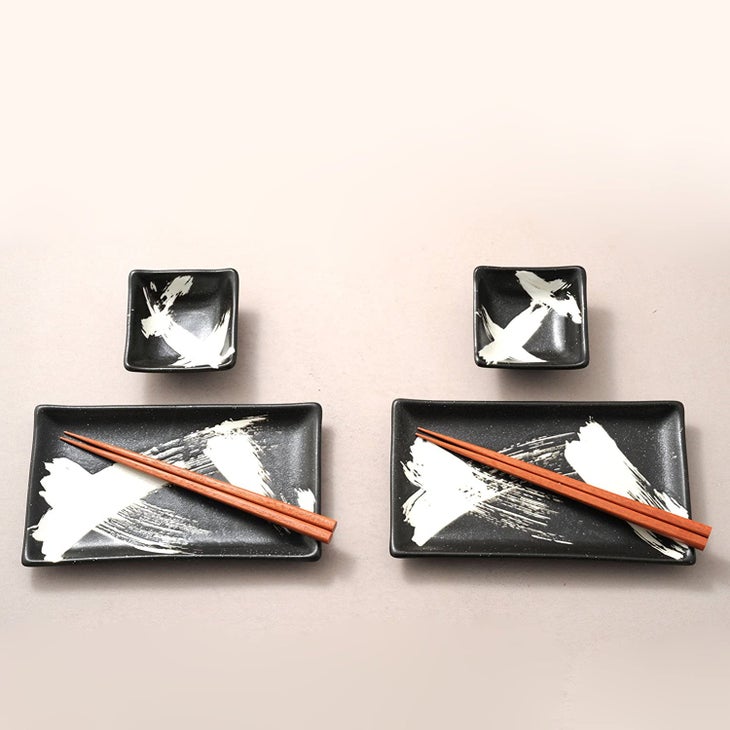 Wrapped in Quality. Handmade in Japan with a contemporary Zen design. You'll love these quality ceramic sushi dishes that are durable with an artistic flair.
What We Liked
Our first impressions are pretty good indicators of what to expect. The MIA Brush Stroke set will impress you from the moment you see the packaging. Then, once you pick up this amazing dinnerware set, you'll see and feel the high-quality craftsmanship of this ceramic set, which includes two sushi plates (8½ inches by 5 inches), two square soy sauce dishes (3¼ inches), and matching wooden chopsticks (9 inches). Plates and dishes are made with microwave and dishwasher safe stoneware. Get it here.
Top Choice
Happy Sales HSST-BLUGRY Japanese Style Sushi Plate Dinnerware Set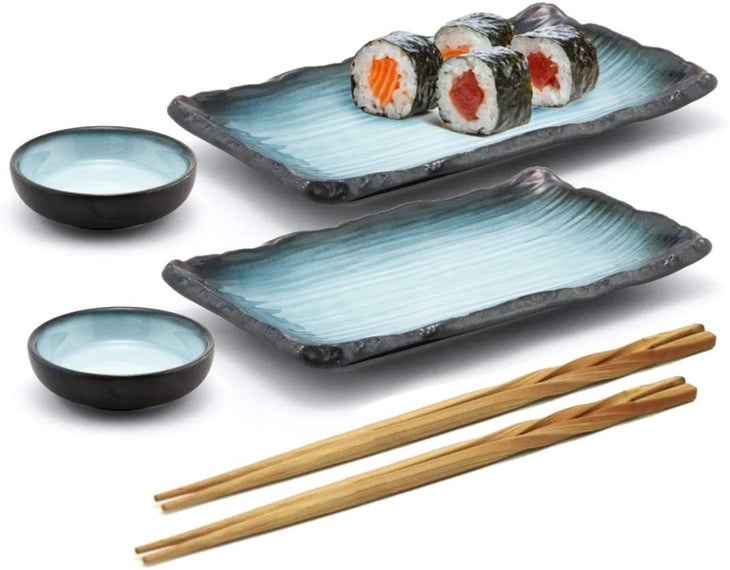 Special Occasion Dinnerware. Every element of this gorgeous set shows dinner guests how special they are. From the fine bamboo sticks to the light, heavenly blue glaze of the plates and sauce dishes, you'll be proud to serve guests with this unique set.
What We Liked
This beautiful six-piece set includes two dishwasher and microwave safe plates (8 inches by 5 inches) and two sauce dishes (3.25 inches). The plates are made of porcelain with double-glazed tops to make cleaning easy, and the bamboo chopsticks are beautifully designed and waterproofed by resin-capping. Buy one now!