Laura: Cookbook Review of 500 Best Quinoa Recipes (plus a recipe!)
Get creative with your quinoa thanks to the latest subject in Laura's cookbook review series: 500 Best Quinoa Recipes - and get a new quinoa recipe here!
Heading out the door? Read this article on the new Outside+ app available now on iOS devices for members! Download the app.
500 Best Quinoa Recipes
By Camilla V. Saulsbury
(Robert Rose, $28)
Quinoa is one of my favorite foods, but I tend to stick with my tried-and-true way of serving it (tossed with roasted veggies, pumpkin seeds, spices such as cumin and cayenne, a dressing of olive oil, raw honey and red wine vinegar, and topped with a sprinkling of feta). So when I received a copy of Camilla V. Saulsbury's 500 Best Quinoa Recipes, I was inspired to shake things up and find some new (and clean!) quinoa-based meals. By showcasing just how versatile this gluten-free seed can be, Saulsbury skillfully uses quinoa as a base for everything from salads and soups to savory-sweet baked goods and wraps. With 500 recipes to choose from, her book offers an excellent selection of both non-vegetarian and vegetarian recipes. Saulsbury's Black Bean Quinoa Burgers are a savory, satisfying alternative to beef, while dinner recipes such as the Skirt Steak with Horseradish Tomato Quinoa Salad will please even the most fervent of meat lovers. While testing out some of the recipes, I was surprised to discover how quinoa can be successfully combined with walnuts and a few other clean binding ingredients to create a pleasantly nutty and chewy crust for desserts (Walnut-Quinoa Pie or Tart Crust, p. 446). And with each bite of these recipes, take comfort in knowing you'll be reaping the health benefits of this ancient superfood – it's a low-fat nutrient powerhouse that's packed with protein, iron, calcium, fiber and potassium!
Check out CE's exclusive recipe from Saulsbury's book: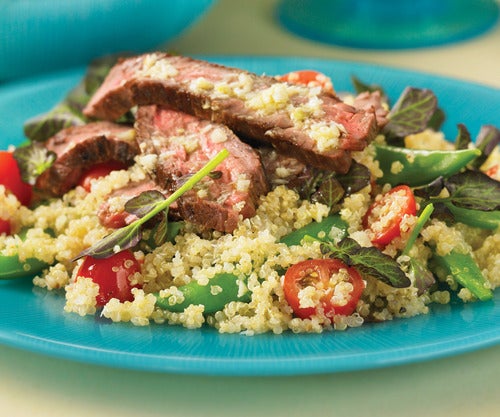 Skirt Steak with Horseradish Tomato Quinoa Salad
Serves: 8
INGREDIENTS:
1 cup quinoa, rinsed
8 oz sugar snap peas, strings removed
3 cloves garlic, mashed (see tip, below)
4 tbsp extra-virgin olive oil, divided (NOTE: CE recommends using a high-heat cooking oil such as sunflower, safflower or grape seed.)
2 tbsp fresh horseradish
1 1/2 tbsp white wine vinegar
2 cups halved grape or cherry tomatoes
Fine sea salt and fresh cracked black pepper, to taste
1 lb beef skirt steak, cut into 4 pieces
4 cups packed tender watercress sprigs
INSTRUCTIONS:
1. In a large saucepan of boiling salted water, cook quinoa for 11 minutes. Add peas and boil for 1 minute. Drain and rinse under cold water until cool.
2. In a small bowl, whisk together garlic, 3 tbsp oil, horseradish and vinegar.
3. In a large bowl, combine quinoa mixture, tomatoes and 2 tbsp of horseradish dressing, gently tossing to combine. Season to taste with salt and pepper. Separately cover and refrigerate salad and the remaining dressing while preparing steak.
4. Generously season steak with salt and pepper. In a large, heavy skillet, heat remaining 1 tbsp oil over high. Add steak and cook, turning once, for 3 to 4 minutes per side or until crusty and medium-rare, or to desired doneness. Transfer steak to a cutting board and let rest for 5 minutes. Thinly slice across the grain on a slight diagonal.
5. Add watercress to the quinoa mixture, gently tossing to combine. Divide salad among 4 plates. Arrange steak on top. Drizzle with remaining dressing.
Nutrients Per Serving (1/8 recipe): Calories: 248, Total Fat: 11 g, Sat. Fat: 2 g, Monounsaturated Fat: 7 g, Polyunsaturated Fat: 1.5 g, Carbs: 18 g, Fiber: 3 g, Sugars: 2.5 g, Protein: 15 g, Sodium: 80 mg, Cholesterol: 28 mg
TIP:
To mash garlic, working with one clove at a time, place the side of a chef's knife flat against the clove. Place the heel of your hand on the side of the knife and apply pressure so that the clove flattens slightly (this will loosen the peel). Remove and discard the peel, then roughly chop the garlic. Sprinkle a pinch of coarse salt (CE recommends a coarse sea or kosher salt) over the garlic. Use the flat part of the knife as before to press the garlic against the cutting board. Repeat until the garlic turns into a fine paste. The mashed garlic is now ready for use in your favorite recipe.
Excerpted from 500 Best Quinoa Recipes by Camilla V. Saulsbury © 2012 Robert Rose Inc. www.robertrose.ca Photos by Colin Erricson. Reprinted with permission. All rights reserved.