Refresh and Renew with a 24-Hour Reset
Find some much-needed "me time" this week to take care of yourself and build new habits.
Heading out the door? Read this article on the new Outside+ app available now on iOS devices for members! Download the app.
If you're eating clean everyday, there's no need for a strict juice cleanse. However, a one-day "detox" can be a fantastic tool to reset your body, clear your mind and establish new, healthier habits that fit your lifestyle. By eating whole foods and using movement and stress-releasing techniques throughout your day, you can make small steps towards big changes in your daily life.
Your Refresh and Renew 24-Hour Reset Routine
Morning Cleansers: Move, Breathe and Digest
Take a few moments upon waking to sit down and find stillness. You can focus on an intention or mantra for your day–or simply breathe deeply. After five minutes, perform some stretching exercises to warm your muscles, release tension, and kick-start your digestive system. Inhale as you reach your arm overhead. Exhale as you twist to the right, bringing your right hand behind you and your left hand to your right thigh. On your next inhale, reach back up to the center and exhale to the left side. Repeat for 10 rounds, loosening the shoulders and spine, while toning the core and digestive organs.
For breakfast, rehydrate first with hot lemon water to stimulate digestion. If desired, add 1 teaspoon of raw, organic honey to sweeten, or kick it up a notch with nourishing ginger or metabolism-boosting cayenne pepper.
Next, make a green juice or smoothie. Keep it heavy on the greens and light on the fruit (see recipe below). If you desire caffeine, opt for green tea or Ayurvedic coffee, brewed with cinnamon, nutmeg, and cardamom to reduce jitters and indigestion.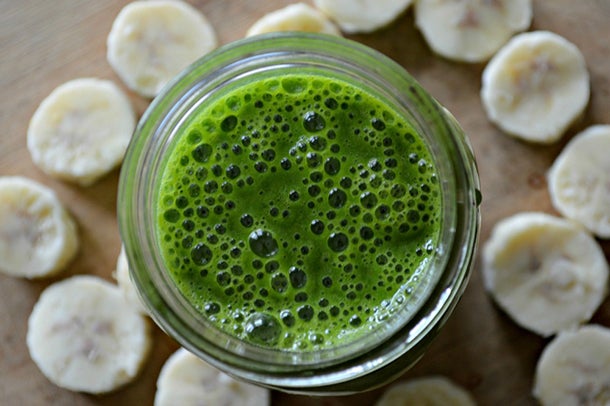 Now, it's time to get moving! Walk, practice yoga or stretch. It's not always necessary to do a full workout; you can keep it short and focus on moving your body rather than burning calories.
If it's the weekend, go off and do something fun! Read a book, see a movie or meet a friend. Weekend days are about you.
If you're off to work, take some time mid-morning to sneak out for a walk or a soothing cup of herbal tea.
If you get hungry, enjoy another green juice or smoothie.
Mid-Day Cleansers: Fuel, Firm and Fun
At lunchtime, you are not only refilling depleted energy stores, you are refueling to sustain yourself until evening. Therefore, lunch is easily the most important meal of your day. Take a break from worrying about work or your to-do list and take time for yourself. For lunch, aim for greens, proteins, carbs, and fats. Eat a little of each to help you stay satisfied and fueled for longer. Opt for a large salad with chickpeas, lean protein (tuna salmon, chicken, tofu, tempeh or eggs), at least five different vegetables, vinegar and oil for a dressing, and sprouted grain toast with hummus or almond butter on the side. You'll feel energized instead of weighed down.
Either during lunch or in the mid-afternoon, move your body again. Use this workout as a way to burn off some pent-up energy or to take your mind off of any worries or stress. Don't overdo it. After you finish, you want to feel recharged, not depleted.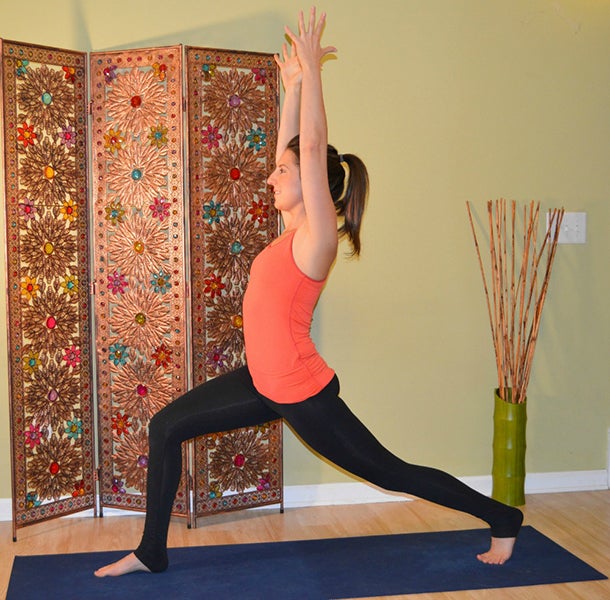 If you need a snack, grab some fruit or veggies and raw nuts.
Evening Cleansers: Restore, Replenish and Re-evaluate
Take some time to unwind and create an evening ritual. For dinner, try some roasted veggies with brown rice or quinoa. If you usually unwind with a glass of wine, try a warm cup of tea instead.
After dinner, enjoy a relaxing, warm bath. Try adding some eucalyptus, tea tree, lavender or sesame oil to your bath to make it even more soothing.
Before you head to bed, take time to sit and reflect on your day. What worked for you and what just didn't fit your lifestyle? Writing down a few thoughts will help clear your mind before drifting off to sleep. List five challenges and five positive things from the day. Pick your greatest challenge and write down what you did to overcome it, and how you can make it less challenging tomorrow. Then, select the most positive aspect of your day. How did it make you feel? Write down one way you can create that same positive feeling tomorrow.
Head to bed for 7-9 hours of sleep and start fresh and renewed the next day.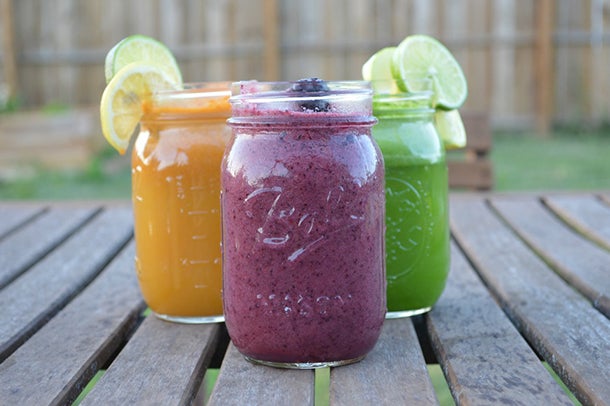 Juice Recipes
Green Zinger Breakfast Juice
INGREDIENTS:
1 cucumber
1 cup kale
1 cup spinach
1 inch of ginger
1 apple
Juice of 1 lemon
INSTRUCTIONS:
Add all ingredients to a juicer and blend.
Sweet and Tangy
INGREDIENTS:
3 large carrots, peeled
2 small apples
1 large cucumber, peeled
Juice of 1 lemon
Juice of 1 lime
INSTRUCTIONS:
Add all ingredients to a juicer and blend.
Detox Beet
1 cup kale
1 cup spinach
1 inch ginger root
1 small beet
1 carrot
1 cucumber
1 apple
Juice of 1 lime
Juice of 1 lemon
INSTRUCTIONS:
Add all ingredients to a juicer and blend.
See alsoTo Detox or Not to Detox
—
Jessi Andricks is a leader in the field of healthy living. Her mission is to help people live the happy, healthy life they deserve through understanding food, fitness and stress. Look for her book Detox 101 and her site JessiAndricks.com.