Apple Cobbler With Golden Raisins and Nuts
Hazelnut milk and almond flour add sweet, rich, nutty flavor to this fall dessert. Try solo or topped with whipped coconut cream.
Heading out the door? Read this article on the new Outside+ app available now on iOS devices for members! Download the app.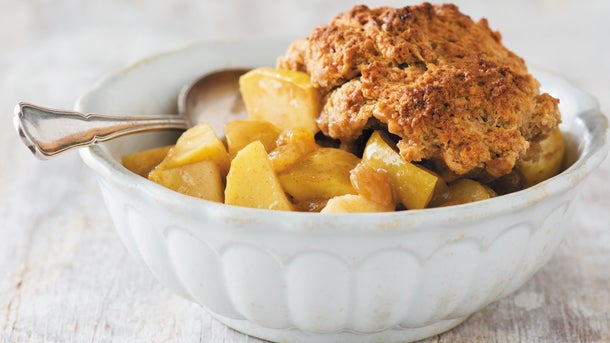 Serves: 4 to 6
INGREDIENTS:
3/4 cup plus 1tablespoon plain (sweetened) hazelnut milk, divided
2 tablespoons fresh, strained lemon juice, divided
1¾ cups plus 2 tablespoons white whole- wheat flour, divided
1/2 cup almond flour or meal
1/4 cup plus 1 tablespoon Sucanat or brown sugar, divided
1½ teaspoons baking powder
1/2 teaspoon baking soda
1 teaspoon kosher salt, divided
3/4 teaspoon ground cinnamon, divided
6 tablespoons vegan butter(cold), diced Non stick cooking spray
5 sweet green or yellow apples, such as Golden Delicious, cored and cut in to 1-inch chunks, with peels (about 7 cups)
1/4 cup plus 2 tablespoons golden raisins
1/4 cup pure maple syrup
2 teaspoons freshly grated lemon zest (about 1 large lemon)
INSTRUCTIONS:
Preheat the oven to 375 degrees F. in a medium bowl, whisk the hazelnut milk with 1 tablespoon of the lemon juice, stir, and let sit for 10 minutes.
Meanwhile, in a large bowl, whisk together 1¾ cups of the white whole-wheat flour, all of the almond flour, 1/4 cup of the Sucanat, the baking powder and baking soda, 1/2 teaspoon of the salt, and ¼ teaspoon of the cinnamon. Whisk well until combined. Add the vegan butter, and crumble into the dry mix until coarse crumbs form. Pour in all but 1 tablespoon of the hazelnut milk–lemon juice mixture, and form into a ball. Chill.
Meanwhile, spray a 1½-to 2-quart baking dish (preferably round and relatively shallow) with cooking spray. In a large bowl, the apples, raisins, maple syrup, zest, and remaining tablespoons white whole wheat flour, 1/2 teaspoon salt, 1/2 teaspoon cinnamon, and 1 tablespoon lemon juice. Pour into the baking dish.
Form 6 or 7 large balls of dough, and press over the top of the apple mixture. Brush the tops of the dough rounds with the remaining tablespoon of hazelnut-lemon mixture, and sprinkle with the remaining tablespoon of Sucanat. Place the baking dish onto a rimmed baking sheet, and bake until the fruit is tender, the juices thicken, and the topping is golden brown and cooked through about 1 hour.
Dina Cheney is a regular contributor to Clean Eating and is now the author of The New Milks. Featuring 113 cooking and baking recipes, the book explores dairy-free alternatives to milk. Find it here.