7 Easy, Breezy Summer Salads
Meet your new favorite one-dish dinners! These substantial salads are just the ticket for weeknights when you need something super nutritious that's ready fast.
Heading out the door? Read this article on the new Outside+ app available now on iOS devices for members! Download the app.
Vegetarian Taco Salad with Chunky Pico Dressing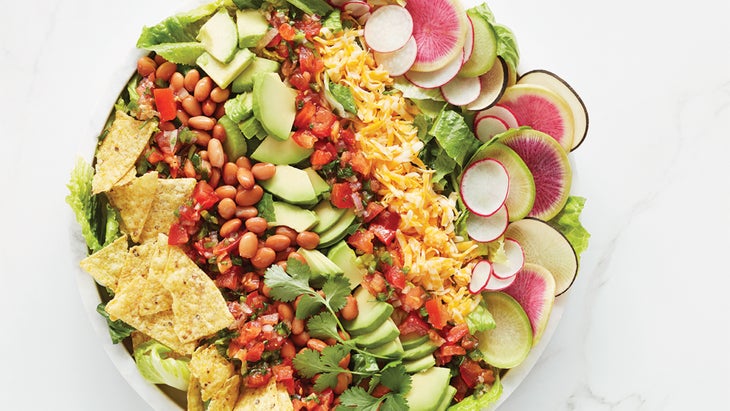 You definitely won't miss the chicken or beef in this substantial vegetarian version of a taco salad. We use pico de gallo in the dressing for a chunkier texture, but you can pulse it in the food processor if you prefer a smoother dressing.
Vietnamese Shrimp Salad with Mint Chile Dressing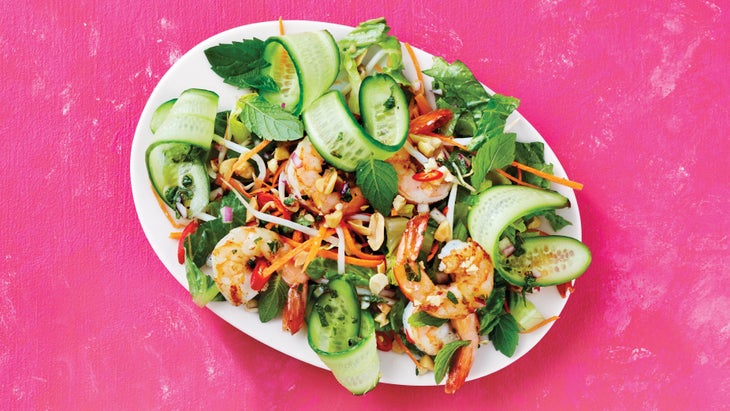 This salad has a nice bit of heat to it thanks to the fresh chile. Fiery, sweat-inducing capsaicin is found mostly in the white pith (and the seeds that come into contact with the pith), so devein and seed the chile if you want to cut back on spiciness. For added flavor, you can add chopped fresh mint, cilantro or Thai basil to the salad.
Superfood Salad
This gorgeous medley includes a combination of Salzman's favorite superfoods – berries, Brazil nuts, spinach and more – for maximum flavor and nutrient value. To keep this salad plant-based, you can easily omit the salmon and replace with beans or lentils.
Get the recipe
Shredded Carrot & Chicken Salad with Raisins, Jicama & Citrus Yogurt Dressing
Jicama is a crunchy, mild vegetable that's common in Mexican cuisine. It looks a little intimidating because of its size and odd shape, but once you peel it, the cool flesh is easy to slice and adds a crisp texture to salads. Use any cooked chicken you have on hand in this salad – make some extra next time you have the grill going. We love this salad with a drizzle of sriracha sauce.
Middle Eastern Chicken & Rice Salad with Tahini Dill Dressing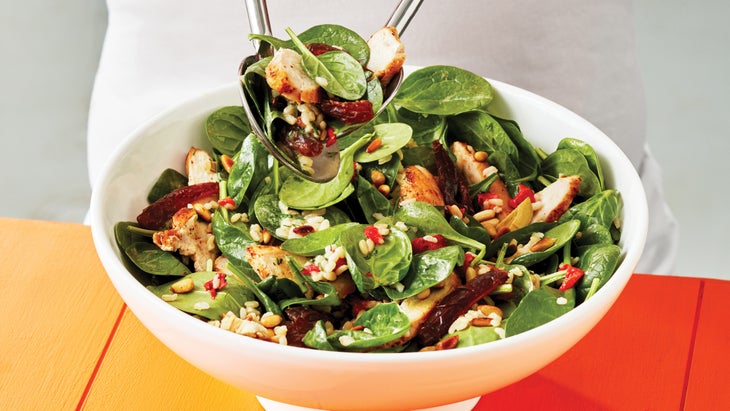 A key ingredient in many Middle Eastern salads, mint gives this recipe a wonderful freshness. Simply seasoned chicken bumps up the protein content, making this a filling main dish. Using leftover cooked rice speeds up dinner prep — just make extra the night before.
Saturday Chopped Salad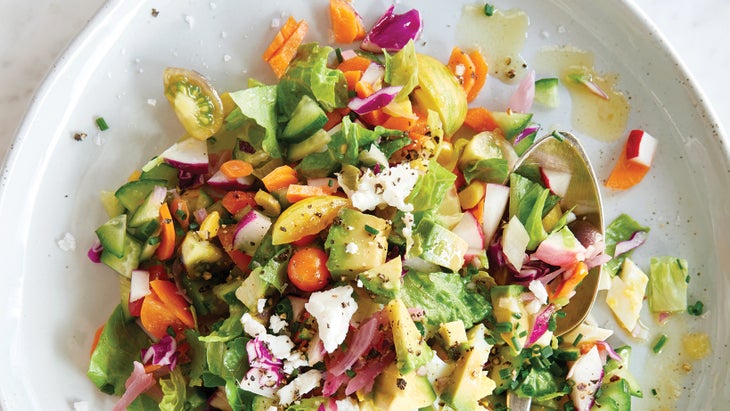 The key to this salad is to cut the veggies into extra-small pieces – about the size of a pea – so that you get a variety of flavors and textures in every bite. Salzman uses her Everyday Salad Dressing to dress this fresh salad.
Roasted Grape & Salmon Kale Salad with Cider Maple Vinaigrette & Gorgonzola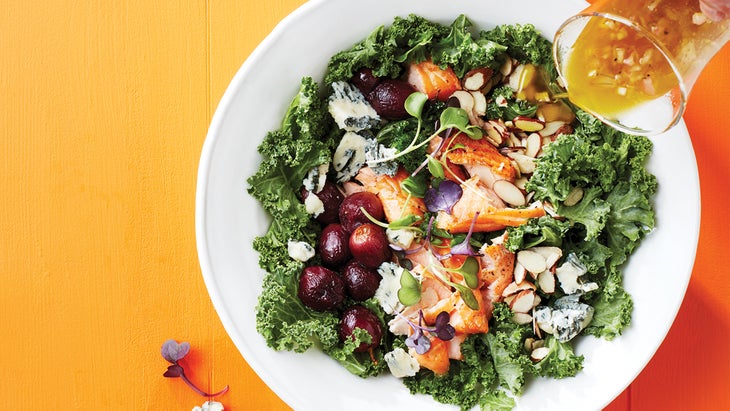 To keep your prep quick, here we roast the salmon at the same time as red grapes – and we do it all on one baking sheet for quick cleanup. The cooked fruit gives the salad a sweet-tart tang that balances the richness of the cheese and fish. Sprouts or microgreens make a nice garnish on this dish.