What Are the Benefits of Bulletproof Coffee?
CE's nutrition mogul Jonny Bowden answers the question about bulletproof coffee with proven science, cold hard facts and a good dash of reason.
Heading out the door? Read this article on the new Outside+ app available now on iOS devices for members! Download the app.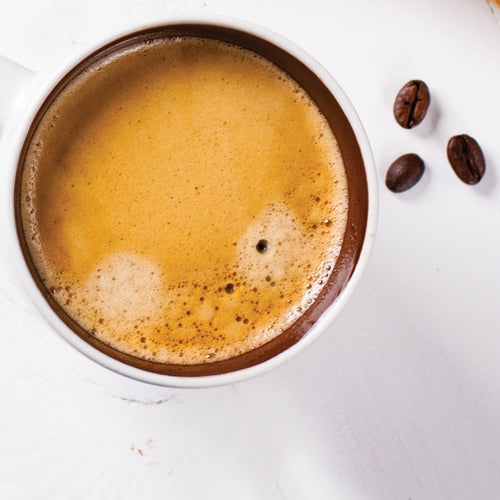 Actually, I'm a big fan and have some version of it almost every day.
Bulletproof Coffee is the invention of Silicon Valley investor, tech entrepreneur and self-proclaimed biohacker Dave Asprey. After Jimmy Fallon started talking about it on The Tonight Show, Asprey's small, trendy company, which was best known for its annual biohacking health conference, became a full-blown international phenomenon thanks to its supercharged coffee.
The basic recipe is coffee plus fats. The fats are grass-fed butter and MCT oil, a pure, liquid form of healthful medium-chain triglycerides extracted from a combination of coconut oil and sustainable palm kernel oil. Asprey recommends that you use Bulletproof's particular brand of coffee and MCT oil for best results, but honestly, you can do a perfectly good variation on it at home with no special ingredients. I generally take a generous pat of grass-fed butter, put it in a coffee cup and let the coffee drip into it. Sometimes I use Barlean's Organic Virgin Coconut Oil, which works really well. And sometimes I'll even use MCT oil. Then I add whole cream or half-and-half and I'm good to go. If you put the resulting mix in a blender for a minute, it turns into a frothy, delicious, filling drink.
What's the reasoning? Simple. We high-fat folks have been touting the benefits of healthy fat for a long time. Fat is a great source of even, slow-burning energy, it helps balance your hormones and it keeps you satiated for hours. And remember – you have to eat fat to burn fat.
I usually grab a cup of Bulletproof-style coffee in the morning before my 8 am tennis game, and it powers me through the next two hours on the court. Although I don't recommend this type of coffee for everyone, it definitely works for me. Some people may need to avoid Bulletproof Coffee if they have an allergy to dairy, are genetically predisposed to high blood pressure in the presence of caffeine or are someone who needs to eat something in the morning to prevent low blood sugar.
Make your own Bulletproof coffee at home! See our Buttered Coffee recipe.