6 Measuring Cups + Spoons for Perfect Cooking
We sized up the options and found the best measuring cups and spoons 
for all your baking and cooking needs.
Heading out the door? Read this article on the new Outside+ app available now on iOS devices for members! Download the app.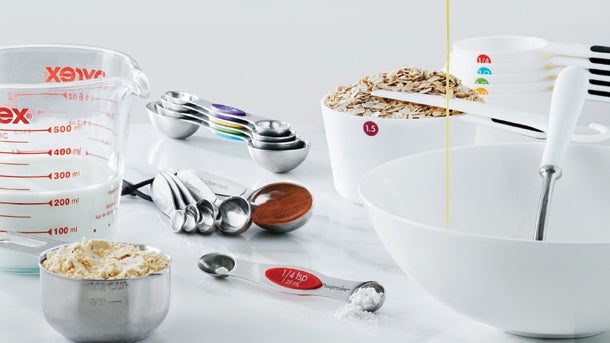 Don't mix your cups up! Dry measuring cups are meant to be filled right to the top then leveled off with a knife, but you'd have a hard time putting in your liquid right to the top without spilling. Liquid cups, on the other hand, have extra space at the top, which is perfect for measuring liquids but not for properly leveling off dry ingredients. For accuracy, use a liquid cup for liquids and a dry cup for dry ingredients.
When using dry cups to measure ingredients such as flour, spoon the flour into the cup then scrape the top to level off. Avoid dunking the cup into the flour bag and scooping out – this leads to a packed cup of flour, which can result in denser baked goods.
When measuring sticky ingredients such as honey, try misting your cup or spoon with cooking spray first so it pours out easily.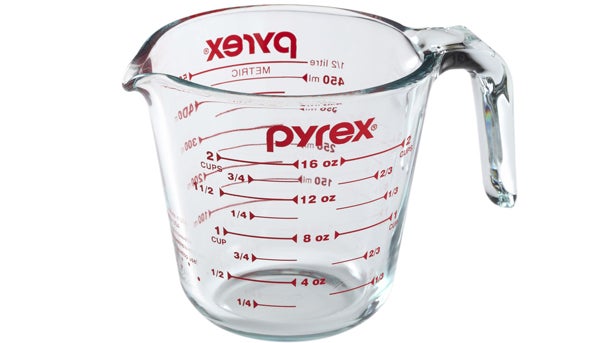 1. Pyrex 2-Cup Measuring Cup
This classic measuring cup with easy-to-read markings is made of thick glass, which means it won't stain, impart flavors or leach, and it can safely be used for measuring hot liquids.
$6, pyrexware.com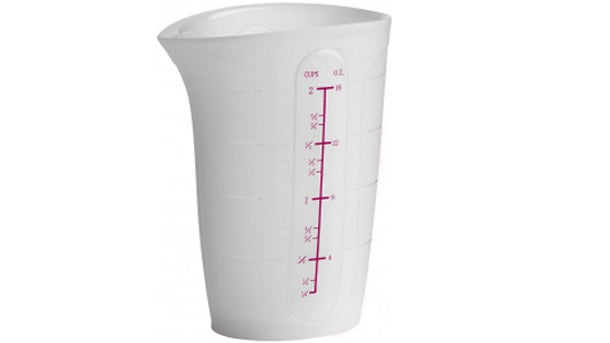 2. Tradeau Flex Measuring Beaker
This flexible silicone cup is lightweight and durable. There's no handle, but the grip still feels sturdy. The unmarked lines between the ounce measurements can be a bit confusing – they are for design, not measuring purposes – but we still think it's a great option.
$12, trudeau.com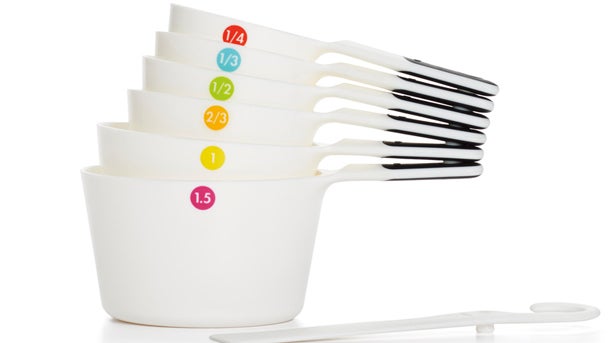 3. OXO Good Grips 7-Piece Measuring Cup Set
This BPA-free set snaps together, so you'll never misplace a cup. With a scraper for leveling off your ingredients that also doubles as a hook for hanging, the set is well thought out. It boasts a 1½-cup measure but lacks a ¾-cup measure; however, lines inside the cups that demarcate the halfway mark make up for it.
$10, oxo.com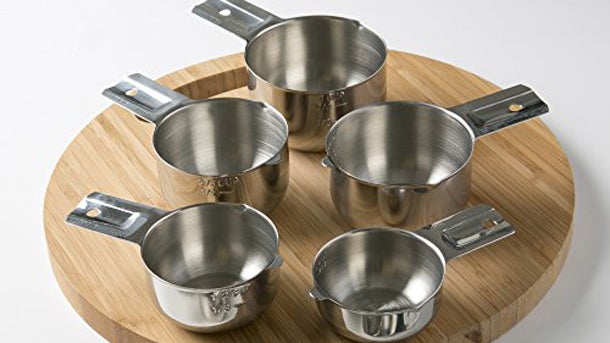 4. KitchenMade Measuring Cups 7-Piece Set
Stainless steel cups like these are always a smart, durable option to keep in your kitchen drawer. This set includes a 1/8-cup measure – a handy feature – and a metal ring that holds them together for storage.
$28, amazon.com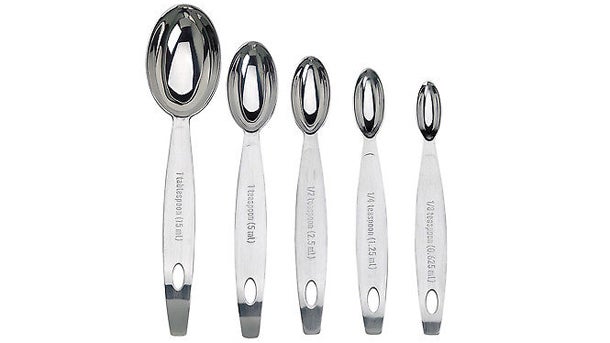 5. Cuisipro Stainless Steel 5-Piece Measuring Spoons
This sturdy stainless steel spoon set, held together with a metal ring, will last for years to come. The oval shape makes it easy to slip into jars. This set has a 1/8-teaspoon measure but no ½ tablespoon.
$13, cuisipro.com for where to buy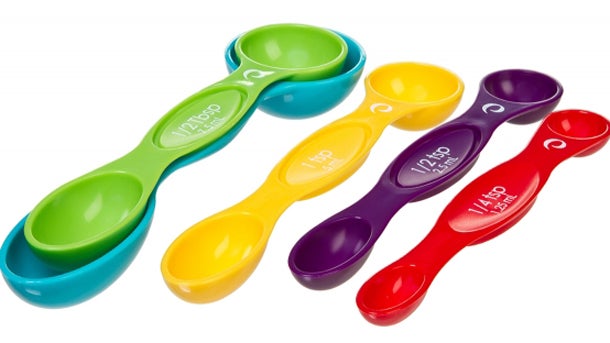 6. Prepworks by Progressive Snap Fit Measuring Spoons
These stainless steel spoons with a pop of color snap together for easy storage. Each spoon is double-sided – a round side for liquids and an oval-shaped side that fits into jars. This five-piece set has a ½-tablespoon measure but lacks a 1/8 teaspoon.
$18, kitchenkapers.com