Best Appetizer Plates
If you've ever been to a fancy restaurant, you were most likely seated at a table with more plates, glasses and silverware than you're typically familiar with, each with an intended purpose for the meal. Similarly, modern home kitchens have evolved to include more than just dinner plates, cereal bowls, and standard-sized cutlery. When it comes to hosting dinner parties or simply having options when it comes to snacktime, having an assortment of kitchenware is increasingly common for families and home chefs. Appetizer plates are a staple in kitchen cabinets alongside standard dinner plates, for serving salads, fruit, cheeses, desserts and much more. Smaller appetizer plates mean better aesthetics and overall functionality for the times when you don't need the excess size of a dinner plate. Ready to upgrade your kitchen for your next soirée? Check out some of these appetizer plates.
Heading out the door? Read this article on the new Outside+ app available now on iOS devices for members! Download the app.
Best All-Purpose
Delling 8-inch Ultralight Ceramic Dessert/Appetizer Plates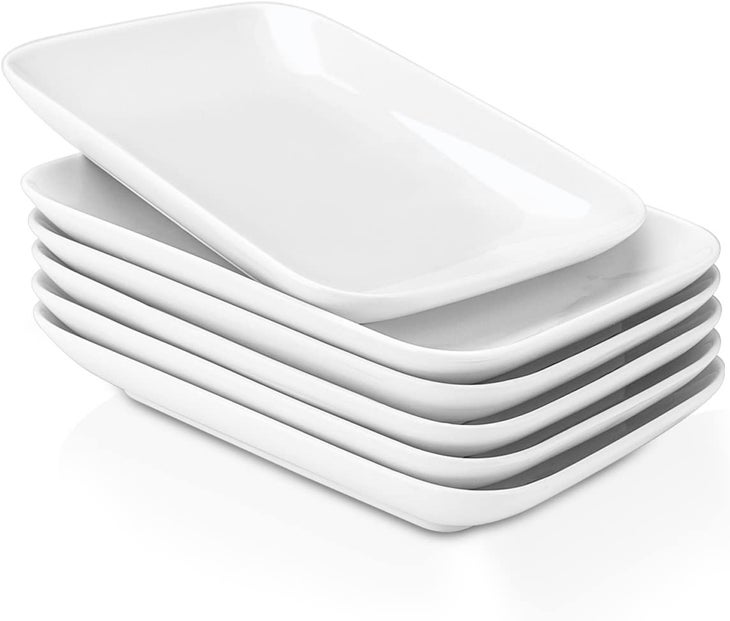 Stackable & Versatile. Made of a specially-treated ceramic with a rounded wall to prevent chipping, these easily-stackable appetizer plates are designed to last for years and suitable for use in the microwave and dishwasher.
What We Liked
This set of six ceramic appetizer plates from Delling are perfectly compact and easily stackable for kitchen cabinet storage, while featuring ample surface area for a variety of appetizer, salad, and dessert serving needs. The plates are constructed of a high-quality bovine bone powder layered with a special heat resistance coating to stand up to high microwave and dishwasher temperatures up to 590 degrees. The edges are rounded and reinforced to prevent chipping that can commonly occur with other ceramic tableware. Get them here.
Best Looking
Corelle Chip Resistant Appetizer Plates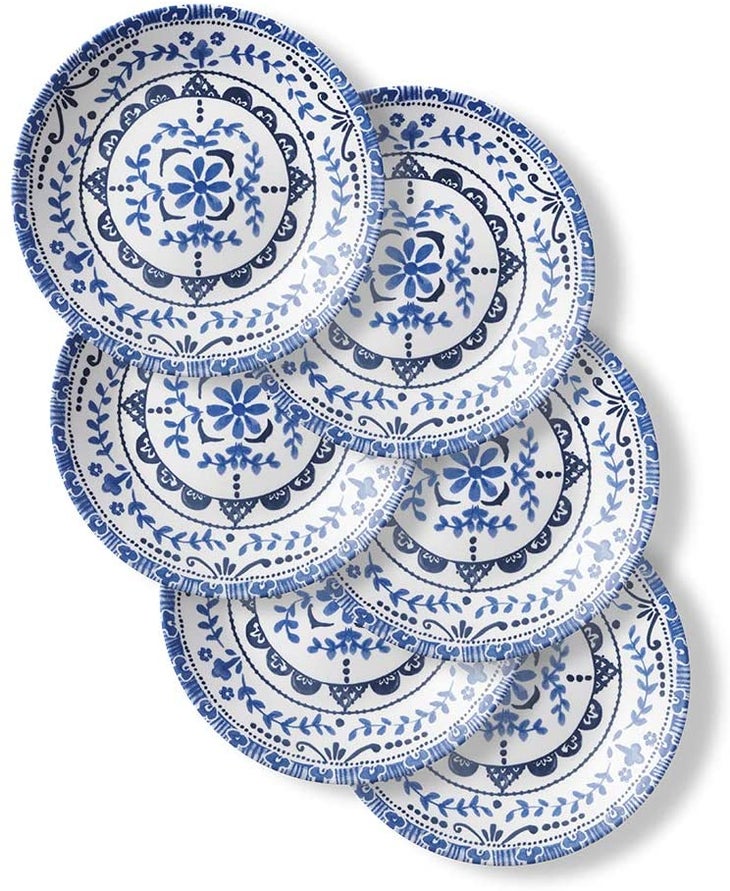 Designer Chic Corelle Appetizer Plates. This set of six appetizer plates from Corelle comes in eight designer patterns to match a variety of aesthetic styles and kitchen-matching needs. The plates are made of triple-layered glass that are incredibly lightweight, non-porous and easy to clean.
What We Liked
With eight designer-chic patterns to choose from, each with a unique pattern that has a hand painted aesthetic, these appetizer plates are the perfect set for anyone looking to impress their dinner party guests both on the table and on display. The plates are made of an extremely lightweight triple-layered glass resistant to chipping and cracking. The non-porous material makes them extra-hygienic and easy to clean. They are microwave and dishwasher safe and easily stackable and compact enough to squeeze into nearly any kitchen cabinet. Buy them now.
Highest Quality
Kate Spade Willow Drive 4-Piece Tidbit Plate Set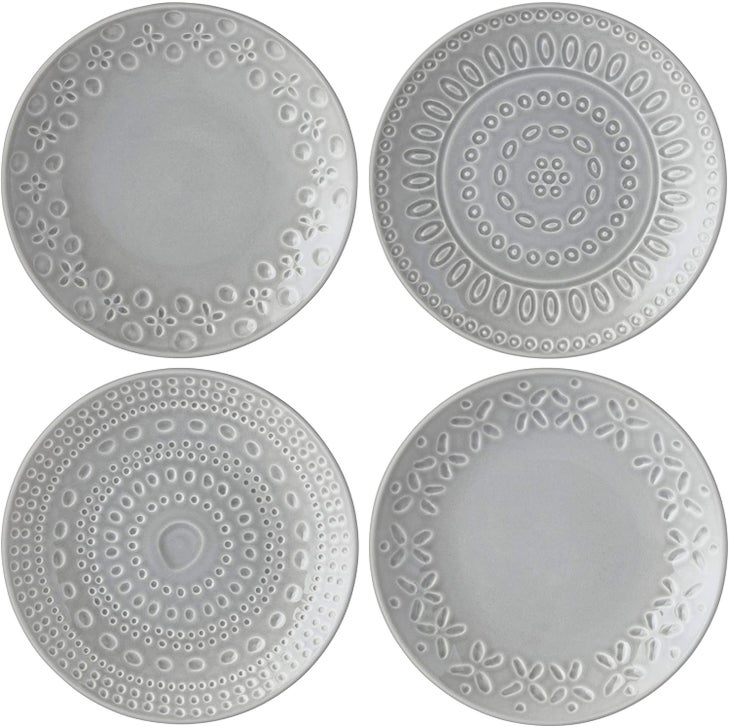 Kate Spade Stoneware Appetizer Set. These Kate Spade stoneware TidBit appetizer plates are dishwasher and microwave safe and feature an eyelet-inspired design in three neutral colors.
What We Liked
Built to last for years and designed to impress any guest, these Kate Spade Willow Drive appetizer plates are great for any occasion. Whether you're hosting a family dinner, munching a midday snack, or dividing up take-out, these stoneware plates will please the eye while the food they serve pleases the tastebuds. Available in a creamy white, muted blue, and cool grey, these Willow Drive plates are great for mixing and matching with other Kate Spade pieces and add a sophisticated touch of color to your kitchenware lineup. Buy them here.
Most Fun Design
Miss Tutu Japanese Cat Appetizer Plates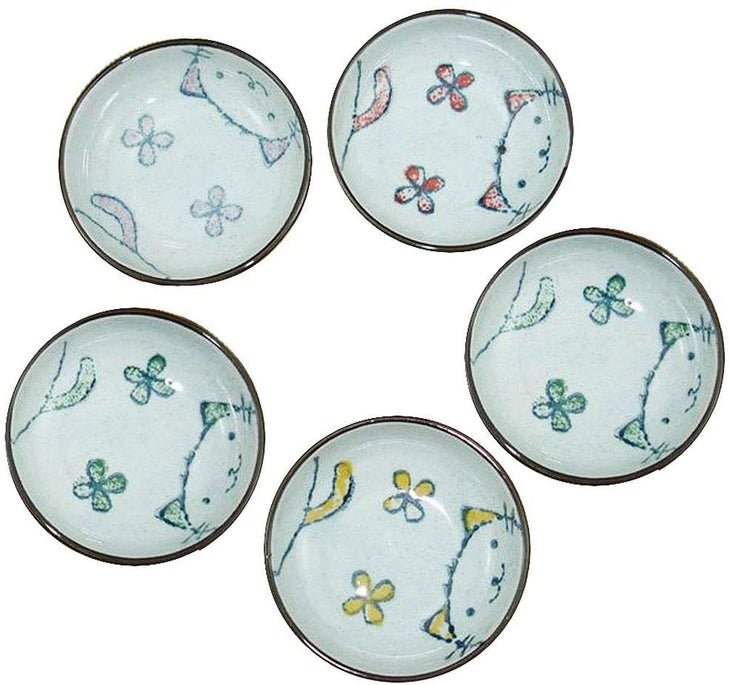 Eye-Catching Cat Design. This set of five ceramic plates from Miss Tutu are available in two styles of Japanese-inspired designs, each featuring fun and friendly cat artwork.
What We Liked
These Japanese Cat appetizer plates will put a smile on anyone's face, especially cat lovers. The plates are made of a high-fired ceramic that's durable, microwave safe and dishwasher safe. While they're suitable for small appetizers, salads, desserts and sushi, they're equally perfect and safe to be used as food and water dishes for your favorite household feline. Get them now.