Best Barrels
From planting flowers to side tables; reclaimed barrels provide a rustic way to recycle the very vessels responsible for producing some of our favorite wines and whiskeys. After all, why should something with such visually-appealing and expertly-created craftsmanship go to waste after it's done it's intended job. With their distressed oak wood finish and accent hardware, barrels can be repurposed into tabletops, foyer centerpieces, planter boxes, and even rain-catch tanks–the application is nearly unlimited. So the next time you're looking to add a conversation piece to your home décor, consider repurposing a reclaimed barrel–or at least something that looks like one. Not sure where to begin your search? Check out some of the best options we could find.
Photo: Getty Images/iStockphoto
Heading out the door? Read this article on the new Outside+ app available now on iOS devices for members! Download the app.
Most Versatile
Classic Home and Garden Whiskey Barrel, 20.5″, Distressed Oak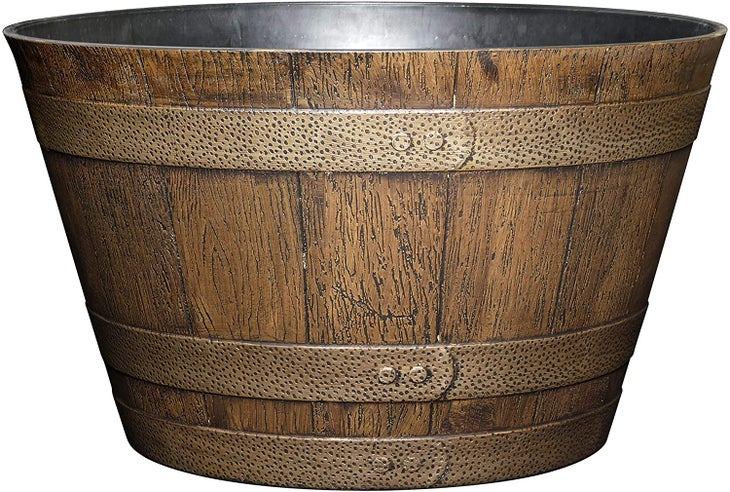 Functional & Rustic Garden Décor
Though it's made of resin with a wood barrel and pewter metal finish, this durable, UV-protected garden pot offers a way to arrange plants and store garden tools in a rustic and stylish manner.
What We Liked
This 20.5-inch container, also available in other sizes, is offered in a distressed oak or Kentucky walnut finish. The containers themselves are not real wood, but instead made of high-density resin, that are lightweight and long-lasting, even in extreme conditions thanks to their UV-coated finish. They feature a patina of antique pewter bands and hardware that give them the appearance of a true wine/whiskey barrel at a fraction of the weight. They come with drainage holes, making them perfect for adding soil and planting your favorite decorative plants, herbs, and vegetables anywhere you're looking to add a touch of style to your yard. Get it here.
Most Authentic
Master Garden Products WB-35 Oak Wood Whole Wine Barrel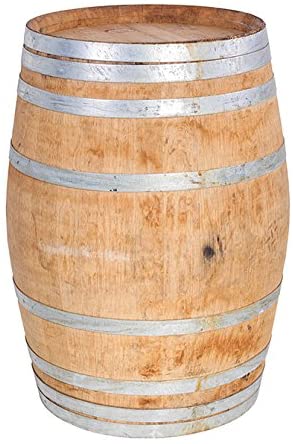 Genuinely Reclaimed Wine Barrel
This genuinely reclaimed wine barrel is made of real oak and finished with an outdoor protective sealant to prolong its appearance and functionality indoors or out.
What We Liked
These reclaimed oak wine barrels come from wineries in Washington State. They are rehydrated indoors once a month to retain their water tight condition. The authenticity shows in the ability to see and smell the original wine that was once contained inside these barrels. With their weathered patina and galvanized steel straps, these barrels make a great base for a bar table, corner piece, centerpiece, or outdoor patio surface. Buy it now.
Most Practical
Sofia's Findings Personalized Custom Engraved American Premium Oak Aging Barrel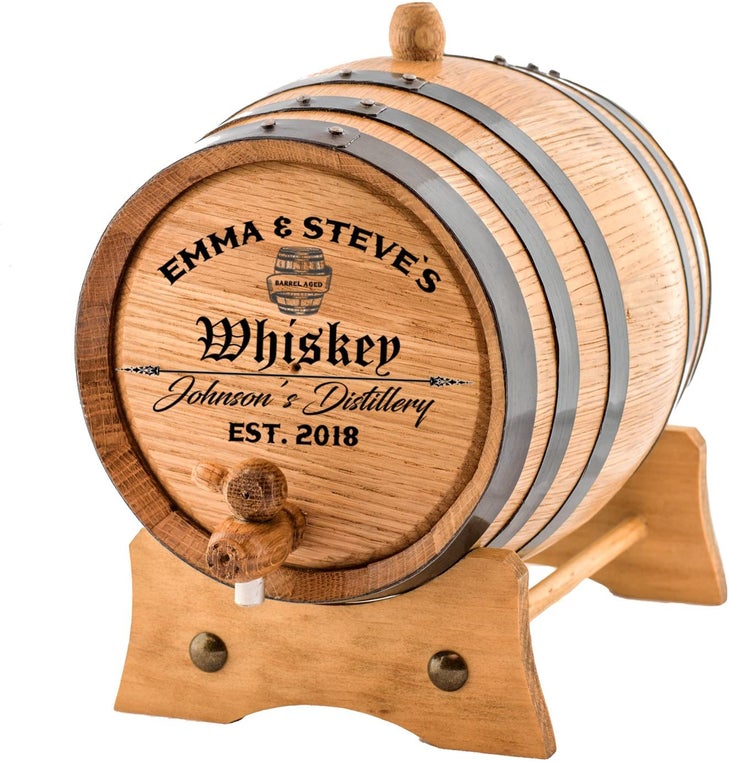 Customized White Oak Wood Aging
Made of authentic, handcrafted American white oak, this one-liter barrel allows you to customize the name and logo of the engraving emblazoned on to the exterior.
What We Liked
This barrel from Sofia's Findings makes the perfect gift for the beer, wine, whiskey, or rum lover in your life. It's only a liter in volume, but makes a totally customized gift for displaying on a bar top, kitchen counter, or in a man cave. It's made of real American White Oak wood with black steel hoops and a charred interior, so you can actually add your own home brews or favorite spirits to enhance the flavor and overall drinking experience when poured from the integrated spout. Get it now.