Best Butter Dishes
Did you know that you don't actually have to refrigerate butter? If you like to have a little butter on the table for spreading on a piece of bread or on veggies, then you might get tired of the the routine — getting the butter out of the fridge, unwrapping a stick, letting it set until it's thawed enough to spread…every single time. But you don't actually have to go through that process. Butter is safe to consume at room temperature. All you need is a butter dish to keep it sanitary and cool, and there are lots of styles to choose from. Here are four stylish butter dishes to consider adding to your kitchen or dining room.
Heading out the door? Read this article on the new Outside+ app available now on iOS devices for members! Download the app.
Best Ceramic Option
KooK Ceramic Butter Dish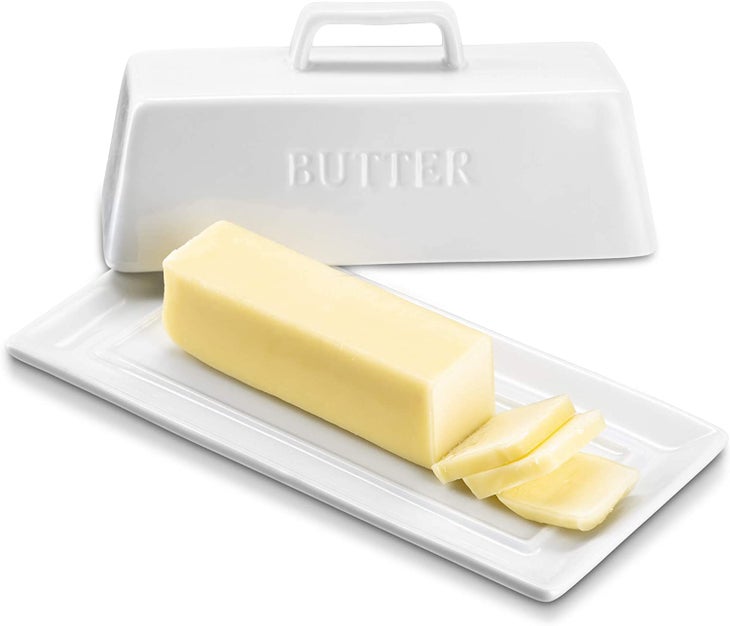 Standard Butter Dish with a Classic Look and Feel. This butter dish will easily fit into any kitchen decor.
What We Liked
This rectangular, white, ceramic butter dish will fit a standard stick of butter easily. It has a clean, simplistic design — all white with a little handle and "BUTTER" printed along the side — so it'll easily fit into any decor. Plus, it's dishwasher safe. Purchase Yours Now.
Best Porcelain Option
Norpro Porcelain Butter Dish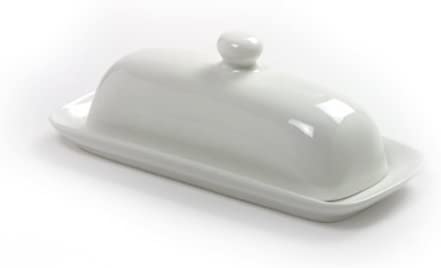 Keep Butter Safe and Secure. This butter dish has a hidden feature that keeps your butter safe.
What We Liked
This butter dish is certainly stylish with its sleek, all-white design and minimalistic handle, but what sets it apart from the other butter dishes on this list is its hidden feature that keeps the butter a little more secure. A ridge on the inside of the dish keeps the butter from slipping and sliding. So, even if you have a spill, your butter will likely remain safe and upright. Order Here.
Best Glass Option
Kangaroo Glass Butter Dish with Cover

Get a Look Without Even Opening Your Butter Dish. See how much butter you have on hand in an instant.
What We Liked
This glass butter dish is perfect for those who want to instantly see how much butter they have left before they start preparing dinner, or for those who want to see what state their butter is in before they start eating (to make sure it's thawed enough for spreading). You don't even have to lift up the cover, exposing your butter to the elements. Just give the dish a glance and you're good. Buy It Online.
Best Luxury Option
Le Creuset PG0200-0967 Stoneware Butter Crock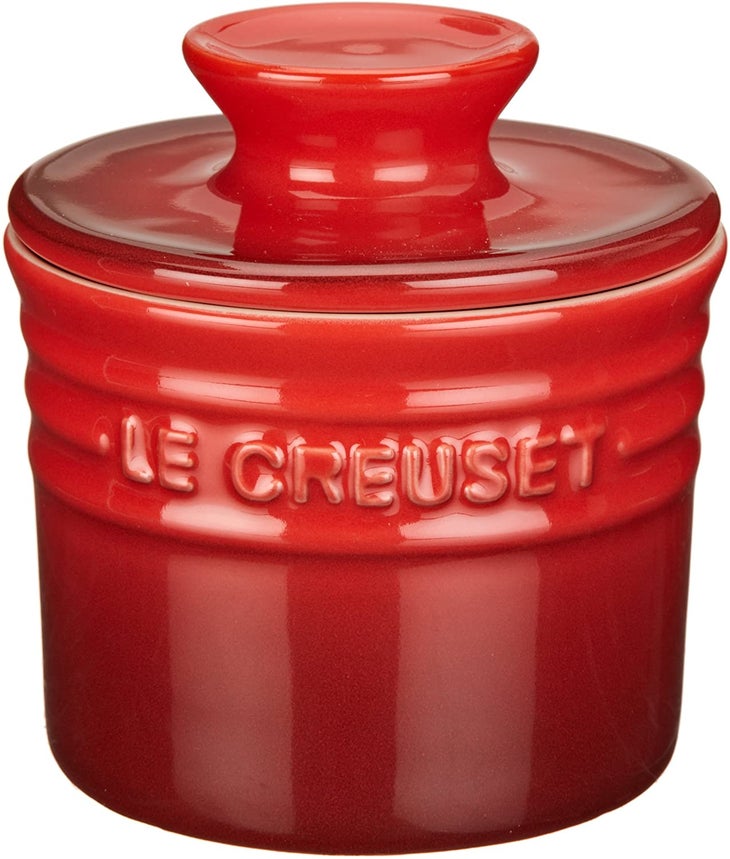 Butter, But Fancy. Take your butter consumption to the next level
What We Liked
Le Creuset is known for making high-quality kitchenware, and this butter crock is no exception. This isn't for your standard stick of butter. The circular crock keeps whipped and hand-mixed butters safe with an airtight seal. It comes in the classic Le Creuset colors and is an excellent kitchen addition for any current Le Creuset fan. Purchase Yours Today.