Best Cake Testers
Say goodbye to wood and plastic toothpicks that leave gaping holes in an otherwise beautiful cake. Sure, a simple skewer could do the trick. But if you're a baker, a real baker, who demands only the best gadgets in your arsenal—and by best gadgets, we mean every gadget—when it comes to making sure that the dough is set perfectly and the cake is baked to perfection, then you must have a designated cake tester. And you might be thinking, why do I need a metal stick specifically for testing to make sure my cakes are set? The answer is: why not? Redundant? Maybe. Nice to have? Sure. And for the baker who has everything? Yes, a high-quality cake tester that won't damage the look of the finished product is a great tool to have at your disposal. Check out some of these top cake testers.
Heading out the door? Read this article on the new Outside+ app available now on iOS devices for members! Download the app.
Most Straightforward
Ateco Cake Tester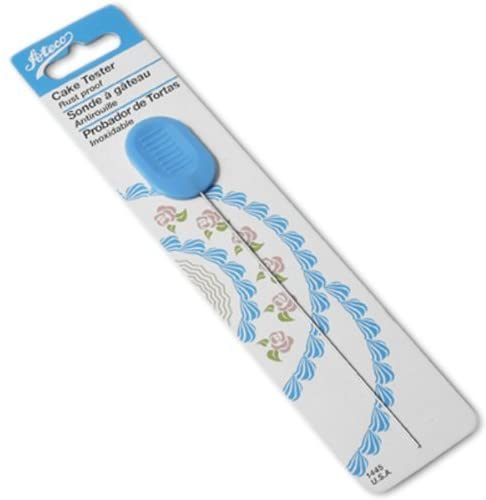 Simple & Discrete. With an incredibly thin stainless steel wire, you never have to worry about poking unnecessarily large holes in your baked goods with this cake tester from Ateco.
What We Liked
From a brand that's been catering to bakers for over a century, this cake tester from Ateco is not too long, not too short, not too thin, nor too wide. In short, it's the perfect size, texture, and consistency that true bakers know make the difference when it comes to checking a cake's doneness. It's lightweight and discrete, yet durable enough to withstand the abuse of rubbing up against an assortment of utensils and tools in your kitchen drawer. Get it now.
Most Ergonomic
Wilton Bake It Better Cake Tester

Great Grip to Bake It Better. This 6.3-inch cake tester from Wilton offers a foolproof way to make sure your favorite brownies, cakes, and muffins are ready to pull out of the oven.
What We Liked
This 'Bake It Better' cake tester is just the right length and offers the most ergonomic grip of any cake tester we found. Plus, it comes with a handy plastic cover to contain the steel wire when not in use, meaning you don't need to worry about it bending or breaking when tossed into the utensil drawer. Cleanup is a breeze with a quick hand wash of warm, soapy water. Buy it here.
Most Professional
RSVP International Endurance Cake Tester

Sturdy & Reusable. 'Endurance' is a fitting name for this cake tester from RSVP International. It's made of sturdy 18/8 stainless steel that's dishwasher safe and intended to be used time and time again, unlike a toothpick.
What We Liked
At eight-inches in length, this cake tester is longer than most, allowing for more versatility for thicker breads and cakes. Plus, the additional length means less likelihood of burning your hand when testing baked goods still in the oven. Buy it now.
Most Decorative
LumerIU Stainless Steel Cake Test Pin

Cupcake Topped Cake Tester. Made of food-grade stainless steel, the grip of this cake testing pin comes in several decorative options including cupcake, gingerbread man, pumpkin, and more.
What We Liked
This cake tester from Lumer is definitely the most enjoyable design we could find. While other options are basic single pieces of stainless steel or feature a simple ergonomic plastic grip, these cake testers throw a little fun into an otherwise basic tool with colorful novelty designs. Not only do they provide a solid grip for testing baked goods, they also help them stick out from the clutter of your utensil drawer. Get it here.