Best Candy Thermometers
If you enjoy making candy and sweet treats at home, you understand the importance of getting the cooking temperature just right. Even tiny variations can impact results. Fortunately, candy thermometers make it easy for you to know the exact temperature. The types of candy thermometers range from classic styles that clip onto the pot to instant-read digital models. Here is our review of four different candy thermometers so you can find the right one for you.
Heading out the door? Read this article on the new Outside+ app available now on iOS devices for members! Download the app.
Best Adjustable Angle
ThermoPro TP03 Digital Instant Read Meat Thermometer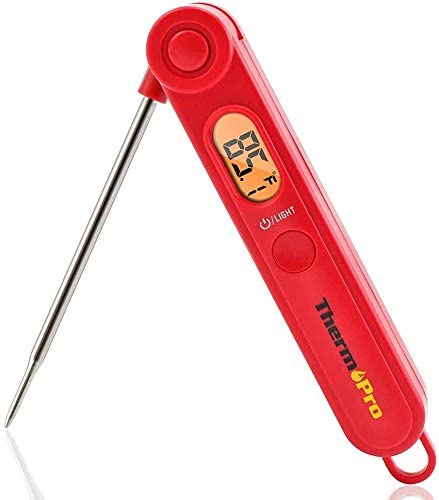 Foldable and Instant Read
This digital thermometer measures temperatures within three to five seconds and allows measuring at different angles to get a precise reading easily.
What We Liked
Measuring the precise temperature of candy is simple with this foldable, instant-read candy thermometer. Reading the digital display is easy, thanks to the backlight feature. And with the 3.9-inch long stainless steel probe, you won't burn your fingers. You'll always get a quick (within three to five seconds) and accurate (within 0.9 degrees Fahrenheit) temperature reading. Its wide temperature range (up to 572 degrees Fahrenheit or 300 degrees Celsius) makes it perfect for almost any type of candy, meats, deep fry oil, or foods on the grill. This device is easy to store since it's foldable and has a magnetic back and kitchen hook. Another great feature is the auto-shutoff function, which ensures you don't accidentally run down the battery when you're not using it. In particular, we liked that the angle of the candy thermometer probe is adjustable and that it reads temperatures quickly. Get it here.
Best Large Digital Screen
Lavatools PT12 Javelin Digital Instant Read Meat Thermometer for Kitchen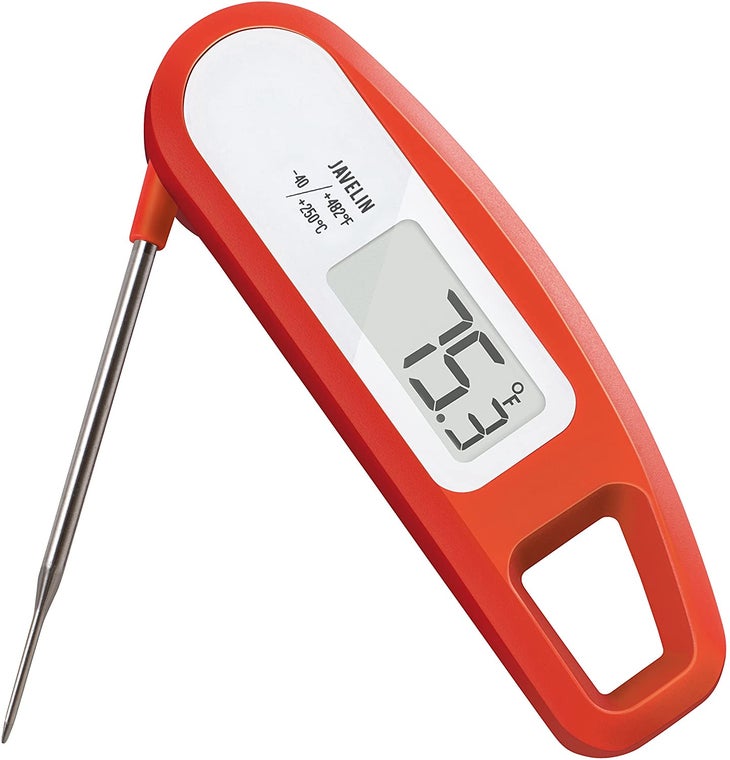 Easy-to-Read Screen
This instant-read thermometer comes with a large digital screen that makes it easy to read the temperature.
What We Liked
This instant-read thermometer is sturdy and measures temperatures efficiently up to 482 degrees Fahrenheit or 250 degrees Celsius. This thermometer can read a temperature within four seconds and is accurate within 0.9 degrees Fahrenheit. The thermometer's large digital screen makes it easy to see the temperature at a glance. The device is splash resistant and has a Zeomic silver-based antimicrobial additive to inhibit 99.9 percent of pathogen growth. It's also 100 percent BPA-free. The thermometer stores easily thanks to the foldable design and magnetic back, allowing you to place it on an oven or refrigerator. It's available in five different colors and comes with a three-year limited warranty. We liked that this digital thermometer has an easy-to-read digital screen, is foldable, and BPA-free. Buy it now.
Best Easy-Lift Clip
GoodCook Classic Candy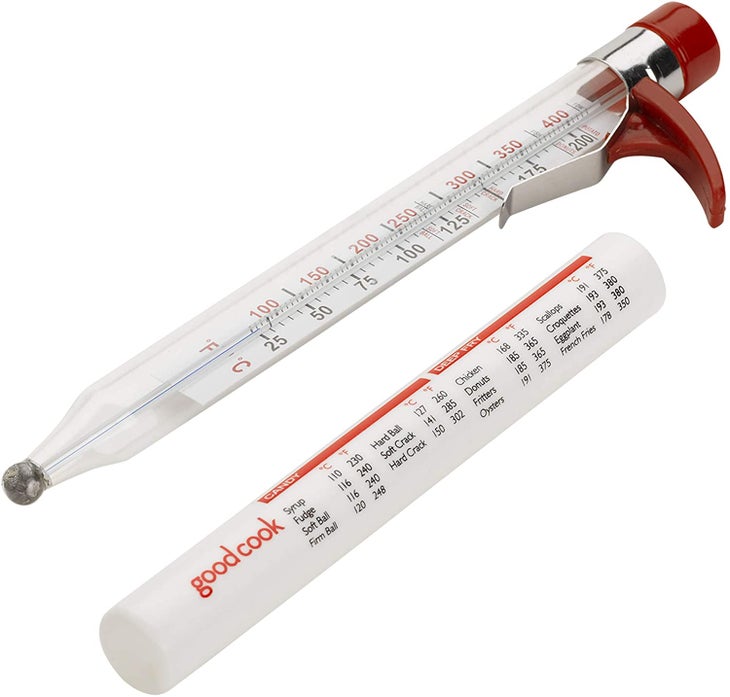 Thermometer with Clip
This candy thermometer clips onto the pot, so you always know the temperature throughout the cooking process.
What We Liked
This candy thermometer is also perfect for measuring temperatures during the deep frying process. This device clips onto the side of a pot using an easy-lift clip. The easy-to-read facing gives the temperature readings in Celsius and Fahrenheit, and the device offers a wide range of readings, from 100 to 400degrees Fahrenheit or 25 to 200 degrees Celsius. The included protective sheath for storage provides recommended temperatures for different types of candy and deep-fried foods, too, which is super convenient. Above all, we liked that this thermometer clips onto cooking pots and measures a wide range of temperatures. Buy it here.
Best Extra Long Probe
Harbor 022 Meat Thermometer, Instant Read Thermometer Digital Cooking Thermometer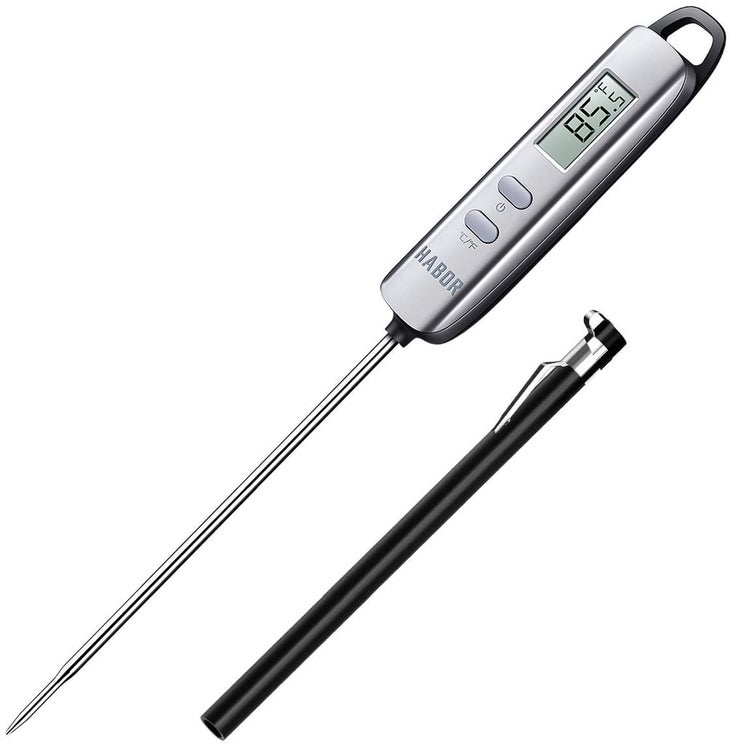 Precise Temperature Readings
This instant-read thermometer comes with an extra-long probe to prevent fingers from getting burned.
What We Liked
This thermometer provides quick (four to six seconds) and precise temperature readings within one degree Celsius. Its wide temperature range (58 to 572 degrees Fahrenheit or 50 to 300 degrees Celsius) makes it perfect when cooking candy, chocolate, jellies, meats, and more. The extra-long stainless steel probe (4.7inches long) ensures fingers don't burn when taking a temperature, and it comes with a cover for secure storage. The 10-minute auto-shutoff function ensures your battery doesn't wear down either. This thermometer is available in three stylish colors—silver, navy blue, and red, but what we liked the most was that this digital thermometer reads quickly and accurately, and it has an extra-long probe to keep you safe when reading temperatures. Get it now.