Best Chair Pads
Furnishing your home–both indoors and outside–is all about blending style and comfort. Many dining chair sets, desk chairs, and outdoor seats come without one of those much-needed factors–comfort. Plain wood and industrial metal seats are often visually appealing, but they lack the comfort feature of including built-in cushions. So, the next time you can't resist those antique chairs from the thrift store or you find a bargain for an outdoor bench at a yard sale, make sure you enhance both the look and comfort factor by snagging some quality chair pads. We've compiled a selection of some of the best and most comfy chair pads to make the process a little easier for you.
Heading out the door? Read this article on the new Outside+ app available now on iOS devices for members! Download the app.
Best Memory Foam
Sweet Home Collection Memory Foam Chair Cushion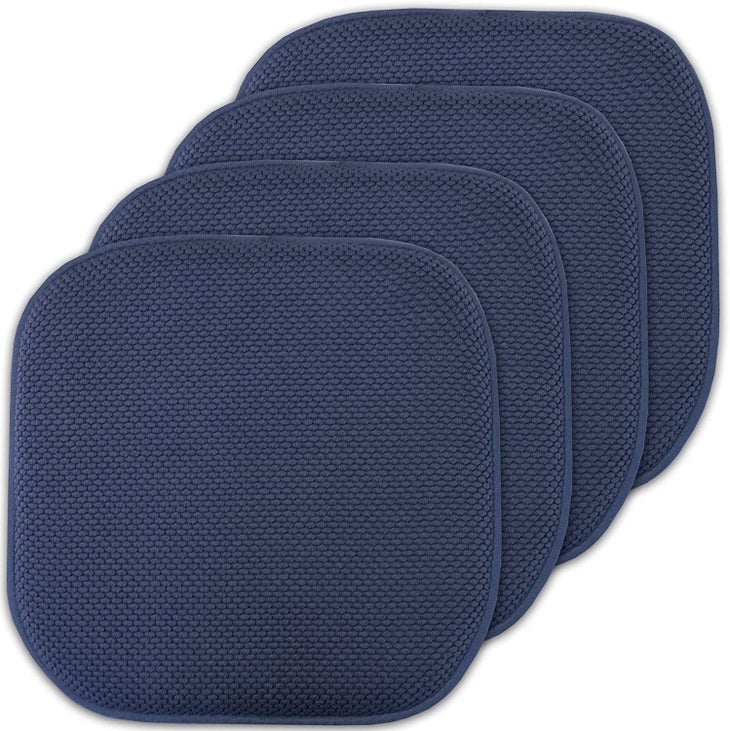 Colorful, Comfortable Cushions
Made of machine-washable memory foam with a honeycomb microfiber top, these 16 x 16-inch rounded square seat cushions come in packs of 2, 4, 6 and 12. They also are made in dozens of color options and patterns to match your style.
What We Liked
These memory foam chair cushions from Sweet Home Collection allow you to turn virtually and chair–or flat surface seat–into a significantly more comfortable sitting experience. The 16 x 16-inch rounded square design fits virtually any chair or bench and the endless color options allow you to enhance and match the look of any room. The pads feature a skid-proof backing that doesn't require ties for them to stay in place. They feature a honeycombed microfiber top and piped edging that's both casual and elegant and fits into any design scheme. Plus, they're machine washable and designed to withstand use after use while keeping you and your guests comfortable for years on end. Get them here.
Most Versatile
Americare Absorbent Washable Waterproof Seat Protector Pads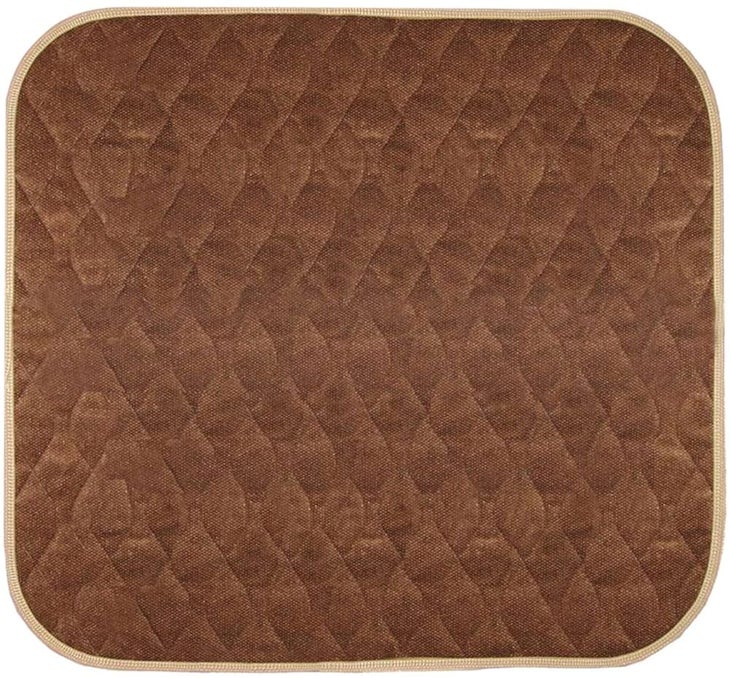 Comfortable, Waterproof, and Portable
Made with waterproof, velour-topped foam, these luxuriously soft seat protector pads are extremely versatile, portable, and machine washer/dryer friendly.
What We Liked
Whether you're looking for a little extra cushion on an older armchair, wheelchair, outdoor patio set, or car seat, this 22 x 21-inch cushion is a must-have. Pick your favorite color (6 options available) and bring it with you wherever you go. Get that added comfort to any otherwise uncomfortable seat. The waterproof design is a great option for the elderly, young children, pets, or anyone looking for some extra mess-free comfort. The pads withstand up to 300 machine washes without losing their shape or color. Buy them now.
Best Classic
Arlee Tyler Chair Pad Seat Cushion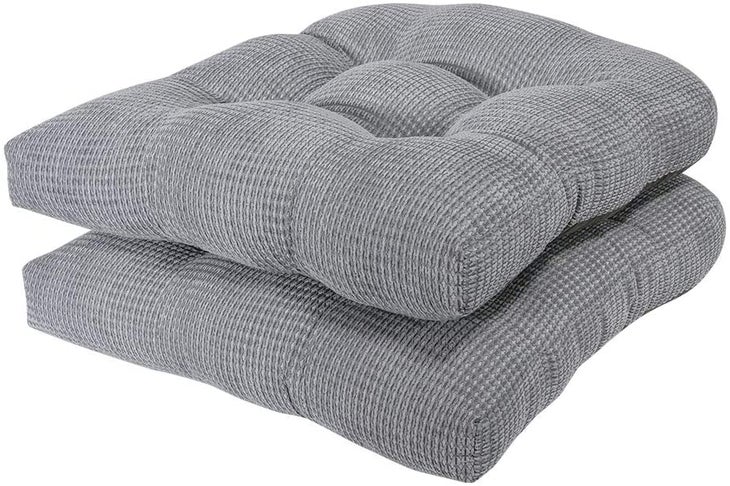 Traditional Design with Extra Comfort
This modern design of a traditional chair cushion features updated materials like memory foam and non-skid backing for an ultra-comfortable, classical pad that enhances the look and feel of a variety of chairs.
What We Liked
When it comes to looks, these Arlee Tyler chair pads aren't much different than what you'd expect to see at your grandmother's dining room table with their classic tufted design. But that's where the comparison ends. These pads use quality memory foam to enhance comfort and back support by contouring to your body. They also feature a non-skid microdot backing that's skid-resistant to ensure the pads don't shift or slip from wood, metal, and even plastic chairs. They're available in alloy gray, aqua, bamboo tan, and burgundy red. They come in sets of two 16 x 16-inch cushions. Buy them here.
Most Comfortable
Klear Vu Tyson Gripper Universal Non-Slip Overstuffed Dining Chair Cushion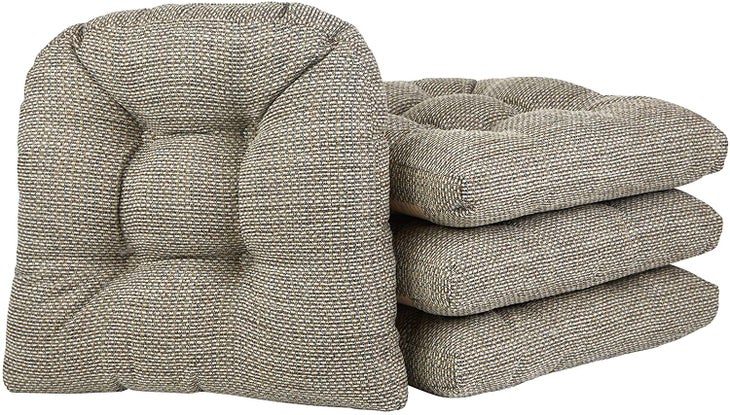 Neutral-Colored, Casual, and Thick
These chair pads are filled with Klear Vu CloudFill signature stuffing and are made with a triple-blend of durable fabric that's easy to clean. They come in either a 2- or 4-pack of neutrally-colored, classic design cushions.
What We Liked
Featuring a 4-tack tufting and classical neutral colors, these chair cushions from Klear Vu are great for enhancing the comfort and aesthetic of more traditional and antique-oriented seating arrangements. The signature CloudFill stuffing blown into the shells of each cushion provides superior comfort and nearly 3 inches of support between you and the hard-surfaced chair you use it on. Despite the relatively traditional aesthetic, these pads feature a furniture-safe gripper backing to keep each pad in place without the use of traditional cushion ties. Get them now.