Best Chefs Pans
Chef's pans are a thing, in the same vein that sauté pans, stock pots, and skillets are their own breed of pan. A chef's pan is basically a hybrid of a sauté pan and a large skillet, typically with rounded sides and a large handle designed for easy transfer from stovetop to oven. While the chef's pans available in stores or online may differ from what a professional chef would use, they are available for home use. So if you're looking to refine your home cooking chops and have a multipurpose pan you can use for a variety of recipes to feed your family, a quality chef's pan should be one of the go-to pans you pull from the cabinet.
Photo: Getty Images/iStockphoto
Heading out the door? Read this article on the new Outside+ app available now on iOS devices for members! Download the app.
Most Ergonomic
OXO Good Grips 3QT Covered Chef Pan with Helper Handles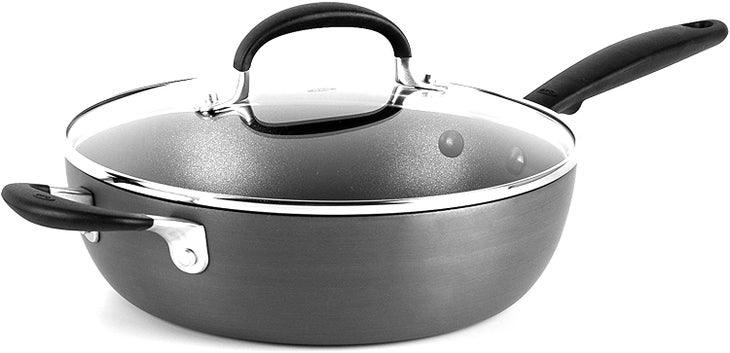 3-Layer Non-Stick & Ergonomic Handles
Made using three layers of German-engineered non-stick surface and hard anodized aluminum, this 3 quart chef's pan with tempered glass lid is the perfect, beginner-friendly chefs pan, suitable for all stovetop surfaces and ovens.
What We Liked
Suitable for searing, sautéing, cooking eggs, making sauces, and virtually anything else, this workhorse of a chef's pan is comfortable, easy to maintain, and easy to clean. It's made with 3-layers of non-stick surface, so even dense sauces and cheeses clean up quickly and easily. The outside is made of scratch-resistant, hard-anodized aluminum that provides excellent heat retention and even cooking without developing hot spots. The riveted handles Good Grips handles are made of cast stainless steel and coated with non-slip silicone that's heat resistant up to 350-degrees, plus the pan comes with a tempered glass lid so you can monitor each step of your stovetop recipes. Get it here.
Most Stylish
Calphalon Tri-Ply Stainless Steel Cookware, Chef's Pan, 3-Quart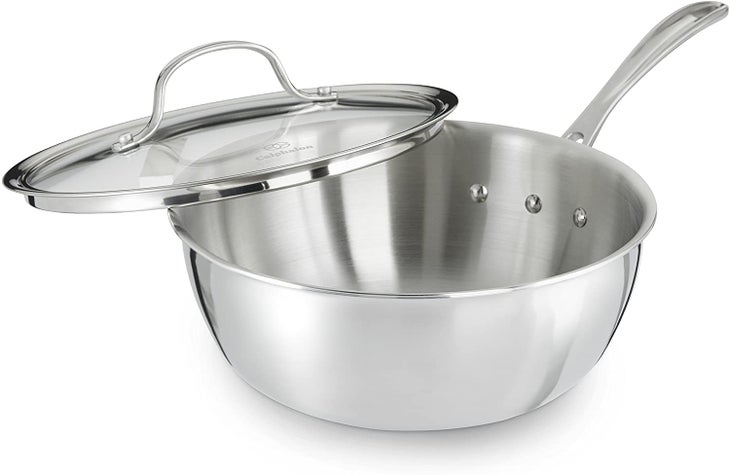 Professional Look & Cook
From Calphalon, a leading name in home cookware, this Tri-Ply Stainless Steel Chef's Pan blends stainless steel and aluminum to create a well-rounded pan with a professional appearance and high-quality performance.
What We Liked
Whether you're just starting your cooking journey or are a seasoned home cooking veteran, Calphalon is a name you can trust when it comes to pots and pans. This Tri-Ply Chef's Pan is no exception, offering a multipurpose vessel that looks just as good as it cooks. Its rounded bottom and smooth sides allow you to sear meats, make soups and sauces, braise stews, and much more. The aluminum core provides excellent heat retention that's suitable for cooking on any heating element, including induction and is safe in the oven or broiler at the highest temperatures. The pan has a heavy-duty, riveted, stay-cool stainless steel handle and includes a tempered glass lid, all of which is dishwasher safe and designed to last for years. Buy it now.
Most Durable
Cuisinart Chefs Classic Nonstick Hard-Anodized 3-Quart Chef's Pan with Cover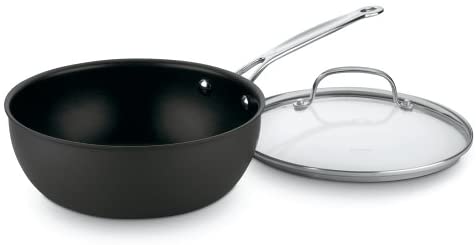 Wear-Resistant & Quality Heat Retention
This 3-quart chef's pan from Cuisinart is designed to last for years of cooking while retaining its wear-resistant anodized exterior and Quantanium non-stick surface.
What We Liked
With a simple, industrial design using hard-anodized aluminum, Cuisinart's Quantanium non-stick cooking surface, stainless steel handle, and tempered glass lid, this chef's pan offers a versatile way to evenly cook just about any ingredient you throw its way. Buy it here.
Most Versatile
All-Clad Hard Anodized Nonstick Dishwasher Safe PFOA Free Chefs Pan/Wok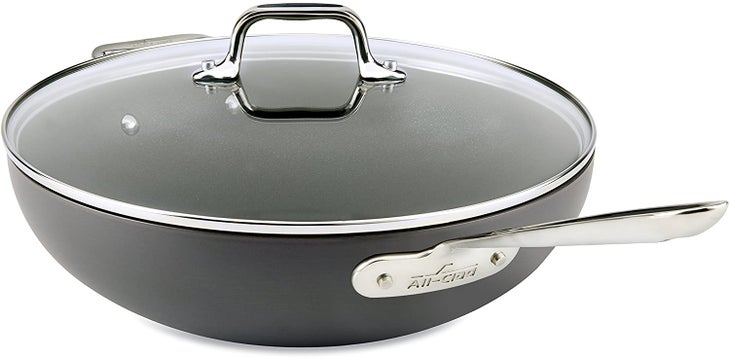 Fast, Even Heating & Easy Clean Up
Made with a flatter base, higher sides, and wider mouth than most round-sided chefs pans, this All-Clad pan is great for soups, sauces, stews, braises, and pastas and suitable for all cooktops and oven safe to 500-degrees.
What We Liked
Whether you're pan frying meat or fish, sautéing vegetables, or making sauces, the flat bottom and wide mouth construction of this All-Clad chef's pan helps achieve a professional level of heat distribution and retention, while its domed lid helps retain moisture and trap heat when needed. The pan utilizes PFOA-free non-stick that's scratch resistant and allows you to use less oils and fats to achieve perfect sears and even simmering, plus makes it super easy to clean. The pan is safe for all cooktop surfaces, including induction, and–with the exception of the lid–is oven safe up to 500-degrees. Get it now.