Best Dandelion Root Tea
Dandelion root tea has been in use for thousands of years. Dandelion root was used by the ancient Greeks, Romans, and Egyptians to flush out toxins from the bloodstream, as well as to aid in digestive function. Dandelion root can aid in a slew of ailments – from kidney, liver, and stomach issues to heartburn, fevers, toothaches, constipation, skin irritations, gall bladder issues, diabetes, arthritis, warts, and anemia. Dandelion root tea is one of those teas you can find just about anywhere, but not all are equal. Check out our favorite dandelion root teas available on the market right now. Shop our top picks below!
Heading out the door? Read this article on the new Outside+ app available now on iOS devices for members! Download the app.
Best for Health Benefits
Dandelion Root Tea Detox Tea
Great for Your Body
This root is raw, as opposed to roasted, which means it packs more of a punch in the "health" category.
What We Liked
This Kiss Me Organic tea is all-natural and organic, like all the others, but it's made with raw dandelion root as opposed to roasted root (which improves flavor at the cost of much of the nutritional quality). Better yet, it's still nicely flavored with hibiscus and Ceylon cinnamon (both 100% organic) which aid in keeping stable blood sugar levels and stable blood pressure. If you're really looking for the dandelion root tea with the maximum health benefits, this is your tea. Order Online.
Best Flavor
The Republic Of Tea Organic Dandelion Superherb Herbal Tea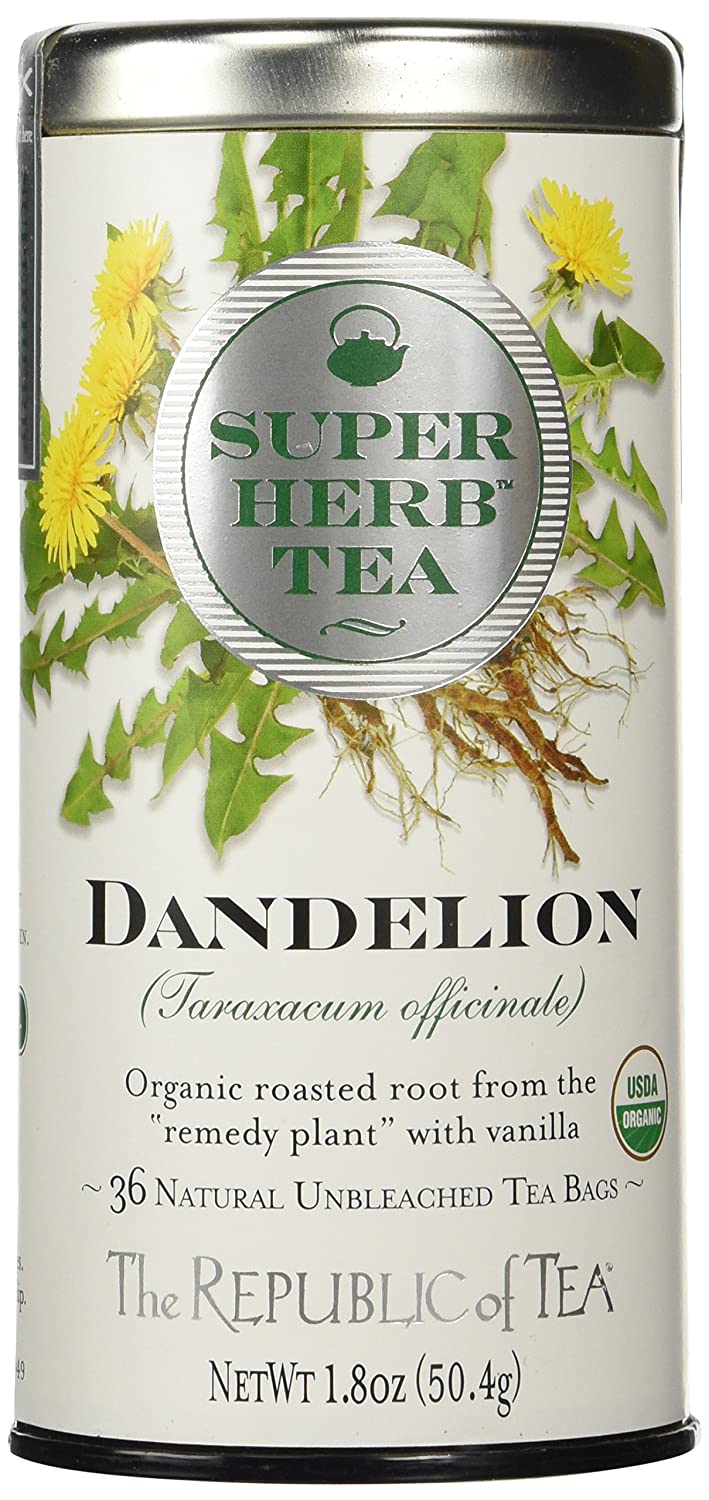 Extremely Tasty Tea
The vanilla extract and roasting adds a delicious sweet flavor to this dandelion root.
What We Liked
Unlike the Kiss Me Organics tea, this dandelion root is roasted, which serves to break down some of the beneficial enzymes but also to make the herb tastier and much less bitter. They've also added some French vanilla extract for a sweet, full-bodied flavor. While all dandelion root tea is tasty (at least we think so), this tea is especially delicious. It'll be hard to stop yourself at just one cup. Purchase It Today.
Most Sustainably-Sourced
Traditional Medicinals Tea, Organic Dandelion Leaf and Root Tea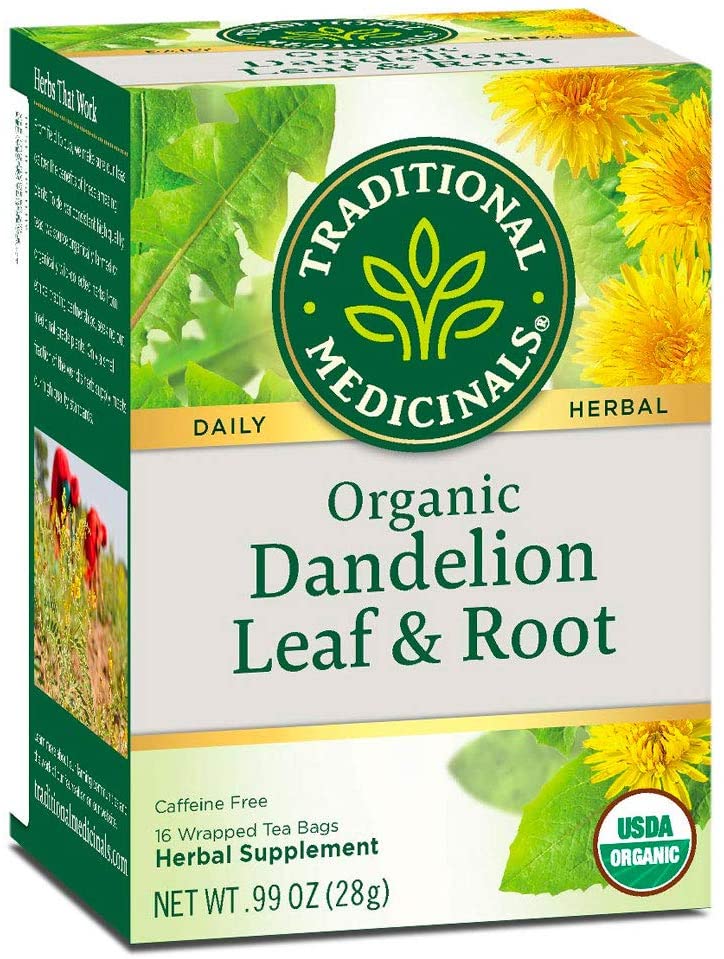 Environmentally-Friendly Tea
This tea is sourced from ethical trading partnerships, so you can feel good about where it came from.
What We Liked
Traditional Medicinals is known world-wide as a reputable tea brand, but not everyone realizes they source their teas exclusively from organically farmed or organically wild-collected herbs. All hailing from ethical trading partnerships and collectives! This means that the tea you're getting is high-quality, but also, you can feel good about where it came from as you sip. Buy It Here.
Best Bulk Buy
Organic Roasted Dandelion Root Tea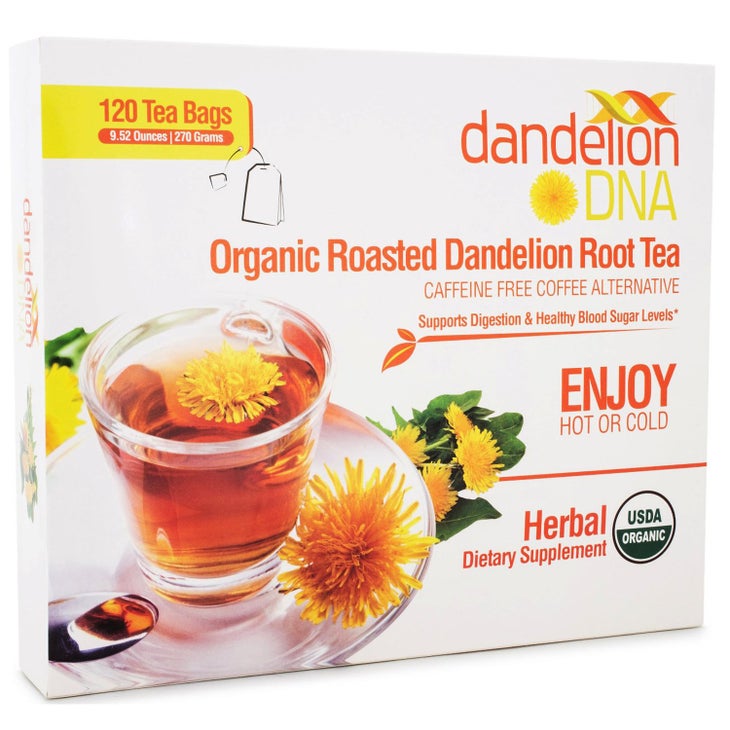 An Extra-Large Stash
This box comes with a whopping 120 tea bags. Each are individually wrapped, so it'll last for a long time.
What We Liked
Most of the other boxes come with 20 or 30 bags of tea. Dandelion DNA's tea comes with 120. It's 100 percent organic, like the others on this list, and individually wrapped. This is also a dandelion-dedicated brand, so you know they're not compromising on quality. And they specialize not in teas, but in this specific plant. With 120 bags, even if you drink one tea cup every day, it'll still last you four months. If you're a heavy (tea) drinker, this is your best bet, although the daily limit for dandelion tea is 3-5 bags, so please don't exceed it. Order Yours Today.