Best Disposable Table Covers
Hosting a party or even a small event? Don't let your guests dirty up your tables with their crumbs and their spills. A tablecloth is what you need to protect your furniture. But fabric tablecloths can be expensive, not to mention a pain to clean after a party is over. Going with a disposable table cover is the way to go. You can choose from an array of colors and designs that fit your individual event, and then when the party is over, you can bundle it up along with all the mess and toss it in the trash. It's easy to find table cloths of all shapes and sizes, and you can get them delivered straight to your home in time for your next party, courtesy of Amazon. Here are four tablecloth options we think you should consider for your next event, making your job as host a more manageable one!
Heading out the door? Read this article on the new Outside+ app available now on iOS devices for members! Download the app.
Most Variety
Exquisite 12-Pack Premium Plastic Tablecloth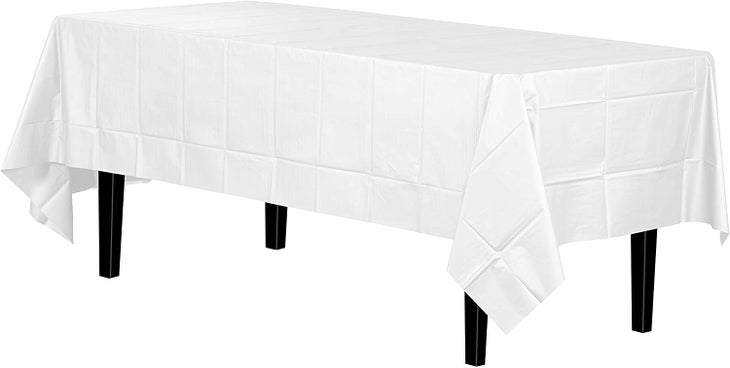 Many Colors and Designs
Find the perfect tablecloth to match your party's colors or theme.
What We Liked
These 54 x 108-inch rectangular plastic tablecloths are just the size to fit an 8-feet-long table. They're spill-proof and waterproof, and you get 12 total cloths in one package. But the best part is that you can choose from a huge variety of colors and styles. Pick from more than 30 options, ranging from floral to circus tent, and from black to blue. Buy Now.
Most Durable
Evershine (12-Pack) Heavy Duty Plastic Table Covers
Disposable – Not Wimpy
This disposable table cover is so heavy-duty, it can be used more than once.
What We Liked
Don't settle for a paper or plastic tablecloth that's just going to rip with the first use. Go with something that boasts and delivers a some durability. These 54 x 108-inch rectangular tablecloths are so strong and tear-resistant that you could easily use them for multiple events. No need to throw them in the trash just yet! Buy Now.
Best Round
White 12 Pack Premium Disposable Plastic Tablecloth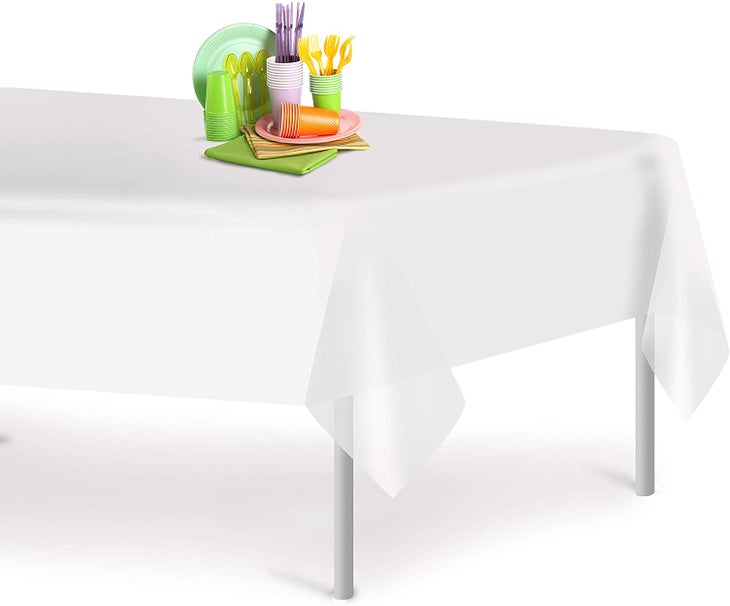 Cover Your Round Tables with Strong Plastic
A bulk pack of 12 tablecloths will keep you (and your tables) covered for events of over 100 guests or more.
What We Liked
While many tablecloths are best suited for rectangular tables, you can find circular tablecloths like these for when you need to cover those elegant, conversation-friendly round tables. Each huge, 84-inch cloth will fit a table for 8-10 people. Get It Here.
Best High-End
Plastic Tablecloths for Rectangle Tables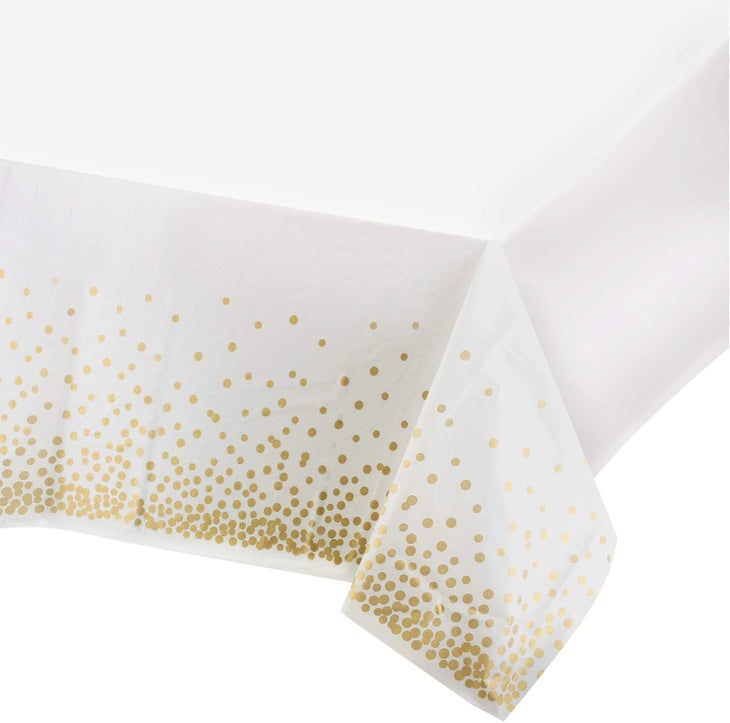 Who Said Disposable Had to Be Cheap?
Impress with your plastic tablecloths that come with a bit of flair. It's a difference you'll notice immediately.
What We Liked
These plastic tablecloths are on the higher end than what you'll find elsewhere. They're thick, sport a fun gold confetti border, and come in packs of four. Each can cover an eight-feet-long table. Buy Now.