Best Drinkware for Your Kitchen
You can't have the perfect cheers without a perfect glass. Whether you are celebrating the refreshing taste of ice water or a tasty cocktail, you'll always need proper drinkware to enjoy it to the fullest. So why not stock the cabinet with the best drinkware around? Size, material, and design are all things to consider when selecting the perfect drinkware for your home kitchen. To make sure you always have enough clean glasses ready to go, we recommend buying one of these high-quality, popular drinkware sets.
Photo: Getty Images/iStockphoto
Heading out the door? Read this article on the new Outside+ app available now on iOS devices for members! Download the app.
Best Quality Plastic Drinkware
Classic 24-ounce Premium Quality Plastic Tumbler
Strong and Stylish. Any drink will look and taste delicious in these plastic tumblers.
What We Liked
This six-piece set features clear plastic tumblers with a great looking and unbreakable design. The glasses have an amazing design quality that makes them look like classy drinking glasses (even though they're made from plastic). They are durable, dishwasher-safe, and perfect for special events or everyday use. Get them here.
Most Durable Glassware
Duralex 18-Piece Clear Drinking Glasses & Tumbler Set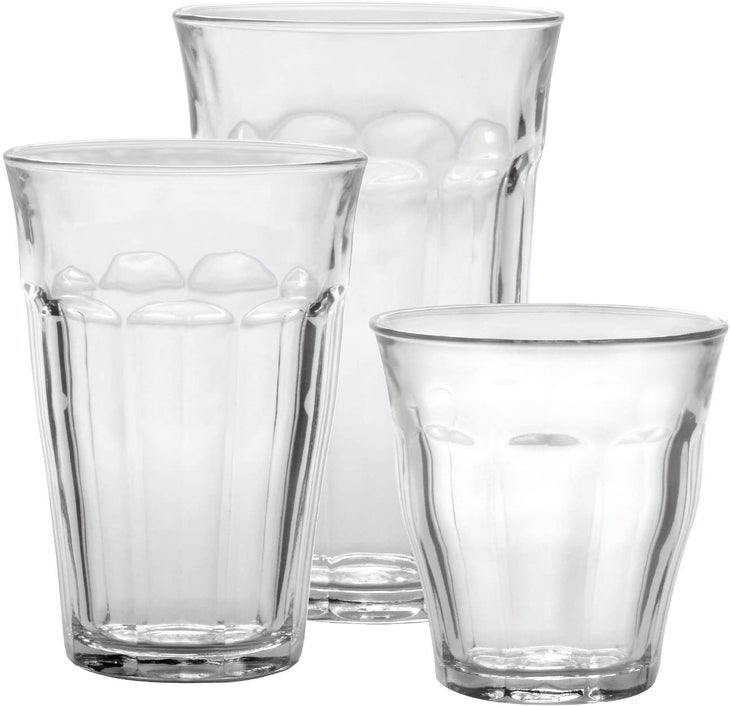 Functional and Elegant. These French-style tumblers are perfect in every way.
What We Liked
This set is made with 100 percent tempered glass, making each piece extremely durable and great for both hot and cold drinks. And with a stackable design, you can also save cabinet space with these glasses. Conveniently, they are safe for use in the refrigerator, microwave, and dishwasher. Buy them now.
Most Versatile Drinkware Set
Elegant Glassware Set
Best of Both Worlds. The glasses in this set are great for both casual and formal occasions.
What We Liked
It's called the Elegant Glassware set for a reason. This set comes in a 16-piece set of two glass drinkware styles, perfect for any setting. They are made with durable glass, featuring an attractive ribbed design on the inside. This drinkware set will look great on your bar or dinner table, and it makes a great housewarming gift. Buy them here.
Fanciest Drinkware Set
Galaxy Glassware 12-pc. Set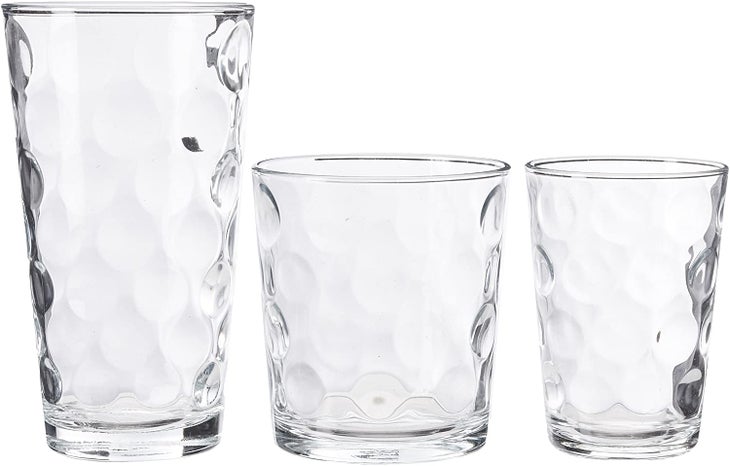 Wow the Guests. This glassware set has a classy, sophisticated design that will impress.
What We Liked
This set includes three glass sizes with a modern design that makes drinks look even more refreshing. These are the fancy glasses you can pull out at lovely dinner parties or formal get-togethers to impress guests and elevate the party. Get them now.