Best Folding Tables
Folding tables are some of the most versatile pieces of furniture out there. From indoor to outdoor use, from beer pong to card games to barbecues to sewing, there really isn't anything you can't do with a handy, portable folding table. These tables will stand the test of time, too. Store one in your garage and next thing you know, you'll have had it for twenty-five years and used it more times than you can count. Not all folding tables are exactly the same, though. Some offer increased durability, some lighter weight, others a higher load-bearing capacity. Check our list of the best ones below.
Photo: Getty Images/iStockphoto
Heading out the door? Read this article on the new Outside+ app available now on iOS devices for members! Download the app.
Most Lightweight
HP Height Adjustable Craft Camping and Utility Folding Table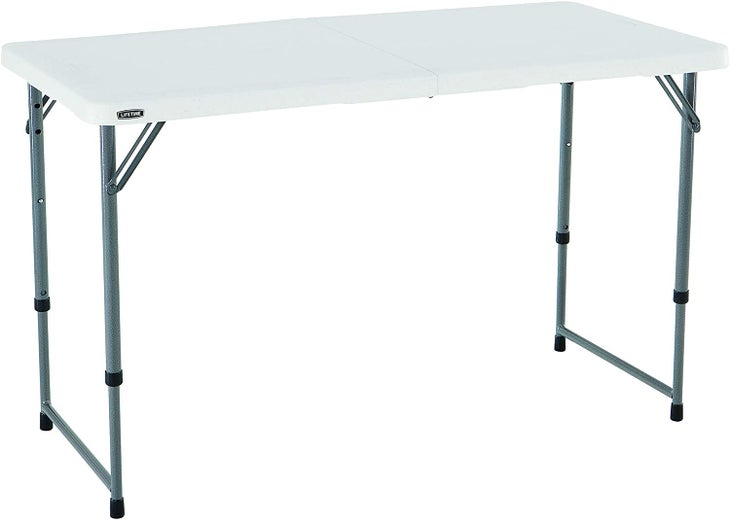 Light and Portable Table
This smaller table is lightweight and easy to carry around, great for on-the-go use.
What We Liked
Though it's only 48″ x 24″ the HP table is lighter, weighing in at only 19 pounds. This is a great table for outdoor use, it's quick to set up, folds up and locks nicely. The high-density polyethylene plastic topping is durable and resists stains and scratches, while the steel frame is rust-resistant as well. To top it all off, this table offers three adjustable height settings for maximum utility. A surefire pick for camping trips or other endeavors where weight and mobility are a prime concern. Get it here.
Best for Indoor Use
Cosco Deluxe 6 Foot x 30 inch Fold-in-Half Blow Molded Folding Table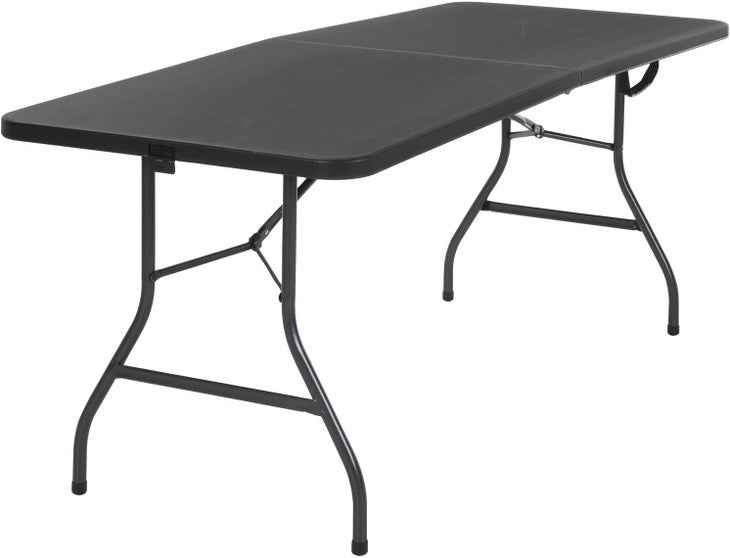 Great Table for Outside and Inside
This is a top-notch all around table, and the black resin surface means it looks more formal than most folding tables.
What We Liked
This Cosco table has a surface molded from HDPE resin, a durable and weather-resistant material that also looks quite sleek in comparison to the standard off-white plastic topping on most folding tables. This table has all the general accessories, a carry handle, locking mechanisms, and a standard 72″ x 30″ size, as well as non-marring tips on the legs to prevent scratching of the floor. The boon here is the black resin material, which makes this table look a step above most others on the market. That's why we're giving this the "Best for Indoor Use" tag, not because it won't work well outside, but because it will look better inside than any other table. Buy it now.
Most Heavy-Duty
Office Star Resin Multipurpose Rectangle Table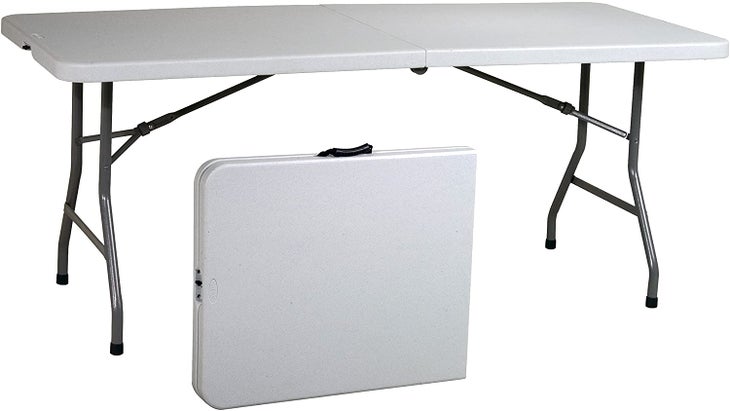 Stout and Sturdy
This strong table is an excellent folder with a lot of weight-bearing capacity.
What We Liked
The Office Star table is constructed of the same HDPE resin as the previous Cosco table, albeit in an off-white material that makes it appear slightly more "folding table"-esque. What this means, however, is that it's still extremely durable. It ups the ante with a heavier build construction, weighing in at 35 pounds, and a stout, powder-coated steel frame. It's still relatively portable, with a carrying handle and lock mechanism, and rubber end caps to prevent scratching like the last entry. A premier table for general use, and especially durable. It has a high weight-bearing load as well, at 300 pounds. Buy it here.
Most Secure Locking
Best Choice Products 6ft Indoor Outdoor Portable Folding Plastic Dining Table w/Handle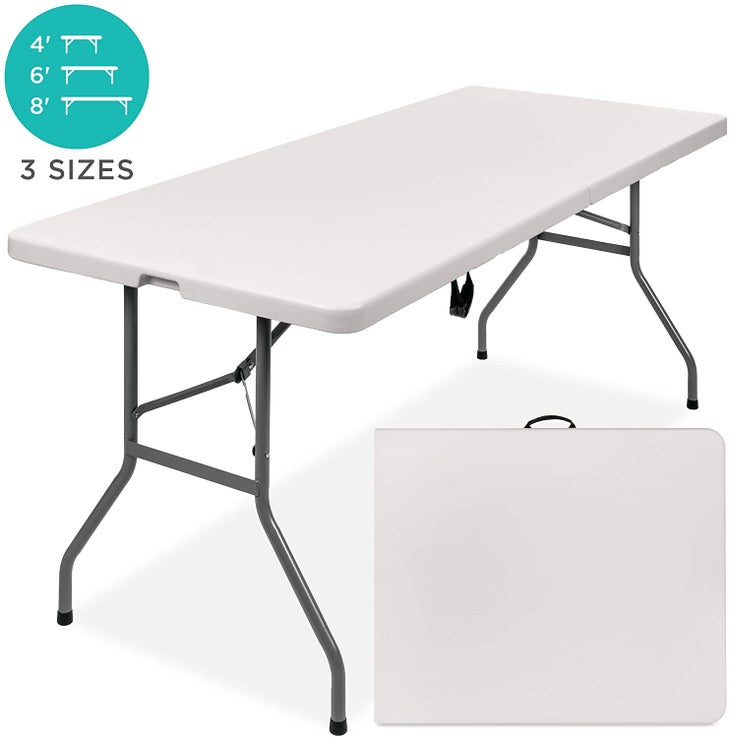 Excellent Locking Mechanism
This folding table has an extremely secure sliding lock mechanism for security when carrying.
What We Liked
The Best Choice table offers a set of stable steel legs and frame, non-slip/scratch caps on the feet, frame locks for stability when opened, a carrying handle, and a thick plastic topping, with a high weight-capacity at 300 pounds. The standard 72″ x 30″ dimensions will comfortably seat 6 people, and the topping is both scratch-resistant and heat-resistant up to 212 degrees Fahrenheit. The function that makes it stand out is the safety gravity slide lock, which allows for secure and easy stowage and locking when transporting. Get it now.