Best Fondue Pots
Anyone who has used a fondue pot knows how much fun they can be. The melted cheese, drippy caramel, and rich chocolate are always crowd pleasers at graduation parties, social mixers, holiday gatherings, and birthday celebrations. These pots are even great for a weeknight treat with the family. With these fondue sets, you can unwind and smile by serving a special dinner or exciting dessert with the kids or with friends. These pots make a stunning, interactive table centerpiece anytime of the year! Below, we offer up a few of our favorite electric fondue pots that are easy to use (no tealights) and sure to be a huge hit in your home. Happy shopping (and dipping)!
Photo: Getty Images/iStockphoto
Heading out the door? Read this article on the new Outside+ app available now on iOS devices for members! Download the app.
Most Versatile
Cuisinart CFO-3SS Electric Fondue Maker
Serve Tons of Your Favorites
This is a wonderful fondue maker, suitable for chocolate, cheese, broth and oil. Break out the meats, breads, cookies, fruits, and more. You'll be ready to dunk and delight.
What We Liked
This electric fondue set is perfect as an after-dinner treat, or as a table centerpiece during a party. It comes with eight fondue forks so everyone can enjoy some delicious fondue at the same time. Pick your color-coded fork and dive right in. It's from a trusted brand, and it'll last you for many years to come. Get it here.
Fastest Heating
Oster Fondue Pot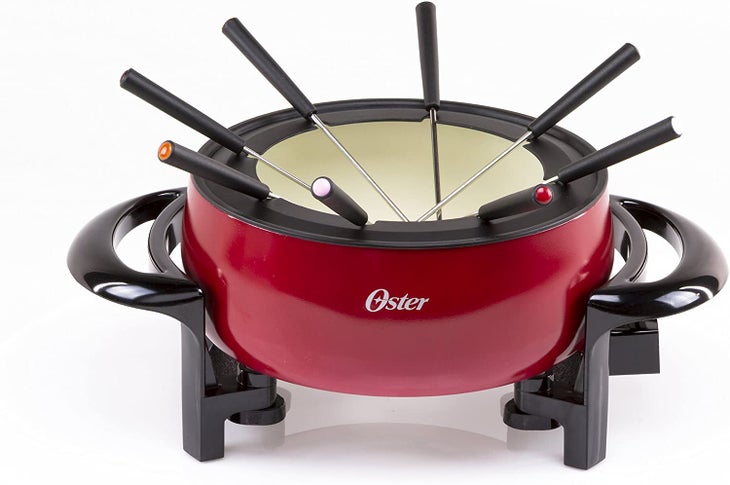 This One's Bringing the Heat
Here's a 3-quart, fast-heating fondue pot that is both functional and beautifully bright red. With a titanium-infused DuraCeramic nonstick surface, it is both PFOA and PTFE free, so you can feel good about the fondue you are eating.
What We Liked
Ready to get the party started? Don't wait longer than you have to. This pot heats up about 30 percent faster than most on the market, thanks to the pot's ceramic coating. The magnetic breakaway cord is a nice safety feature that helps you avoid spills of hot cheese and chocolate across the floor or table. Get eight color-coded forks so everyone gathered can enjoy themselves. Buy it now.
Most Compact
NutriChef Fondue Melting Pot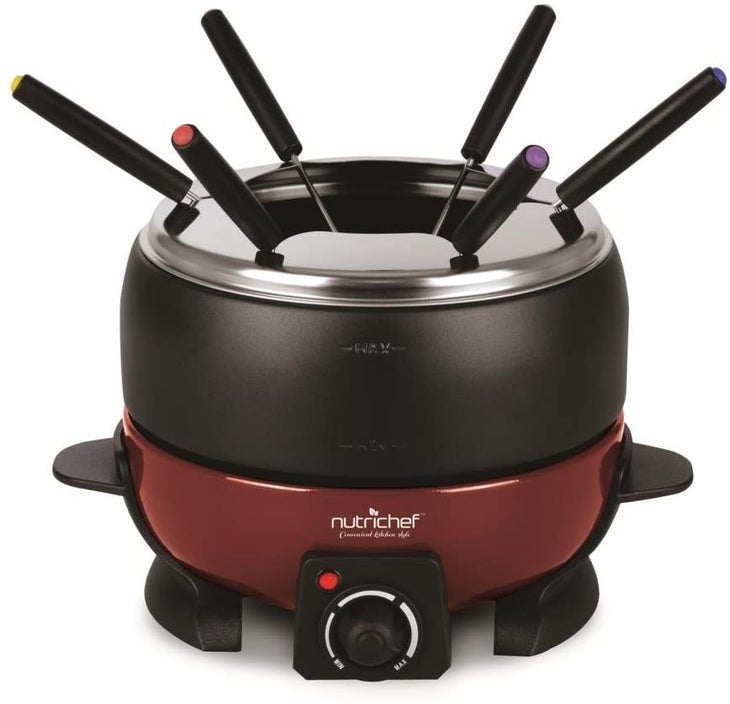 Smaller Design, Still Big Flavor
Melt both cheese and chocolate in this countertop safe fondue pot. Get a small group of friends together, or break this one out for dessert for two this weekend.
What We Liked
We appreciated the cool-to-the-touch handles that make moving this pot much safer and easier to use. At 64-ounce capacity, it's a bit smaller than the rest here. But it could be ideal for your space and the people in your life. And our testers admitted, it was absolutely perfect for date night at home or solo treats that you deserve after a long week at the office. This set comes with six color-coded forks for sharing made simple. Buy it here.
Most Durable
Artestia Electric Fondue Set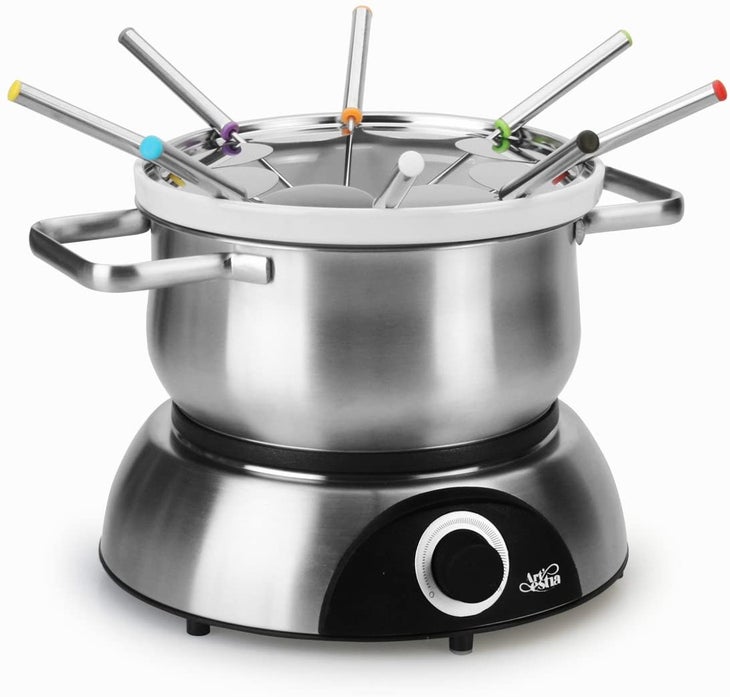 Heavy Duty Stainless Steel and Ceramic
You won't excitedly tip over this beautiful stainless steel pot. What's more, the removable 1000ml ceramic inner pot makes this product very easy to both operate and clean.
What We Liked
This fondue set makes for a super fun activity for dinner or post-dinner dessert. And its quality design will last for years. We liked the solid base because tipping is less likely to occur at such a special table. And you'll get both stainless steel and ceramic pots for maximum versatility. This one comes with a splash cover lid as well, which is nice as you try to keep the table tidy. You'll also get eight color-coded, stainless steel forks so there's no mistake about whose dipper is whose. Get it now.