Best Food Steamers
Food steamers are a great addition to any kitchen. Steaming is a process that is easy to master, and you can do it with all kinds of ingredients. It works with proteins, such as seafood and chicken. You can also steam vegetables that you can then use as part of a larger recipe, such as a stir-fry. Steamers are also useful in the preparation of dumplings, quiches, frittatas, desserts, grains, rice, eggs, and custard. With steamers, you want one that is well-designed, so that it will last you a long time. Most chefs prefer ones that have clear chambers, so that they can see the progress of the cooking as it takes place. You may want one that has a timer that's easy to use, or you might be intent on finding one that's made by your favorite brand of cooking equipment. Whatever your steamer standards, have a look at our top picks. May you find the right product for you – right here today!
Heading out the door? Read this article on the new Outside+ app available now on iOS devices for members! Download the app.
Runner Up
Oster Double Tiered Food Steamer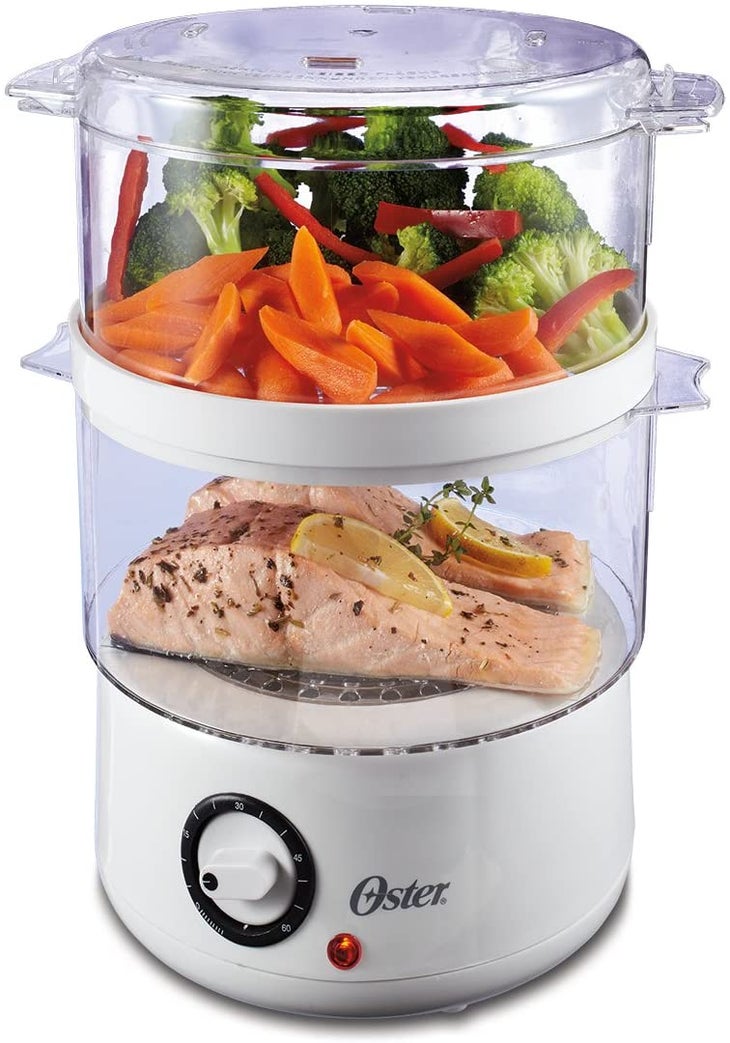 Double-Tiered Food Steamer. This is a double-tiered food steamer that works well if you want to steam two different ingredients at once.
What We Liked
If you're in a hurry, and you need two different ingredients steamed at the same time, then this is the choice for you. It works well with poultry, vegetables, fish, and various meats. The steaming process retains the natural nutrients in the food, with no need of cooking oils. This is a healthy way to go if you're dieting or cutting calories. This 5-quart steamer has a unique double-tiered design. You can steam veggies and fish at the same time, or any other combination. If you have unexpected guests over, this can be your new best friend. Further, the steamer bowls nest for compact storage, and the easy-to-use timer can be set up to 60 minutes. Order Yours Today.
Most Durable
Farberware 70043 Stack 'N' Steam 3-Qt. Covered Saucepot Insert Stainless Steel Steamer Set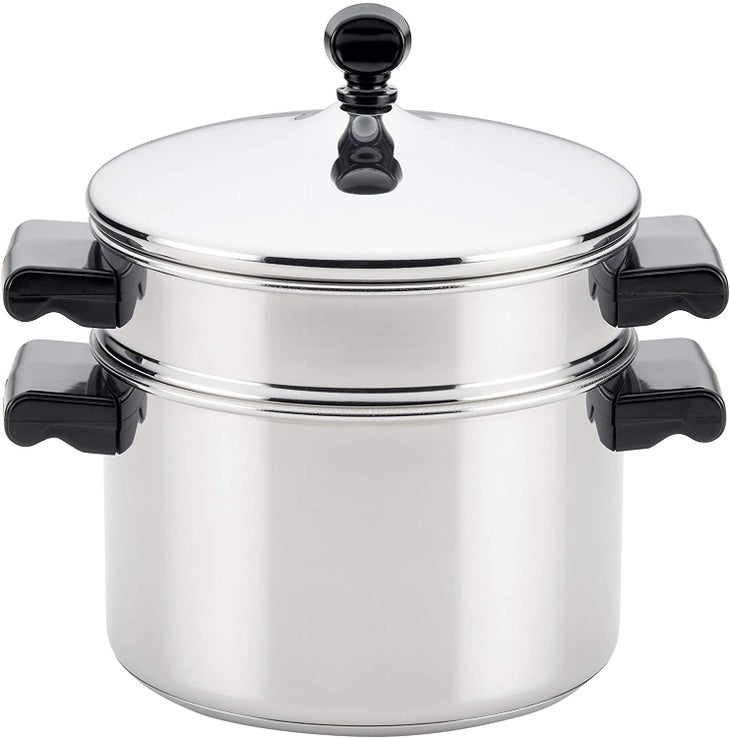 3-Quart Food Steamer. This food steamer comes in a large, three-quart size, and it is made of stainless steel that should last for many years.
What We Liked
This food steamer comes in the form of a stack-and-steam pot that is made entirely of stainless steel. It holds up to three quarts, so you can make larger portions for you and your family, or whoever has stopped by for lunch or dinner. The cap to be placed on top has a thick, aluminum core that's surrounded by stainless steel. With it, you are guaranteed to get even heating of any ingredients that you put inside. The handles are ergonomically designed, and the base saucepan can be used with or without the steamer insert. It has a glossy, mirrored finish, and it is oven-safe up to 350 degrees. It can also be stacked and stored without taking up much space. Purchase Online.
Editor's Choice
Cuisinart STM-1000 Digital Glass Steamer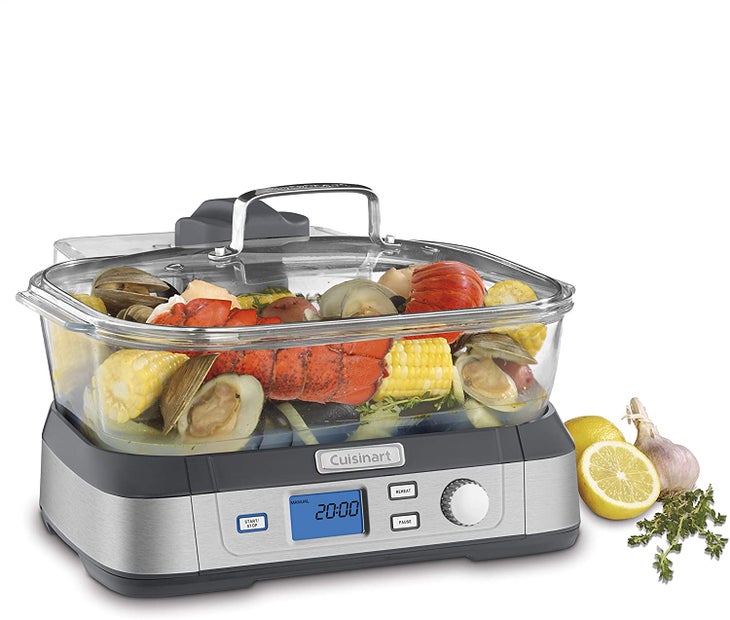 Powerful, Reliable Steamer. Cuisinart is a trusted kitchen brand, and their steamer can rapidly deliver perfectly-prepared rice, veggies, seafood, and more.
What We Liked
Cuisinart is a brand that many chefs know, and this steamer is one of the better options on the market. It works very quickly, heating whatever you choose to put in the 5-liter glass pot that is dishwasher-safe. It's clear, so you can watch the ingredients as they cook. There is an easy-to-read LCD control panel that features Start/Stop, Reheat, Pause buttons, and an audible alert system. There are five preprogrammed food settings that you can use, including vegetables, grains, poultry, seafood, and manual. It also comes with a 1-liter removable water tank. This steamer is easy to break down for storage, but it can be set up and operational within seconds. Buy Yours Today.
Most Compact
mockins 3 Piece Premium Heavy Duty Stainless Steel Steamer Pot Set
Super Easy Storage. With this food steamer, you get easy breakdown and storage capabilities, and you also get rapid cooking of your favorite ingredients.
What We Liked
This 3-piece steaming set is made of heavy-duty 18/8 stainless steel. The basket has an aluminum core at the bottom of the pot. The base is capped by induction stainless steel. This means that all ingredients will cook rapidly and thoroughly, but also evenly throughout. It comes with a two-quart vegetable steamer basket that fits snugly inside the three-quart pot. The tight-fitting vented glass retains heat, so your vegetables, fish, meat, etc. will be ready faster. The handles are Bakelite, and they will remain cool during the cooking process. What's more, the set fits one inside the other, so it will take up very little room on your shelf when it is not in use. Get It Today.