Best Fruit and Wine Presses
A fruit and wine press allows you to make handmade juice or wine that is healthy and environmentally friendly. These devices help you maximize the amount of liquid you get from your fruits. Most presses allow you to press a variety of fruits from grapes, apples, peaches, and more. Here is our review of four different fruit and wine presses, so you can find the one that's right for you.
Photo: Getty Images/iStockphoto
Heading out the door? Read this article on the new Outside+ app available now on iOS devices for members! Download the app.
Includes Most Wood Blocks
Weston 4 Gallon Fruit and Wine Press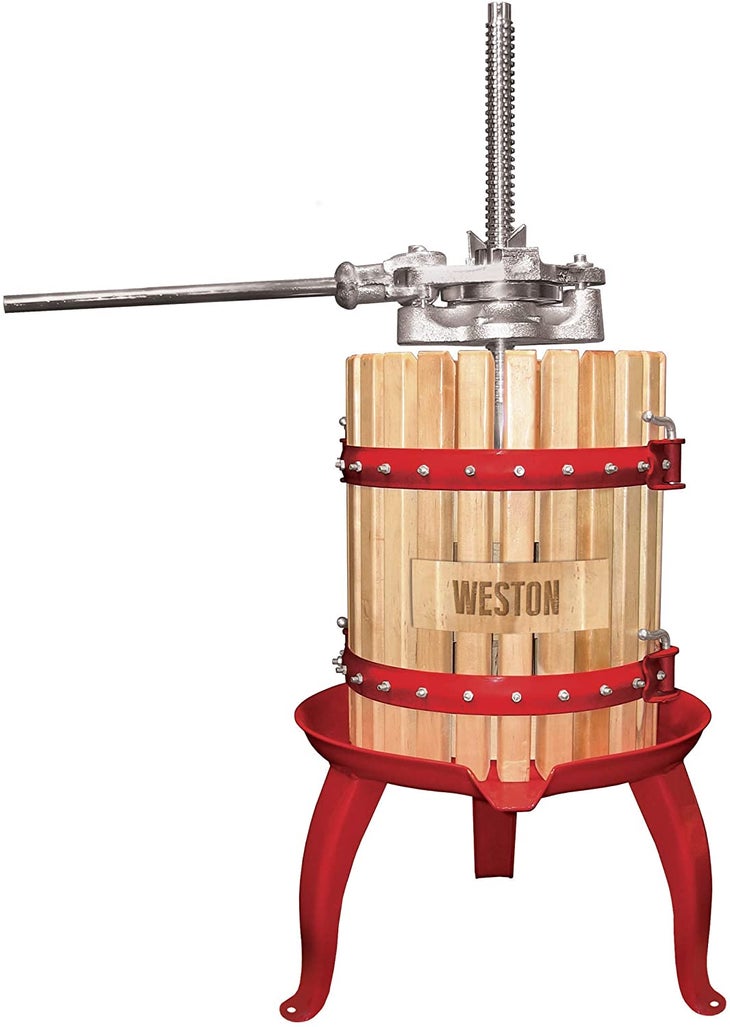 Fruit Press with 10 Wood Blocks
This authentic fruit and wine press comes with ten wood blocks and two discs to help you get all the juice from your fruit when pressing.
What We Liked
You can press apples, grapes, pears, peaches, and more to make homemade juice, wine, or cider. Each full pressing will give you about 3 gallons of juice depending on the type and amount of fruit used. This press includes ten wood pressing blocks and two discs, so you get the most juice from your pressing. The press has a cast-iron ratchet, steel base that you can bolt down for more leverage, easy-pour bottom spout, and a hardwood 16-quart basket with about 50-pound pulp capacity. The cage measures 14.5-inches high by 12.25-inches diameter. This press also comes with a one-year manufacturer's warranty. Get it here.
Good High Juice Yield
3.2 Gallon Fruit Wine Press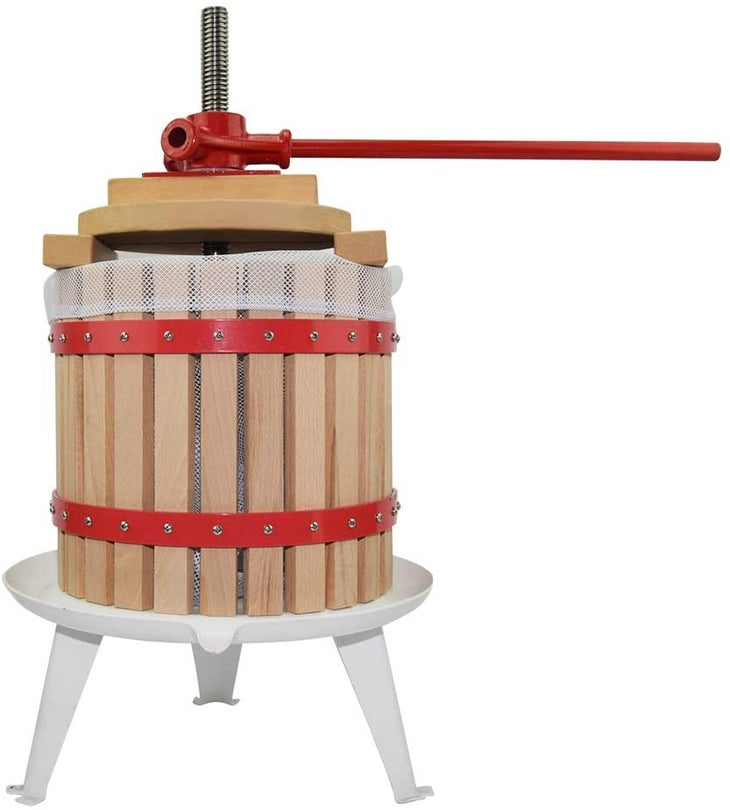 Break Away Basket Design
This easy to operate wine and fruit press gives you a high juice yield and uses a red beech basket that's resistant to moisture and corrosion so it will last.
What We Liked
This 3.2-gallon fruit and wine press uses a heavy-duty stand design with a pour spout to make collecting juice easy. Each foot of the stand comes with a screw hole so you can bolt it down if desired for additional stability. The hardwood, red beech basket is moisture and corrosion resistant, and the basket is designed to break away so you can quickly remove the spent pulp in between pressings. The thicker wood plate gives you a higher juice yield during pressing. This press uses a 'twist and extend' mechanism to exert pressure on the fruit. The unit measures 20.5-inches by 14.1-inches by 22.4-inches. Buy it now.
Good Extended Handle
Costzon Fruit and Wine Press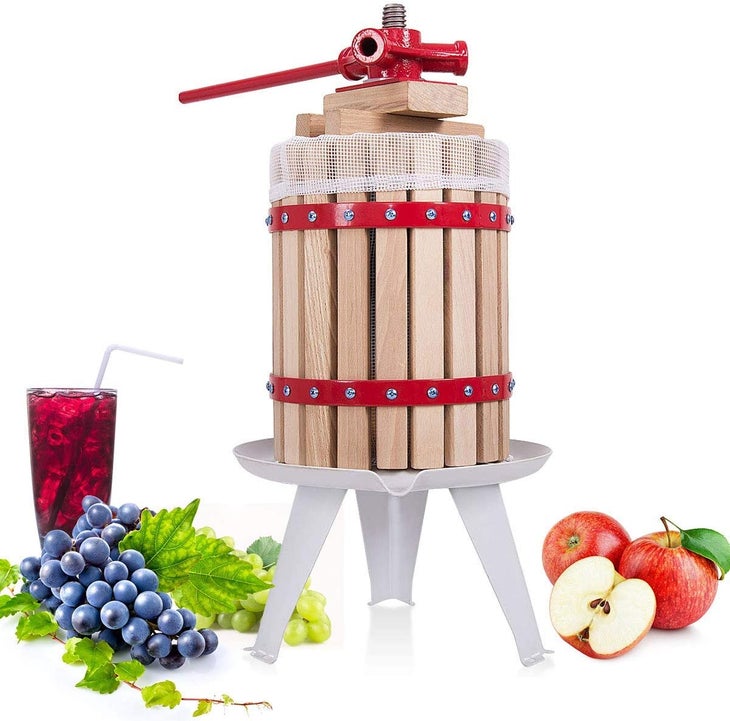 Premium Oak Basket
This fruit and wine press makes it easy to press fruit into juice, wine, or cider, and it can hold up to 1.6 gallons.
What We Liked
This 1.6-gallon press is equipped with a crossbar and thick round plate to achieve deeper pressing, so you end up with more juice. The pressing cage is made of a premium oak that is moisture and corrosion resistant, so it lasts longer. The sturdy enameled steel base provides stability, and the stand has a pour spout to make collecting juice easier. You can bolt this press down for additional stability. The basket holds up to 1.6 gallons; the press is 22-inches tall and 10.5-inches in diameter. Buy it here.
Large Capacity
Useful. It's Solid Wood Basket Fruit, Cider and Wine Press Old Fashioned Cast Iron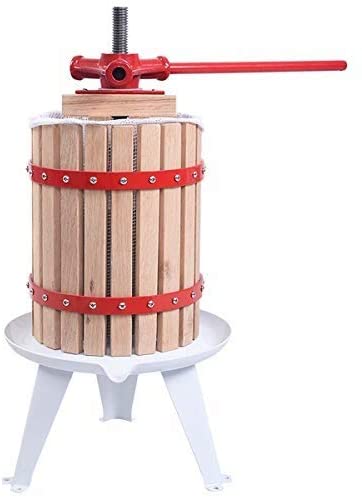 18 Liter Enclosure
This fruit and wine press holds up to 18 liters in a full pressing and has an easy pour spout to make collecting juice easy.
What We Liked
This cast iron press features a large capacity at 18 liters for a full press. The press is about a 10.75-inch outside diameter. The press features an easy to pour spout to make it easier to collect the juice. It comes with a sturdy mesh bag, two wood blocks, and two discs. It can be easily cleaned by spraying down with a hose to remove the bits of fruit and washed with mild soap. Get it now.