Best Frying Pans for Your Kitchen
Every kitchen needs at least one frying pan. These essential pans can help you prepare a variety of foods and meals such as scrambled eggs, ground beef, sautéed vegetables, and more. When shopping, consider whether you need a nonstick surface. This about the size of the pan as well. Additionally, not all frying pans can be used on an induction stovetop or can go from the stovetop to the oven. Below, you'll find our top frying pan picks. We hope at least one of these speaks to you and your kitchen needs. Start shopping right here. We've made it so easy to find the best!
Heading out the door? Read this article on the new Outside+ app available now on iOS devices for members! Download the app.
Editor's Choice
t-fal E76598 Ultimate Hard Anodized Nonstick 12 Inch Fry Pan with Lid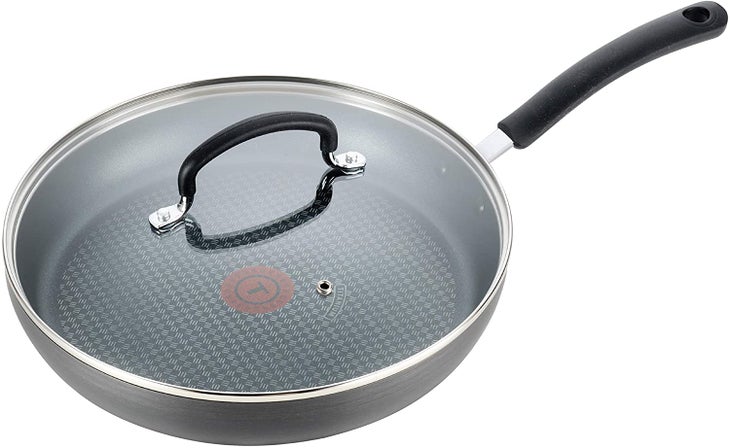 12-inch Frying Pan with a Lid. This 12-inch, nonstick frying pan has an indictor ring so you can see when it is preheated, allowing you to cook food evenly.
What We Liked
This frying pan helps you cook foods evenly every time. The pan's hard-anodized aluminum surface retains heat for predictable cooking. Additionally, this nonstick surface is nontoxic (PFOA-, lead-, and cadmium-free), scratch-resistant, and won't warp. This pan won't react to acidic foods, and the pan's thermo spot indicator lets you know when it is preheated and ready to cook. The handles are riveted for safety, and the vented glass lid makes it easy to see your food as you cook. The pan can be used on all stovetops except induction. It's oven-safe up to 400 degrees Fahrenheit, and the lid is oven-safe up to 350 degrees Fahrenheit. This product is also dishwasher-safe for easy cleaning, and it comes with a lifetime warranty, which we always appreciate. Order Online.
Best Set
Calphalon 2 Piece Contemporary Frying Pan set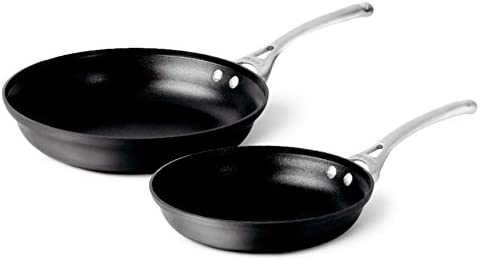 Set of 2 Nonstick Frying Pans. You can cook your foods with less oil when using this set of two nonstick frying pans, sizes 10 and 12-inch. The hard-anodized nonstick surface and wide, flat bottoms heat your food evenly, too.
What We Liked
These two frying pans will ensure you always have the size you need. The set includes a 10-inch and 12-inch pan. Each pan is made from hard-anodized, heavy-gauge aluminum that is durable and keeps your food from sticking to the surface. The wide, flat bottoms heat your food evenly, and the sloped sides make it easy to toss and roll your food if that's your style. The long handles keep your hands safely away from the heat. These pans are oven-safe up to 450 degrees Fahrenheit and can be used on almost all stovetops, except induction. The pans are dishwasher-safe for easy cleanup and come with a lifetime warranty. Purchase Yours Today.
Largest
All-Clad 4114 Stainless Steel Tri-Ply Bonded Dishwasher Safe Fry Pan / Cookware

14-inch Stainless Steel Frying Pan. This large stainless steel frying pan cooks your food evenly, is oven- and broiler-safe up to 600 degrees Fahrenheit, and is induction compatible.
What We Liked
This versatile 14-inch stainless steel frying pan can be used on all stovetops, including induction. The pan heats up evenly for easy cooking due to the aluminum core. The wide flat base and low-profile shape provide enough space for your food to cook. The highly polished cooking surface provides stick resistance, and the contoured handles are comfortable to use and keep your hands away from the stovetop's heat. This pan is made in the USA and comes with a limited lifetime warranty. It is handwash only. Get It Here.
Best Eco-Friendly
12" Stone Earth Frying Pan by Ozeri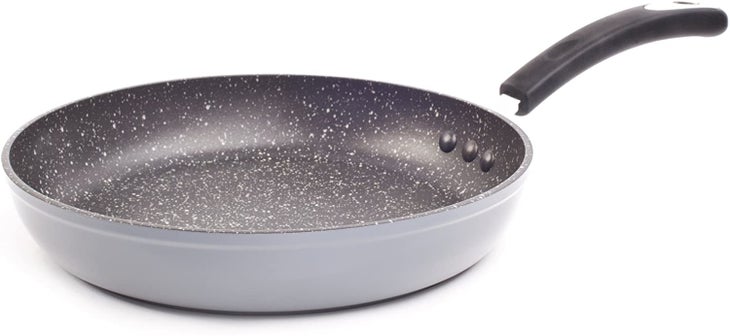 12-inch Stone-derived Nonstick Frying Pan. This eco-friendly, 12-inch frying pan uses a stone-derived coating that is free of chemicals and is nontoxic for healthy cooking.
What We Liked
This 12-inch, nonstick frying pan helps you cook food evenly and safely. The pan uses a stone-derived coating that is free from chemicals, including APEO, GenX, PFBS, PFOS, PFOA, NMP, and NEP. The pan can be used with all stovetop types, including induction, thanks to its durable heavy-gauge aluminum interior and magnetized base that allows for rapid heat transfer. The handle keeps your hand cool due to the heat-resistant silicone coating. The interior has a scratch-resistant coating that makes it easy to hand wash. The pan is available in six different colors so you can find a style that fits your kitchen's décor. Buy Now.