Best Hand Mixers for Home Baking
If you're going to be a serious home baker, then at some point, you're going to want to look into hand mixers. They are a vital part of any kitchen set, and they have so many uses. Whipping cream or eggs would be the most obvious, but you can also use them to get a creamy texture in mashed potatoes or yams. You can use them to mix cookie batter and cake dough, and they're great for homemade salad dressings and icing, too. With hand mixers, you want to find one that feels good in your hand and won't cause any blisters or cramping. Learning to use a hand mixer should be a straightforward process, and the tool should be highly responsive. It should also be easy to clean, and it should be durable enough to last several years. Finally, the attachments should stand up to mixing the thickest of ingredients. Check out our top picks.
Heading out the door? Read this article on the new Outside+ app available now on iOS devices for members! Download the app.
Best Design
KitchenAid KHM512ER 5-Speed Ultra Power Hand Mixer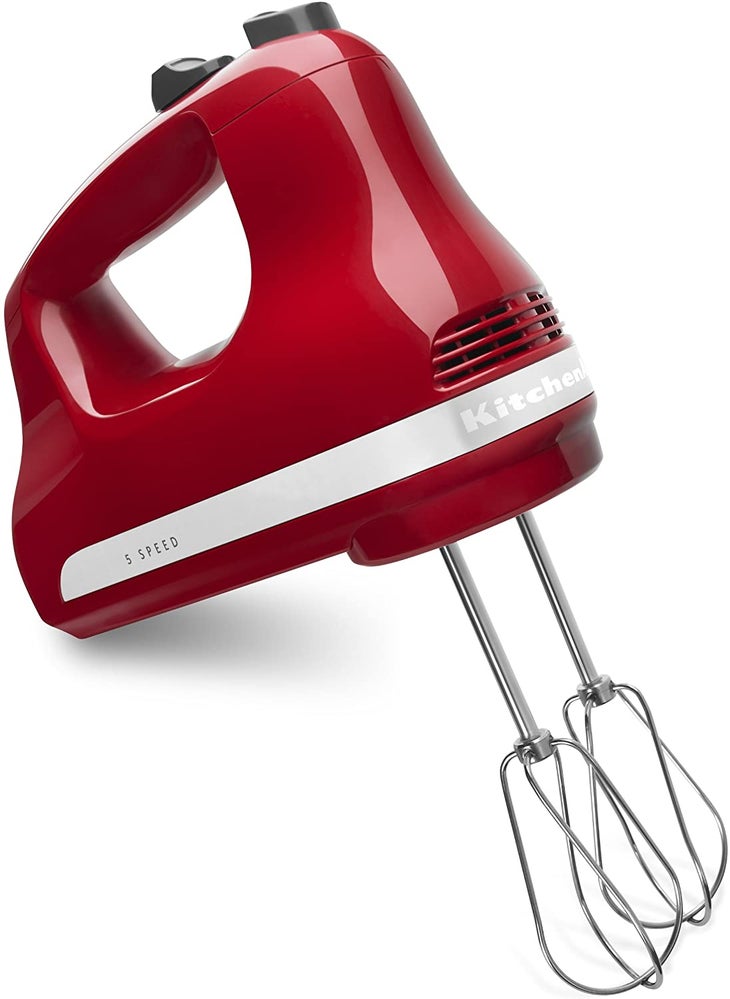 Reliable Mixer with Great Design. From the well-known brand KitchenAid, this hand mixer has five speeds and a modern design that should make it a great part of your collection.
What We Liked
KitchenAid makes a full line of cooking products and accessories, and their name is synonymous with quality. That is certainly the case with this hand mixer, which has five speeds and is easy to use. You can set it for slow stirring as you mix in chocolate chips or nuts. Whipping egg whites or heavy cream, on the other hand, works best with the faster settings. This mixer comes in several delightful colors, such as Empire Red, Boysenberry, Crystal Blue, and Green Apple. The cord can be locked into either the right or left side of the mixer, making it easy for you to approach ingredients from the most convenient angle. The Stainless-Steel Turbo Beater accessories are also dishwasher safe, which makes cleanup much faster. Order Online.
Best Accessories
Cuisinart HM-90S Power Advantage Plus 9-Speed Handheld Mixer with Storage Case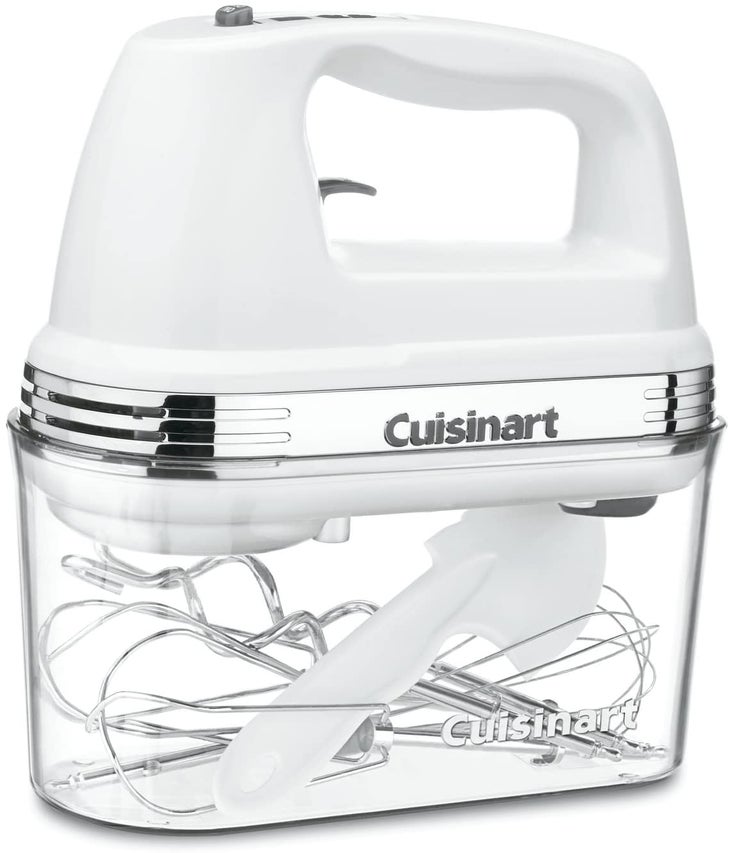 Hand Mixer with Awesome Accessories. This hand mixer, from Cuisinart, is well-constructed and attractive, but it's greatest advantage is its many useful accessories.
What We Liked
Cuisinart is certainly a well-known name in kitchen appliances, and this is a heavyweight addition that they've brought to the market. This handheld mixer has a 220-watt motor that delivers some serious power. You'll be able to easily mix the thickest and densest ingredients. It springs to life with a simple on/off button, and it has nine speed options, including three low speed settings to keep food from splattering. It also comes with a handy snap-on storage case. What's great about this choice, though, is the many accessories that come with it. You get a spatula, dough hooks, and chef's whisk along with the beaters. It even comes with a recipe book. Purchase Yours Today.
Most Compact
VonShef Hand Mixer Whisk
Lightweight, Portable Mixer. This portable hand mixer is lightweight and compact, but it can still do the job for dense and heavy concoctions.
What We Liked
This hand mixer has a 250-watt motor, complete with a turbo setting. That's useful if you ever need to put some muscle into your baking efforts. It comes with two beaters, two dough hooks, and a balloon whisk as well. There are five speeds from which to choose, and they're thumb-operated, so you can switch them up mid-recipe if the situation calls for it. All of the accessories that come with it are dishwasher safe, which will save some time during cleanup. Perhaps what is best about this mixer, though, is how lightweight and portable it is. When you break it down, it takes up very little room in your kitchen. You can also take it on the road if you're ever going to lend a hand with cooking at someone else's house. Buy Yours Here.