Best Irish Coffee Glasses
Coffee, the nectar of the gods. At least, for many people around the world it is. But what better way is there to spruce coffee up at a Sunday brunch–or any day, really–than with a dash of Irish liquor? Regardless of how 'Irish' it really is, Irish coffee is a drink found in restaurants and bars around the world. It's typically served in a clear, glass mug with a squat stem and sturdy round base. They're designed to show off the layering of the coffee and cream that's easily managed and perfect for drinking–or carrying to and fro–straight from the bar. So, regardless of where or how you take your Irish coffee, it serves you right to drink it from its intended vessel. Not sure where to start your search? We put together a list of what we found to be some of the best Irish coffee classes available that you can check out here.
Heading out the door? Read this article on the new Outside+ app available now on iOS devices for members! Download the app.
Most Versatile
JoyJolt Declan Coffee Mug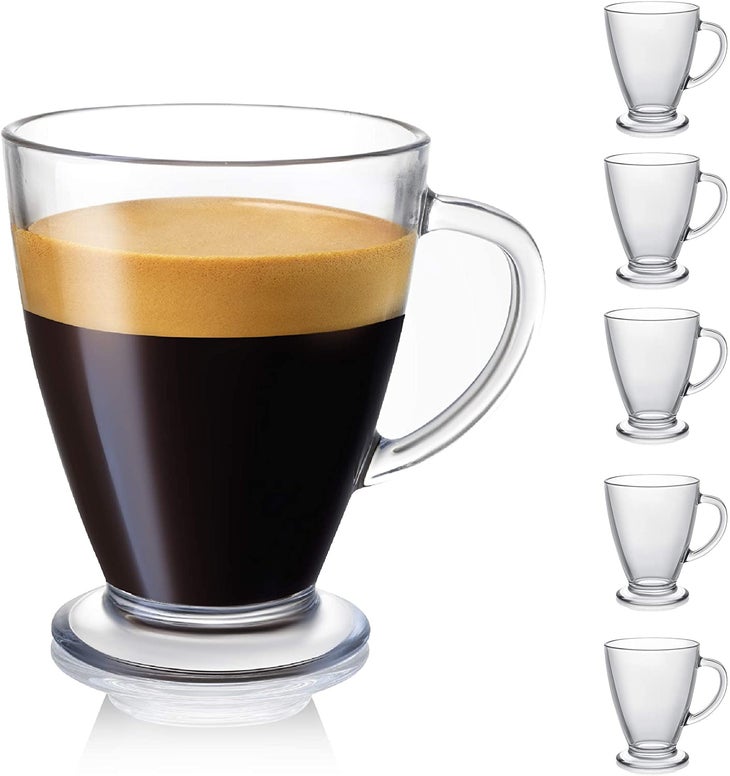 16-Ounces of Pure Coffee Joy
Designed to show off the blackest of black coffees and creamiest of Irish blends, these Declan Coffee Mugs from JoyJolt come with easy to grip handles and are made of shatterproof glass.
What We Liked
This set of six, 16-ounce glasses from JoyJolt offers the perfect set for hosting and serving after-dinner Irish coffees–or coffee of any variety. They're made of soda-lime glass and designed to be significantly thicker, more robust, and prevent the shattering normally associated with glass drinkware. The 2-inch by 1-inch handle allows you to grip the mug with one or two fingers and stays cool enough to grab straight from the microwave even after a minute or two of heating. At 16-ounces of volume, the glasses weigh a mere 0.1-ounces when empty so–even when full of your favorite blended brews–they're ergonomic, lightweight, and great for mingling about a party. Get it here.
Most Elegant
Bormioli Rocco Glass Coffee Mug Set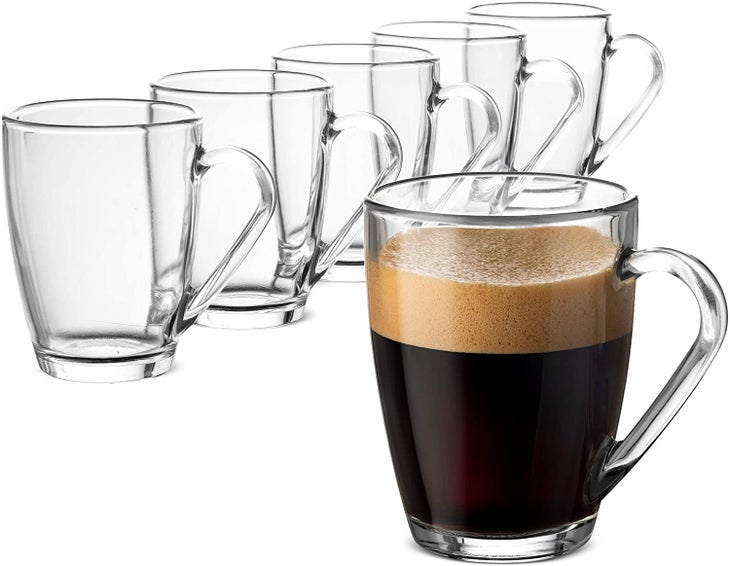 Hot & Cold Coffee Mug
Made in Spain with lead-free, tempered glass with a stable, weighted bottom and cold-touch handle, these coffee mugs work for hot and cold beverages alike, including Irish coffee, cappuccino, tea, juice, and more.
What We Liked
Whether you're pouring hot coffee from a French press or pulling it straight from the microwave, these Bormioli Rocco glasses keep your hands comfortable and cool thanks to the extra-thick, tempered glass handle. At 10.75-ounces, they're the perfect size for a variety of coffees and teas and fit neatly into single-serve coffee machines. With their elegant design, these mugs are great for both everyday, casual use and more formal gatherings and, with 6 glasses in the set, you get the perfect amount for hosting family and friends for early morning lattes and after-dinner Irish blends. Buy it now.
Most Classic
Libbey 10.5-ounce Irish Coffee Mug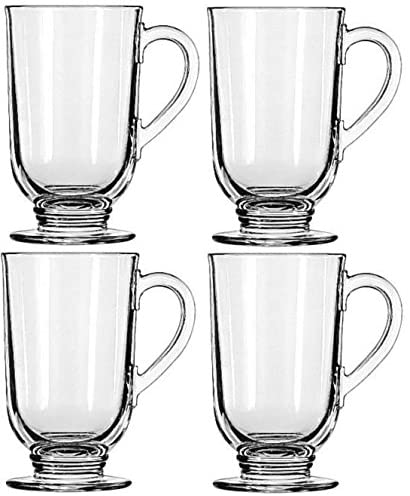 Simple, Functional & High Quality
With four 10.5-ounce mugs per set, these glasses are dishwasher safe, microwave safe, and are made of crystal clear glass that allows your favorite Irish coffee and hot and cold brews to be the star of the show.
What We Liked
If you're looking for a set of mugs that look just as good hanging from hooks under your cabinet when not in use as they do when filled with your favorite blends of coffee and cream on the table, look no further than these Libbey Irish Coffee Mugs. Libbey is a leading name in glass and kitchenware products, and the quality in these mugs is no exception to their high quality standards. They're simple, they stay cool even with the hottest of beverages inside, and they're easy to clean and dishwasher safe. Buy it here.
Most Professional
Anchor Hocking 8-oz Irish Coffee Mugs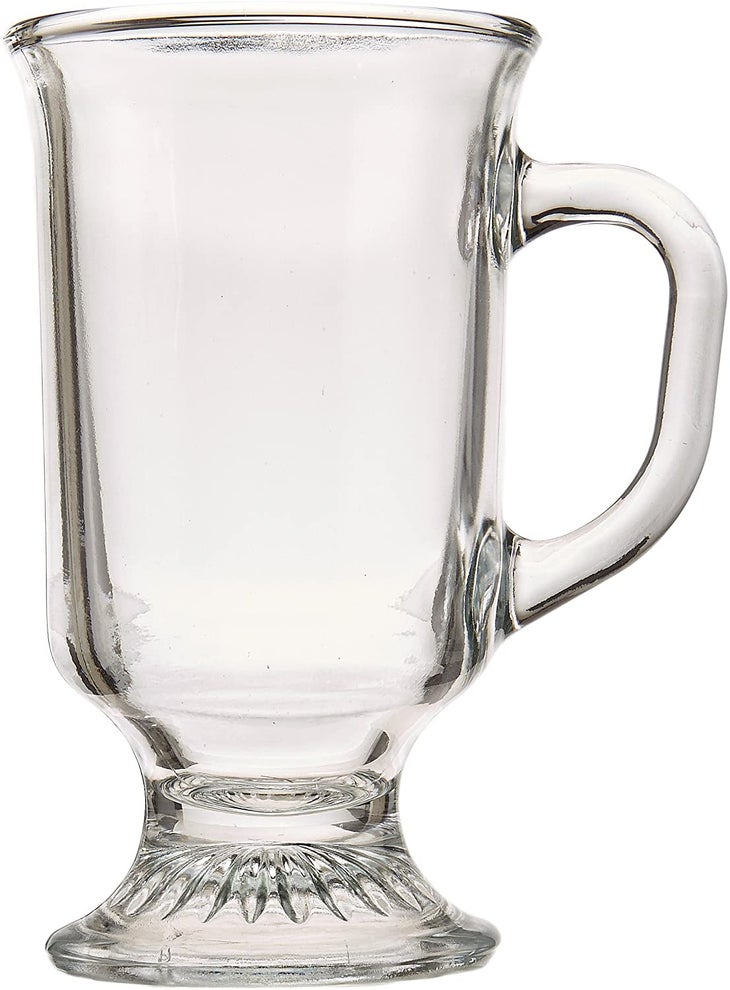 Restaurant-Quality Coffee Mugs
These 8-ounce, glass mugs with handles and a medium-sized stem are much like what you'd find in bars, restaurants, and formal dining establishments and make a great addition to any coffee lover's home.
What We Liked
Whether you're starting up a small restaurant or find yourself entertaining guests frequently and making and pouring copious amounts of coffee, this set of 12 glasses makes the perfect companion to your hosting needs. They handle hot liquids well, look great, and do exactly what they're intended to do: help coffee look great and drink easily. Get it now.