Best Kitchen Colanders
Kitchen colanders, also called strainers, have come a long way in recent years. What was once a product you'd only find made of steel or cheap plastic now comes in a variety of sizes, styles, and long-lasting materials, like silicone. But not all colanders are created equal. Some only offer drainage from the bottom, while others have holes throughout the container. Some colanders are designed for smaller jobs, while others are larger and more multi-functioning. Choosing the kitchen colander that's right for you all depends on your cooking style, skill level, and how much storage space you have in your cabinets. We've compiled a handful of excellent options to help you decide which colander is best for you and your needs.
Heading out the door? Read this article on the new Outside+ app available now on iOS devices for members! Download the app.
Most Professional
LiveFresh Stainless Steel 5-Quart Colander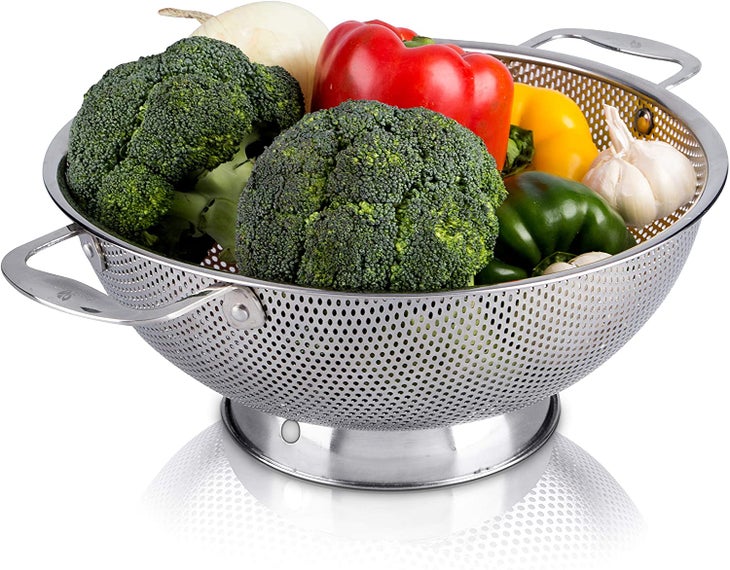 Heavy-Duty & All-Purpose. With micro perforations throughout its heavy-duty steel construction, this professional quality colander from LiveFresh is great for smaller grains and pastas without risking clogs or food falling through the holes. Its sturdy ring base increases stability and prevents spilling when large quantities are poured in.
What We Liked
With its five-quart capacity and small drainage holes dispersed throughout the bowl and base, this LiveFresh colander works great for steaming vegetables, rinsing fresh fruit, or straining a hot pot of your favorite pasta, regardless of size. It's made of heavy-duty 18/10 stainless steel that's dishwasher safe and rust-proof for long-lasting durability. The colander's solid base will stay secure on any surface, and its riveted handles will never break off, making it suitable and efficient for every straining task you throw at it. Order Online.
Most Versatile
Cuisinart CTG-00-3MS Stainless Steel Strainers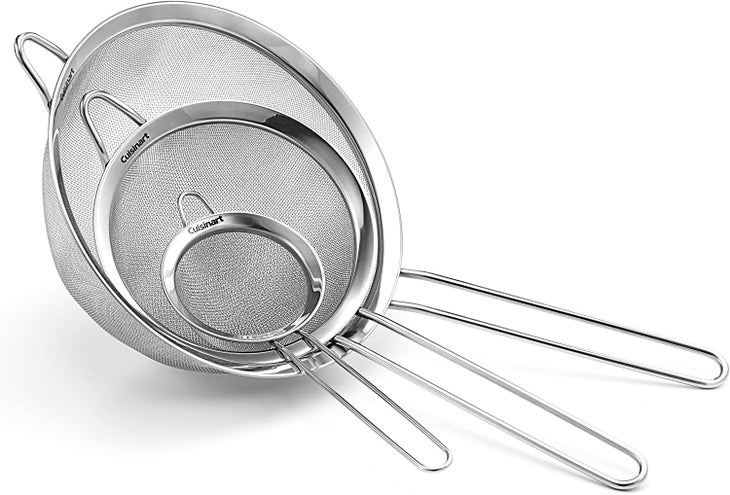 Set of 3 Stainless Steel Strainers. This set of three stainless steel strainers from the trusted Cuisinart brand is perfect for the home chef with a variety of everyday straining needs. The small, medium, and large options are great for draining, sifting dry ingredients, or scooping from boiling pots.
What We Liked
With three sizes to choose from, this Cuisinart three-pack of stainless steel mesh strainers is a must-have for anyone who cooks at home. The small (3 and 1/8-inch) strainer is perfect for retrieving bits from a boiling pot or smaller dry sifting jobs. The medium (5 and 1/2-inch) is also great for sifting while baking, dusting, or steaming vegetables, and it's a convenient size when cooking for one or two people. The large (7 and 7/8-inch) is the all-purpose steaming and draining tool capable of handling tasks for larger cooking jobs. The whole set is dishwasher safe and backed by Cuisinart's lifetime warranty. Purchase Yours Today.
Most Convenient
Qimh Over the Sink Colander
Collapsible & Adjustable. With a body that's adjustable to 24 inches to fit over the sink, this modern take on a colander from Qimh is great for a variety of jobs around the kitchen. Collapsible for space-saving storage and dishwasher cleaning.
What We Liked
This over-the-sink colander is more than meets the eye. It collapses down to two-inches thin to fit easily in kitchen drawers or cabinets. Its expandable arms adjust to spread 24 inches wide and feature handles madle of non-slip silicone so the whole colander remains secure on top of the sink's basin for a variety of jobs. Whether cleaning fruits or vegetables or draining up to six quarts of pasta water, this Qimh colander, available in a variety of colors, is a great gadget for the modern kitchen. Buy Now.
Most Ergonomic
Comfify Collapsible Colander Set
Silicone Colander Set. With two conveniently sized colanders made of collapsible, heat-resistant silicone, this is the perfect colander set for all straining and rinsing needs. With an ergonomic design that collapses down to under two inches, this set saves space in the kitchen and allows you to multitask.
What We Liked
Whether you're looking for a tool to rinse leafy greens, clean root vegetables, or drain a pot of your favorite cooked pasta, this set of eight-inch and 9.5-inch collapsible silicone colanders will cover all of your cooking and food prep needs. It's surprisingly sturdy when upright and easy to transport back and forth from pot to sink with ergonomic handles. It's also BPA-free and heat-resistant, allowing it to be fully submerged in boiling water without losing structural integrity. Click Here to Purchase.