Best Ladles for Your Kitchen
If you regularly cook soups, stews, chili, or anything that involves broth, a ladle is a must-have kitchen utensil. They can even come in handy when serving punch at parties. When shopping for a ladle, look for one that won't stain, rust, or melt. If you use nonstick cookware, you'll need a ladle that won't scratch or damage it. In general, ladles made of either stainless steel or silicone can stand up to high heat, resist stains, and won't rust. Today, we're diving into our top four ladles on the market, in hopes that one of these will suit your needs.
Heading out the door? Read this article on the new Outside+ app available now on iOS devices for members! Download the app.
Most Durable
OXO 1057952 Good Grips Brushed Stainless Steel Ladle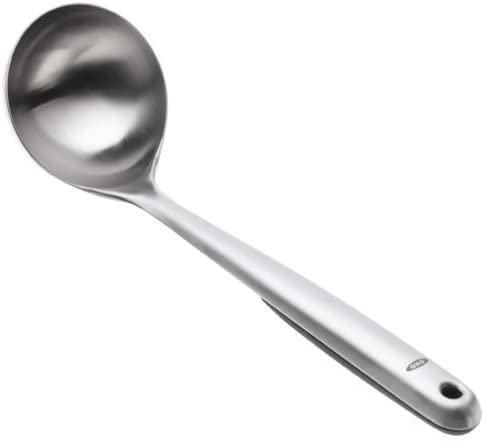 Sturdy Stainless Steel. This brushed stainless steel ladle comes with a cushioned, non-slip grip on the back of the handle for comfort and ease of use.
What We Liked
This kitchen ladle makes serving soups, stews, and broth-based dishes easy. The sturdy brushed stainless steel can easily handle your thickest, hottest stews, chili, and more. The back of the handle features a soft, non-slip grip for maximum comfort, while the lower section of the handle remains stainless steel so that you can rest the ladle safely against hot surfaces. This ladle is 12 inches long and holds about four ounces of liquid in the scoop. It's easy to hang for storage, thanks to the hole in the handle. It's easy to clean and dishwasher safe. Order Online.
Runner Up
StarPack Basics XL Silicone Ladle Spoon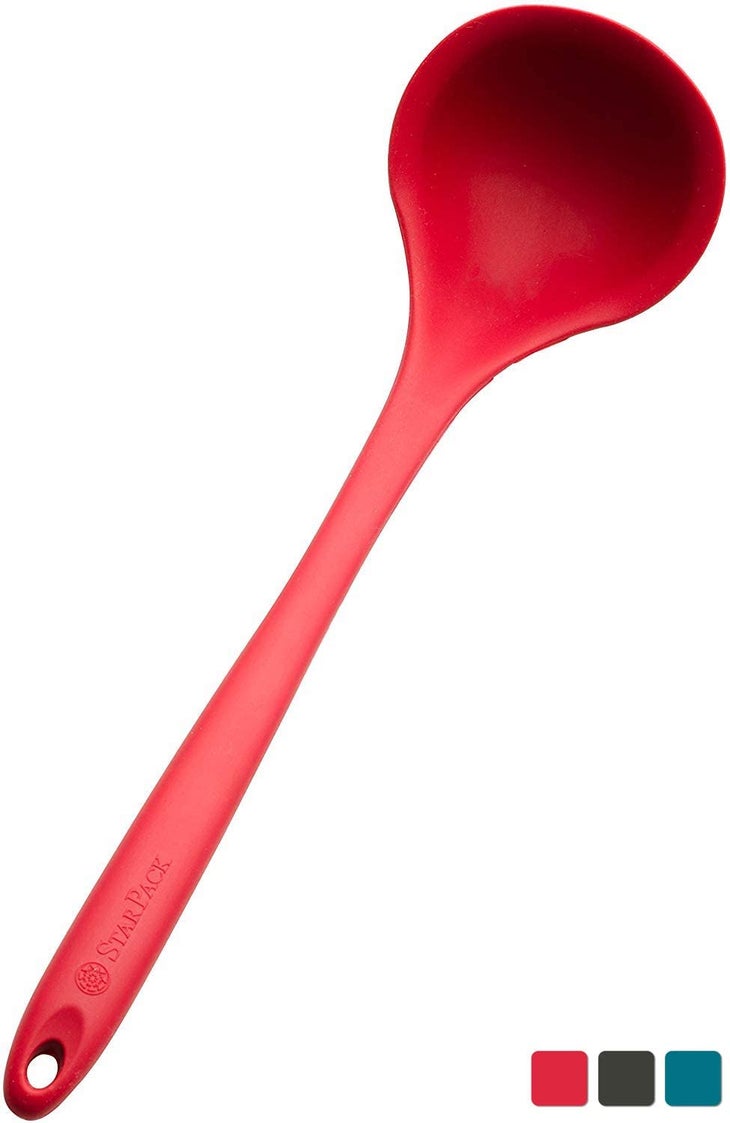 Extra-Large Silicone Ladle. This vibrantly colored silicone ladle is extra-long to make for easy reaching into the bottom of your cooking pots. It boasts a deep bowl so you can scoop more at a time.
What We Liked
You'll enjoy using this vibrantly colored ladle when cooking. It comes in two fun colors—cherry red and teal blue. But this stylish ladle is also super functional. The ladle is extra-long, measuring 13.5-inches. It has a deep bowl that scoops up to 4.5-ounces at once. It's made of BPA-free, FDA-grade silicone and won't harbor bacteria, and the core of the ladle is made of steel to ensure it's extra strong and durable. It's heat-resistant up to 480 degrees, so you don't have to worry about it melting or warping. You also can use this silicone ladle with nonstick cookware without it damaging your pots or pans. It's stain and odor resistant and dishwasher safe. Last but not least, we appreciated that the ladle came with a free bonus PDF on cooking tips and also had a 100 percent satisfaction guarantee. Buy Here.
Editor's Choice
Newness Soup Ladle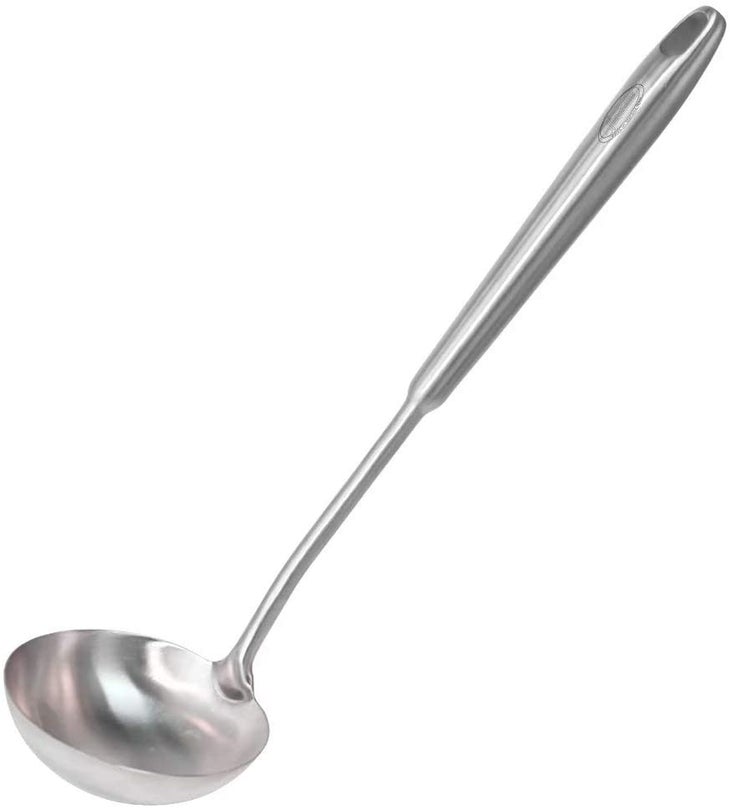 Contemporary Design. This stainless steel ladle can be used in home kitchens or restaurants, thanks to its durable and strong material and design.
What We Liked
This ladle has an elegant, modern design but is strong enough to withstand even thick, heavy foods. The food-grade stainless steel material is rustproof and heat-resistant, so you don't have to worry about it melting. It's extra-long design (13.7-inches) makes it easy to reach the bottom of any pot. The round handle is crafted to fit comfortably in your hand, and the vacuum design reduces any heat transference to your hand. The large scoop capacity makes it easy to serve your foods, and the ladle is easy to clean and is dishwasher safe. The hole in the handle allows you the option of hanging it to save space when not in use. Order Yours Today.
Best Design
Silicone & Stainless Steel Black 4 Ounce Soup Ladle with CoolGrip Handle & Flexedge Silicone by Cooler Kitchen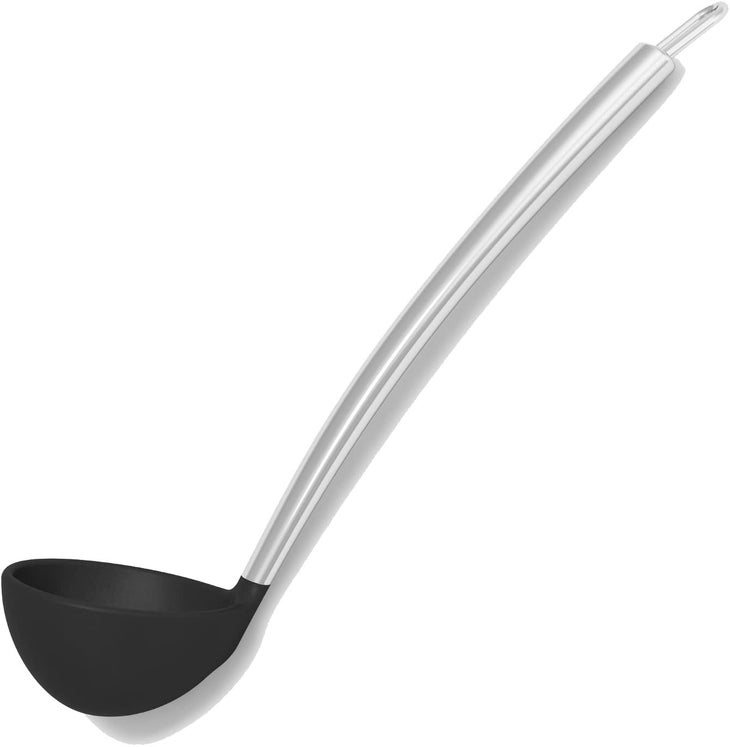 Silicone and Stainless Steel. This durable ladle combines stainless steel and silicone for a ladle that is strong, durable, and heat-resistant. It's still safe for all cookware surfaces and can scoop even the last drops of your soup or stew.
What We Liked
This ladle combines a stainless steel handle with a silicone scoop to create a durable ladle that's safe to use on all cookware surfaces, including nonstick coatings. The stainless steel handle won't break and is 12.5-inches long. Its CoolGrip technology prevents the handle from heating up so you won't burn yourself on the handle, even if you leave it in the pot. The scoop is made of food-grade, BPA-free silicone. It can withstand heat up to 450-degrees, so it won't melt or warp. The scoop is designed with Flexedge technology, which keeps your soup from dripping and makes it easy to scoop every bit of your food from the pot. The scoop holds up to four ounces and has a slight lip to make it easy to pour without spilling. The handle comes with a hook for easy storage, and this ladle is dishwasher safe. Click Here to Order.