Best Lunch Box for Kids
The days of brown bag lunches and the excess waste they create, are over. If you pack your kid's lunch every school day, it makes sense to have something that you can reuse over and over again, sustainably. Plus, a kid should be able to express themselves at every chance they get, from their clothes down to their backpack and even the container that holds their lunch. Whether it's hard shell or soft, solid colored or patterned, single compartment or sectioned, every kid should have a quality lunchbox. Not sure where to begin? Take a look below at some of the best lunch boxes for kids we found on our search.
Photo: Getty Images/iStockphoto
Heading out the door? Read this article on the new Outside+ app available now on iOS devices for members! Download the app.
Most Durable
Bentgo Kids Prints – Leak-Proof, 5-Compartment Bento-Style Kids Lunch Box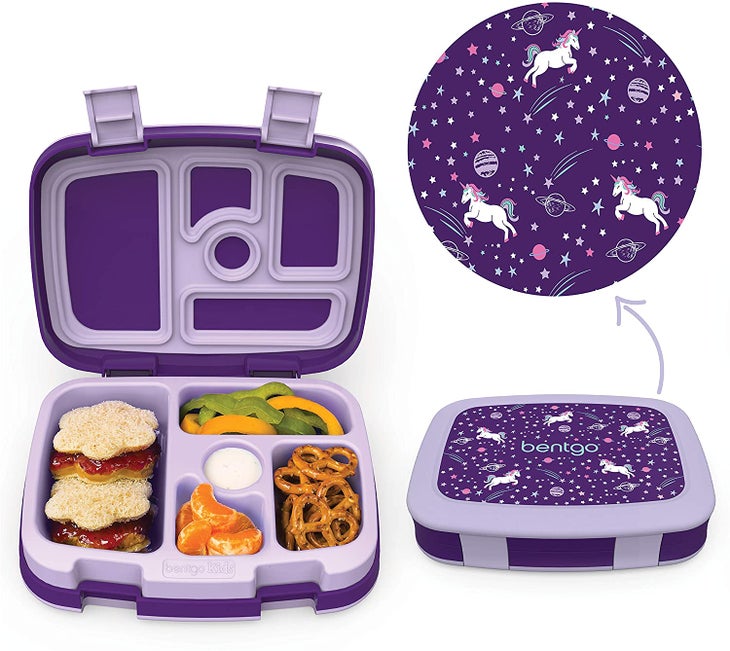 Durable Portioned Compartments
With a leak-proof construction and two latch design, this kids lunchbox features five perfectly portioned compartments for kids' appetites and comes in a variety of colors and prints to match their personality.
What We Liked
This lunch box is a parent's dream when it comes to ensuring your kids are getting the right, healthy portions every day. The box itself measures 8.5×6.5×2-inches and includes a one cup, two 1/2 cup, a 1/4 cup, and a 2 tablespoon compartments. These are perfect for including a main course or half sandwich, sliced fruits or veggies, pretzels, and dipping sauce, yogurt, or applesauce. The box is made of durable, BPA-free and FDA-approved food grade materials with a drop-proof, rubber-coated edge and silicone-lined lid that contours to each department to lock in freshness and prevent leaking. The food tray is removable from the box and is microwave, top rack dishwasher, and freezer safe. It comes in a variety of designs to suit both boys and girls styles, including mermaid scales, sharks, sports, and unicorn prints. Get it here.
Most Stylish
Wildkin Kids Insulated Lunch Box for Boys and Girls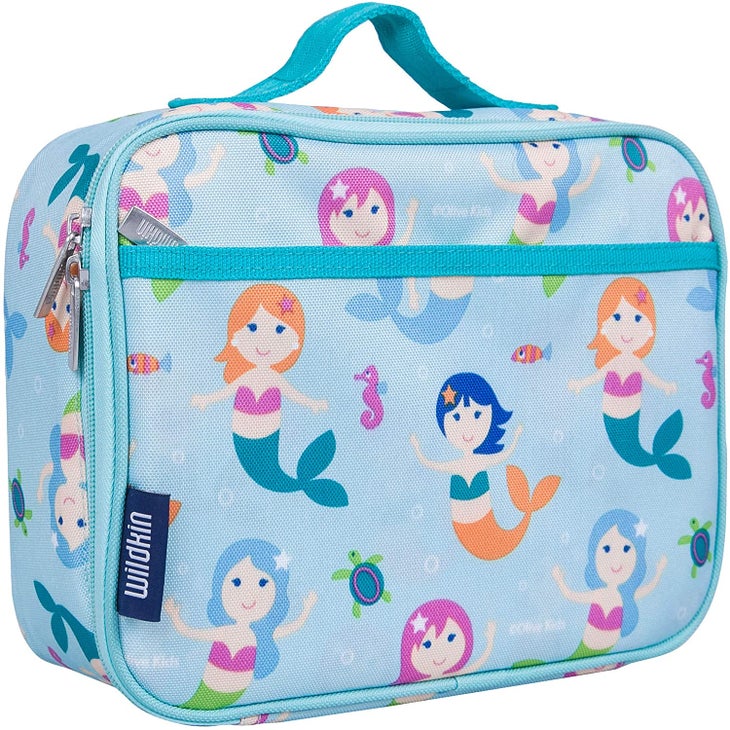 35 Styles to Choose
This square-shaped, soft shell lunch box available in 35 vibrant designs is reusable, insulating, and has room to fit a variety of containers and snacks.
What We Liked
At 7-inches long, 9.75-inches wide, and 3.25-inches deep, this lunch box is 100% play proof and fits standard-sized bento boxes, containers, ice packs, and water bottles with room to spare. It features an insulating, PEVA food safe liner with an interior mesh pocket and easy access front pocket that are great for hiding notes, secret desserts, napkins, and utensils. The box comes in 35 colorfully designed patterns including butterfly garden, llama and cactus, and surf shack, which can be mixed and matched with Wildkin backpacks and other accessories. Buy it now.
Most Versatile
Amersun Kids Lunch Box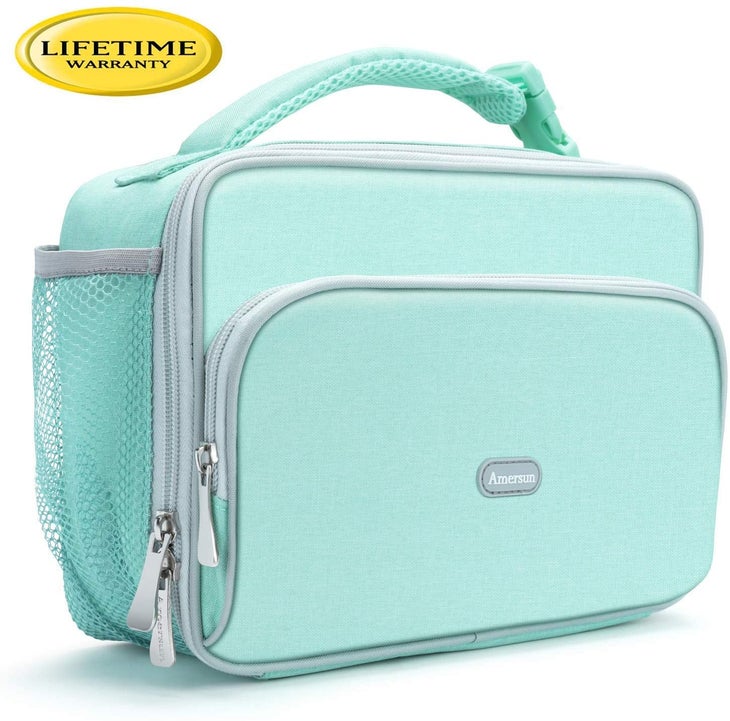 Lunch, Drinks, Snacks & More!
With it's spacious design, water resistant fabric, easy-clip handle, and insulating foil interior, the Amersun Kids Lunch Box is so roomy and chic, you'll want one for yourself.
What We Liked
With its 4-liter capacity, this lunch box fits enough food and snacks to keep your kids going all day. Even though it's designed for kids, it's perfect for adults on the go, with enough space for a midmorning piece of fruit, full lunch, and afternoon snack. It's made out of water-resistant Oxford fabric in neutral colors like black, blue, and gray, as well as more vibrant colors and patterns like peony purple, cartoon mermaid, and Christmas. In addition to the roomy main pocket, the box has an internal mesh pocket, mesh side pocket for drinks, easy access back pocket, and front zippered pocket. Buy it here.
Most Kid-Friendly
DaCool Lunch Box for Kids Bento Box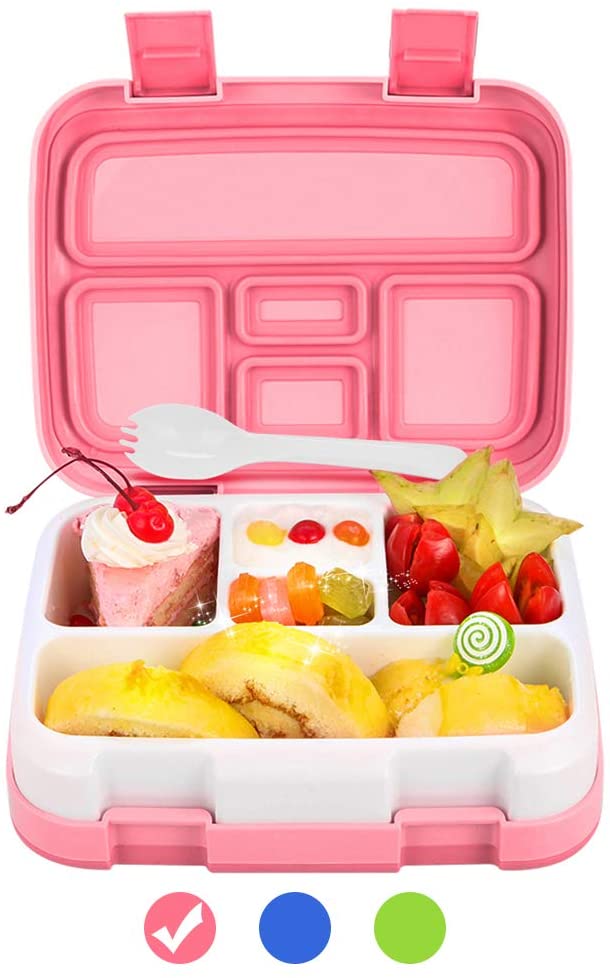 Durable & Leak-Proof
Available in pink or blue with 5 compartments–or a larger 4 compartment blue for bigger, hungrier kids–this bento-style lunch box features a drop-proof, non-slip construction that offers perfect portion control for growing kids.
What We Liked
This bento-style lunch box is perfect for growing children and their eager appetites–and for parents who are conscious about their kid's portion control and nutrition. The standard-size features five separate compartments that provide ample portion sizes for sandwiches or main course leftovers, fruit, snacks, and sauces, each of which are protected from combining with the built-in silicone leak-proof lid. The larger box has fewer compartments that allow for larger portion sizes to satisfy bigger kids. The entire box is made of food-safe, BPA free materials that are easy to wash and reuse, and the main tray is microwave, freezer, and dishwasher safe. Get it now.