Best Mortar and Pestle Sets
If you're serious about spices, then a mortar and pestle set should be a staple in your kitchen. After all, M & P sets serve as one of the best ways to properly blend and crush spices like black pepper or garlic. Further, you can use a mortar and pestle to create delicious pesto and other spreads. Below, we'll go over some of the best sets currently available. With a variety of capacities, designs, and pestle weights, you're bound to find the perfect M & P set for your needs right here, right now.
Photo: Getty Images/iStockphoto
Heading out the door? Read this article on the new Outside+ app available now on iOS devices for members! Download the app.
Top Pick
Gorilla Grip Original Mortar and Pestle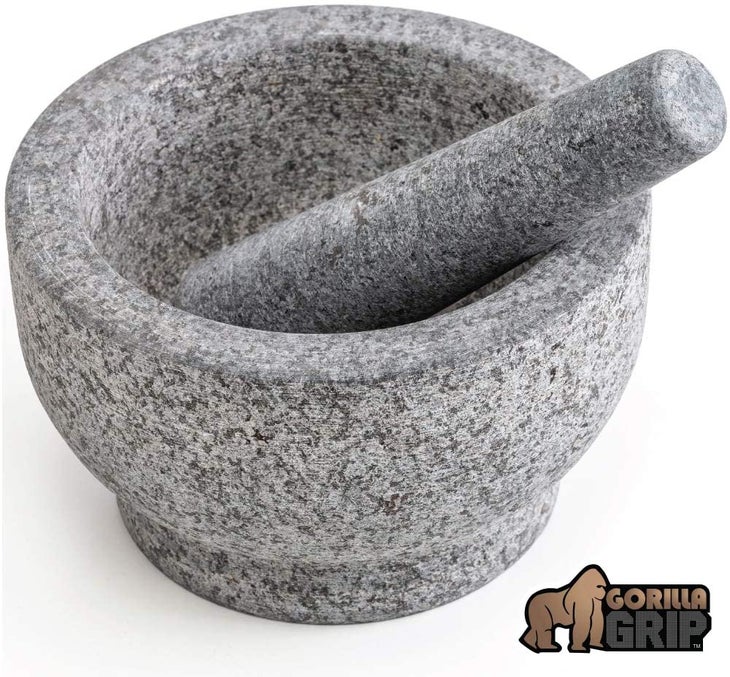 Durable Mortar and Pestle Set. This mortar and pestle set is properly weighted making it the perfect tool for appropriate grinding.
What We Liked
You'll love this mortar and pestle set that's made out of 100 percent pure granite. The chef-tested M & P set holds a whopping 4 pounds at once, making it great for any spice super fans out there. Best of all, the mortar and pestle are backed by a 10-year guarantee, ensuring that you're properly satisfied with your purchase. Your set will also come with an optional foam bottom that will help keep the M & P set firmly in place during use. Get it here.
Best Value
Tera 18/8 Stainless Steel Mortar and Pestle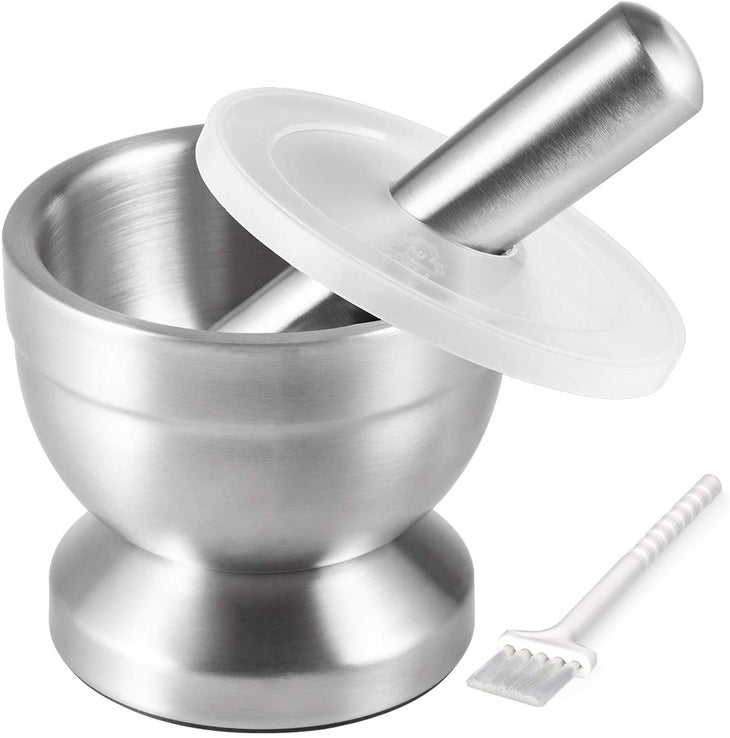 Stainless Steel Mortar and Pestle. This mortar and pestle set is easy to clean and has a polished, stainless steel design.
What We Liked
This polished mortar and pestle is incredibly easy to clean with its stainless steel construction. The solid metal set will sit firmly on your countertop with its naturally weighted design. Notably, this M & P set is rust-resistant, so you'll be able to use it for years to come. Plus, you'll get a custom lid with your purchase, allowing you to store your creations right in the bowl. Buy it now.
Runner Up
ChefSofi Mortar and Pestle Set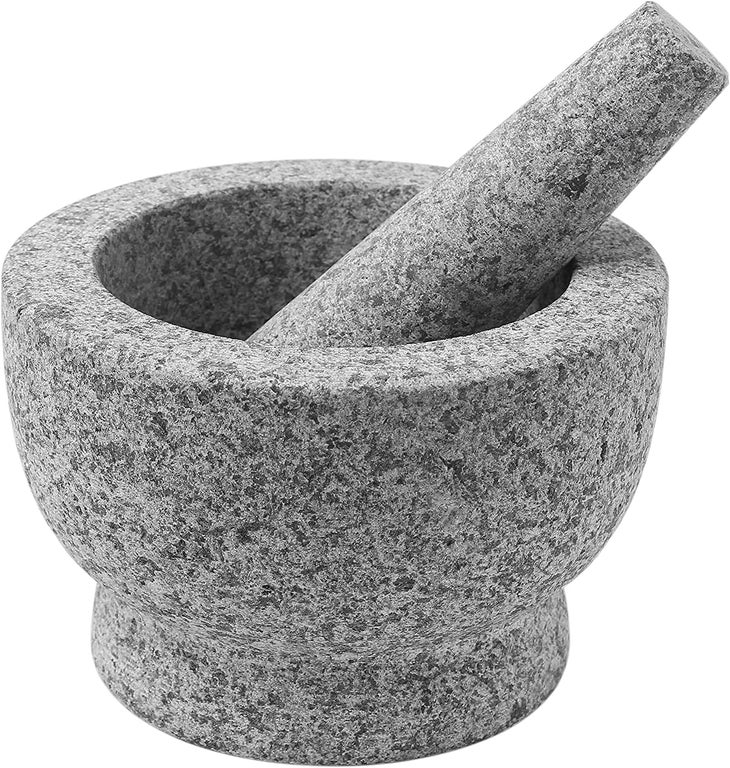 Excellent Mortar and Pestle. This mortar and pestle set is perfect for grinding your favorite spice and herbs. Its compact design is great for small spaces or kitchens with many gadgets.
What We Liked
This 6-inch mortar and pestle set can hold up to two cups at once making it a great size for any kitchen. The heavy granite holds firmly on any flat surface and has a durable non-slip design. You'll also get a handy recipe E-book with your purchase, so you can start putting your M & P set to work immediately. Overall, this is a sturdy kitchen tool you'll love using on a regular basis for your favorite spice blends. Buy it now.
Most Style
Mortar and Pestle Set Marble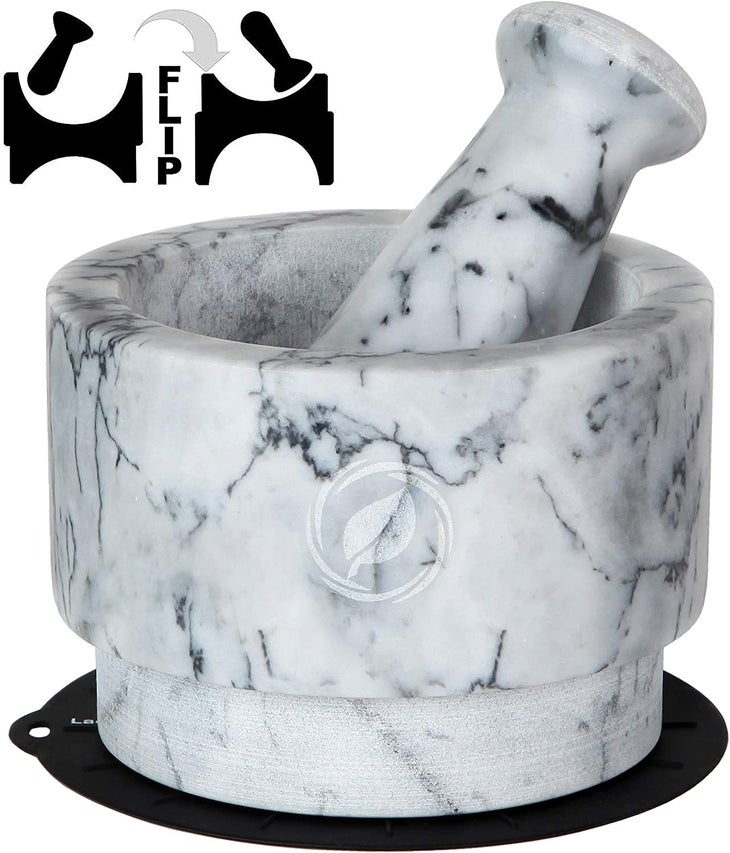 Gorgeous Mortar and Pestle. This mortar and pestle set comes in a beautiful white marble design that is bound to look great in any kitchen.
What We Liked
This mortar and pestle set comes in a gorgeous white marble making it a stylish addition to any kitchen collection. The set holds about 2.2 cups of spices or spread at once. With your purchase, you'll also get a silicone lid and spoon for your convenience. The heavy weighted set is perfect for crushing and blending spices hassle-free. Get it here.