Best Mug Sets
Mugs are one of the most necessary elements of a complete kitchen, a convenient, multipurpose piece of dishware that sees heavy use on a daily basis. Knowing this, a conscientious buyer should look for multipiece mug sets that are not only visually appealing, but designed for maximum utility and made to last. Luckily for you, every single item listed here fits that bill!
Heading out the door? Read this article on the new Outside+ app available now on iOS devices for members! Download the app.
Best Design
Sweese 602.003 Porcelain Fluted Mugs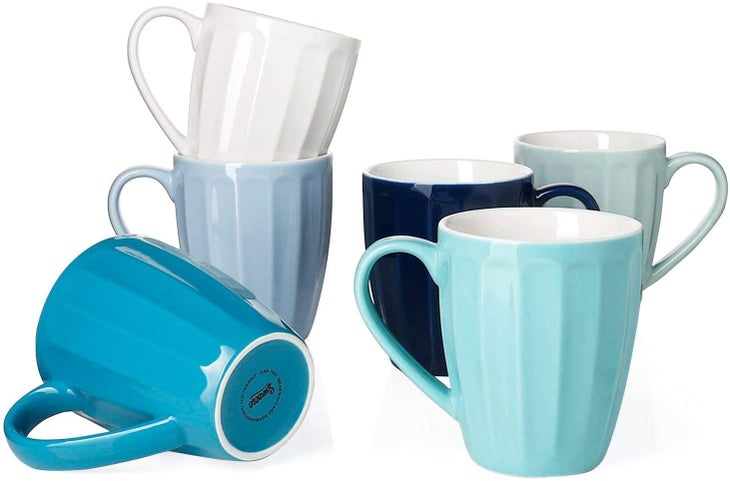 Designed for Utility
With six 14oz mugs in an array of beautiful blues, this chip-resistant porcelain set was designed for heavy-duty daily use. Notably, these mugs are created with a fluted design, smooth glaze, and wide space between the handle and the body, making it easier to hold very hot drinks.
What We Liked
This is a one-set-fits-all solution to purchasing a set of mugs for personal use as well as a set of mugs for guest use. The collection comes in pleasing array of blues, and its fluted design – though intended for utility purposes – gives it a chic and cozy feel perfect for serving warm drinks to your closest guests. Available on Amazon.
Greatest Volume
Gibson Overseas, Inc. 92955.04RM Soho Cafe 21 Ounce Mug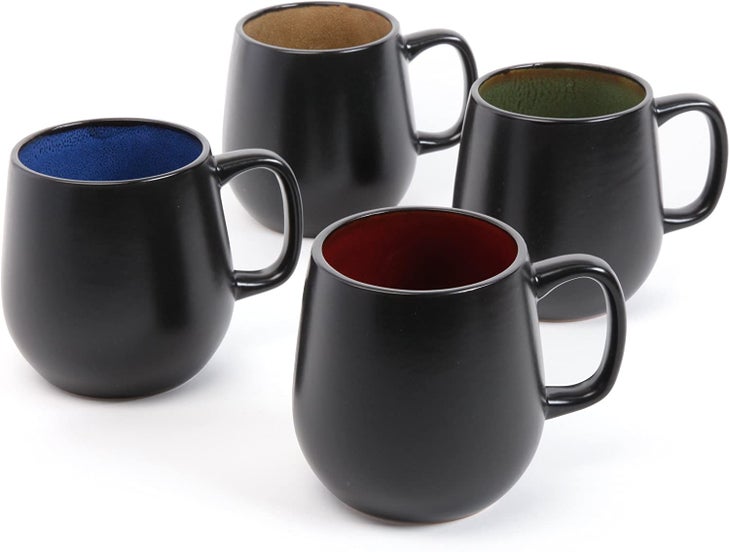 High-Volume Stone Mugs
Add some moodiness to your dining collection with this set of four black stoneware mugs with interiors painted in muted red, green, blue and yellow, each capable of holding 21oz of liquid.
What We Liked
While the main selling point of these mugs is their capacity to hold 21oz of liquid – more than the standard mug and any other mug set appearing in this list – its stylish design cannot be overlooked. Its smooth stoneware exterior gives the set a uniform appearance, but you can distinguish which your mug is by the colour painted on the inside. Buy now.
Best for Children & Elderly
LIFVER 18 Ounce Coffee Mugs, Set of 6, Multi Colors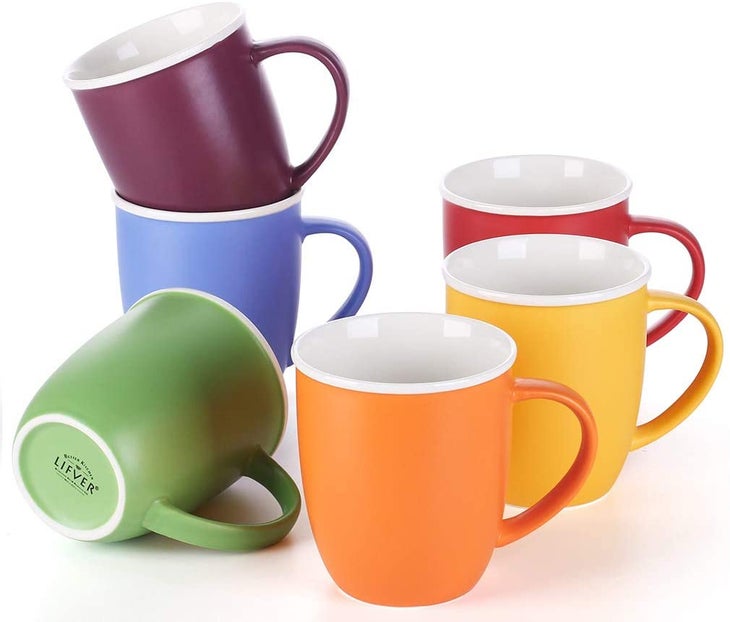 Convenient and Colorful
This brightly colored set of six porcelain mugs is a perfect choice if you have children or elderly members in your household. Each cup holds 18oz of liquid each and has a wide build and thick cup lip to protect sensitive teeth and gums and make it easier to hold with limited fine motor skills.
What We Liked
This mug set is undeniably adorable thanks to its colourful design that comes in handy by allowing you to quickly distinguish which mug is yours. Another interesting detail: the matte porcelain surface of each mug means you can draw on them with chalk, whether it be for labeling purposes or just for fun. Available on Amazon
Most Elegant Design
Coffee and Tea Glasses, by Kook, Hot Mugs, Set of 6, 15oz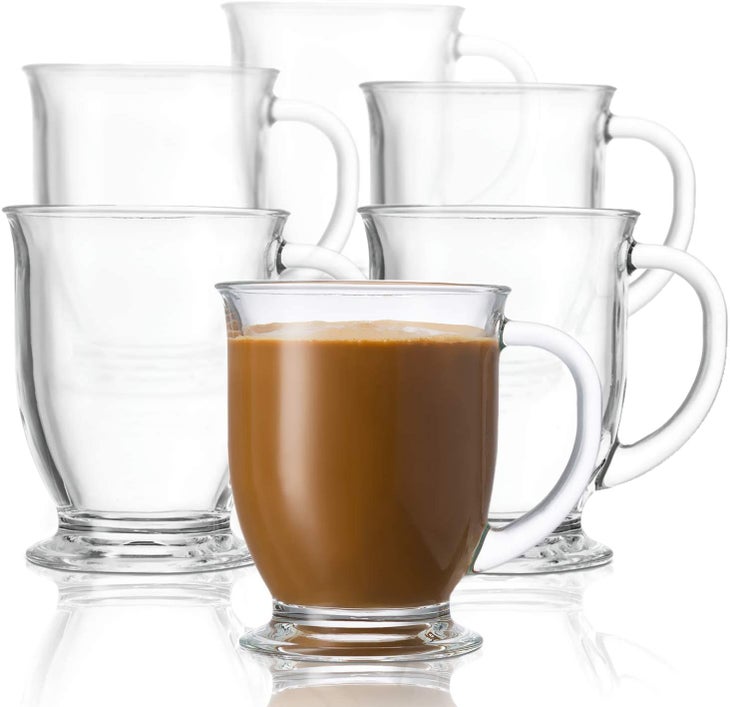 Clear Glass Set
Card Blurb Body: When looking for a matching set of mugs, you can't beat a set that is designed for convenience without sacrificing visual appeal. The pieces in this set are crafted from clear glass and have features such as a thick handle, a footed base for stability, and a slightly flared opening, details which not only add look good but allow the mugs to withstand daily use. Each mug has a capcity of 15oz.
What We Liked: What we liked best about this set is that it's the only one in this list made of glass, making it perfect for someone who primarily utilizes clear glass in their dishware. Thanks to its classic and convenient design, this set will fit seamlessly with other glass dishware in your collection. Get it here.