Best Popover Pans for Home Bakers
If you love baked goods but don't have the time or attention span for most recipes, the popover might be your answer. Popovers need just five ingredients, all of which have easy substitutes for dietary restrictions to become vegan, gluten-free, or Paleo. The name comes from the way steam rises from the over-hydrated batter, lifting the bread out of the pan cups. The result is super-light and fluffy bread that goes great with nut butters, jelly, or tastes delicious on its own. Specialized popover pans keep the stem of the pastry thin, letting the top puff up even more dramatically. Once you've experienced how quick and easy popovers are to make, they may become your preferred breakfast carb to get your day started. We've found the best popover pans out there with non-stick coating, engineered cups, and a lifetime durability.
Photo: Getty Images/iStockphoto
Heading out the door? Read this article on the new Outside+ app available now on iOS devices for members! Download the app.
Best Popover Rise
Bellemain 6 Cup Nonstick Popover Pan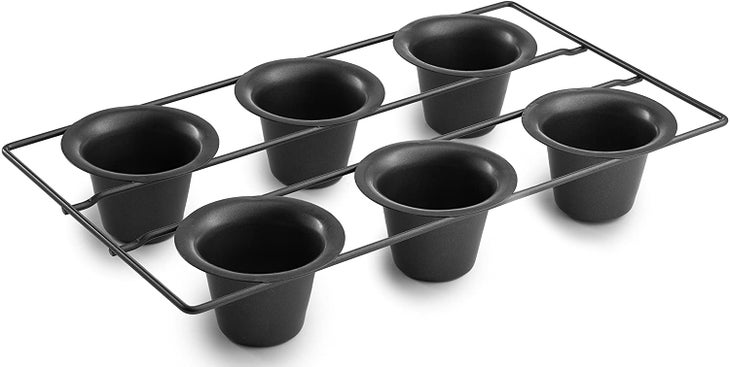 Easy Cleanup. Made from welded metal, the non-stick cups have the optimum dimensions to maximize the rise of your popovers; 3 inches across and 2.25 inches deep.
What We Liked
We love the fact this popover pan is dishwasher safe, and with the non-stick coating, cleanup after baking is a breeze. We love the ease and simplicity in getting professional-looking popovers with just your favorite popover batter and this pan. Get it here.
Fastest Heating
Chefmade Popover Cake Pan, 6-Cavity Non-Stick Yorkshire Muffin Cupcake Pan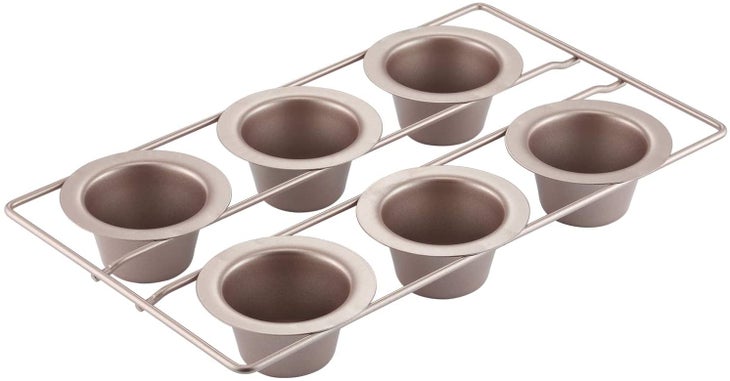 Carbon Steel with Silicone Coating. This combination of materials generates fast, even heat while baking and prevents the pan from warping in the long-term; its cups are 2 inches across and 1.73 inches deep.
What We Liked
Greater heating efficiency means less cooking time, you'll get popovers from batter to plate faster than ever. We adore the teflon-free silicone coating, which means less cooking oil or butter with great non-stick results. Buy it now.
Most Versatile
Chicago Metallic Professional 12-Cup Non-Stick Mini-Popover Pan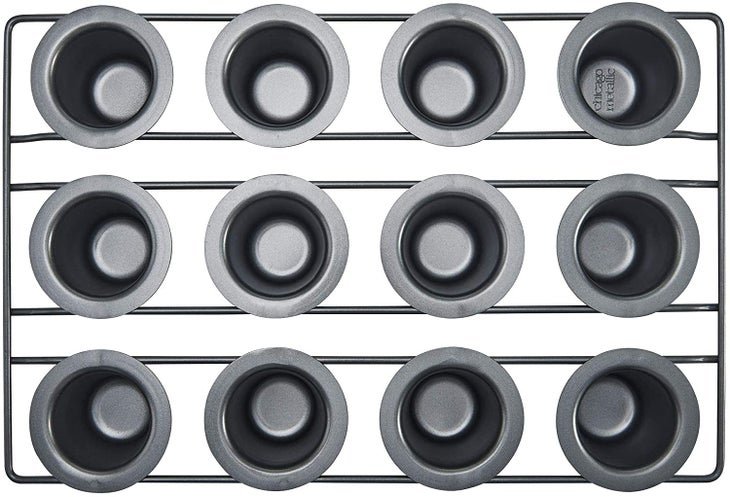 Make Popover, Muffins, and Puddings. This double capacity popover pan has 2 inch by 2.25 inch cups perfect for a variety of baked goods, it's made from heavy-weight aluminized steel for even baking and exceptional durability.
What We Liked
We love great bakeware, but we love uncluttered cabinets even more. Instead of filling your shelves with specialized pans, you can use this one pan for muffins, popovers, and puddings. Plus, with 12 cups instead of 6, you can make more with less oven time. Buy it here.
Most Durable
Nordic Ware Grand Popover Pan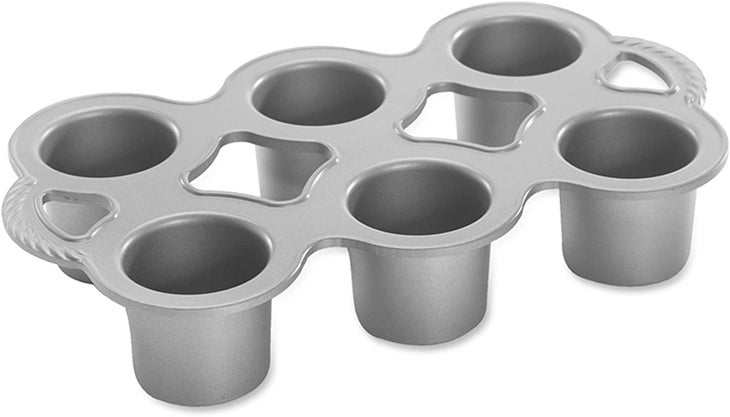 Long Lasting Cast Aluminum. A heavy-duty cast aluminum pan with 6 cups that each hold ¾ cup batter, this pan provides exceptional non-stick release for years.
What We Liked
We love the results from this popover pan; you get traditional popovers with a thin cup and puffy overflowing top. How sturdy and stylish the pan is, combined with easy cleanup and great non-stick properties, are all a bonus. Get it now.