Best Recipe Holders
Whether using it to hold recipes, holiday cards, a to-do list, a cookbook, or anything else, having a recipe holder in the kitchen can be incredibly useful. These stands are multi-purpose and can easily double as a reading stand for a child at school, a drawing stand, or an iPad stand for watching shows. This is one of those items that will likely last a lifetime, but you want to make sure you get one that best suits your needs. From bamboo to acrylic, there are lots of different options to choose from, with each offering some distinct benefits and drawbacks. We've arranged a few of the best recipe holders below.
Heading out the door? Read this article on the new Outside+ app available now on iOS devices for members! Download the app.
Best Quality
Bamboo Book Stand, wishacc Adjustable Book Holder Tray and Page Paper Clips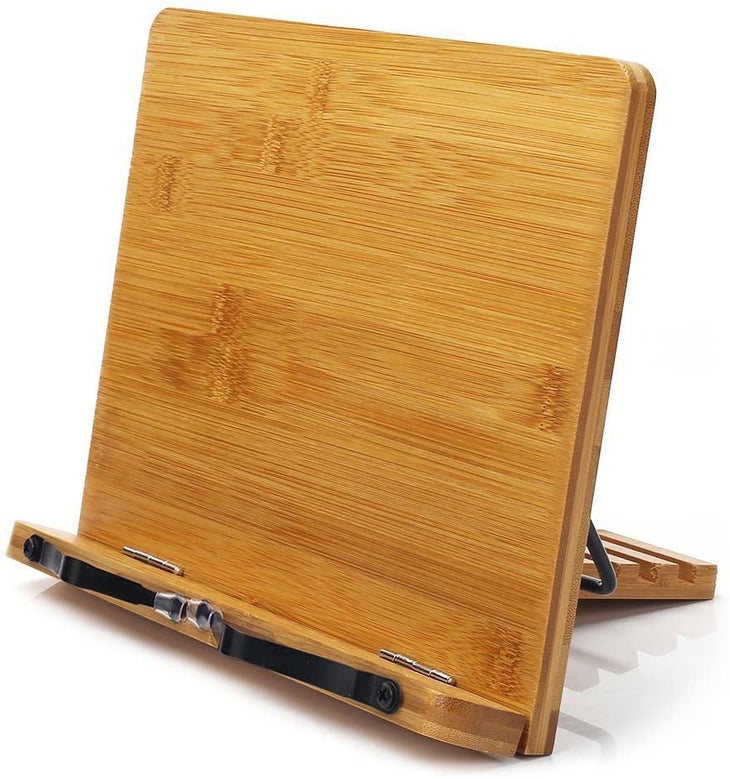 Top-Tier Bamboo Holder
This holder has all the accessories and is great for using in the kitchen or around the house.
What We Liked
This wishacc holder offers five different heights for different angles of use, as well as heavy-duty paper clips to hold the pages in place. It's great for anything from heavy cookbooks to lightweight magazines, thanks to a sturdy front tray, which also folds up (along with the backstand) for easy storage and portability. As such, this is a great little tray to carry to classes, out to the park, or anywhere else on the go, whether to read books, draw, or prop up an iPad, laptop, or Kindle. Made out of sturdy bamboo, this quality holder will be with you for years. Order Online.
Most Eco-Friendly
Bamboo Book Stand Cookbook Holder Desk Reading with 5 Adjustable Height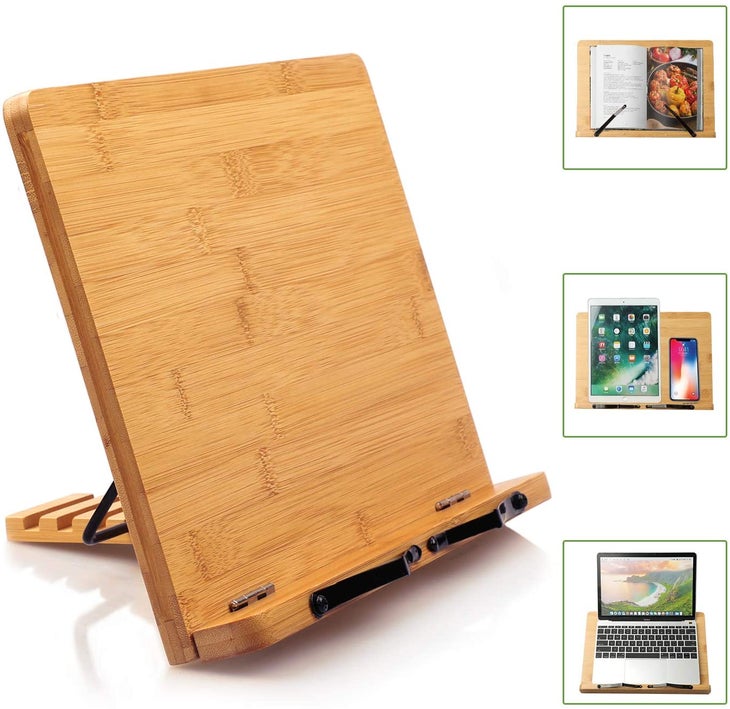 Environmentally Friendly and Well-Made
This excellent recipe stand is constructed with eco-friendly bamboo and offers a lot of great functionality.
What We Liked
While it's heavier than the wishacc stand, this bamboo holder is eco-friendly and has all the same accessories, from the paper clips to the five adjustable heights, heavy-duty front tray, and foldable backstand. This is another excellent purchase for the kitchen, but it has added use as a reading stand, tablet stand for watching movies, or angled stand to increase comfort when using a laptop. To top it all off, you can feel good about yourself with this purchase, thanks to the eco-friendly bamboo construction. Purchase Yours Today.
Best for the Kitchen
Boston Warehouse Tablet Stand Bake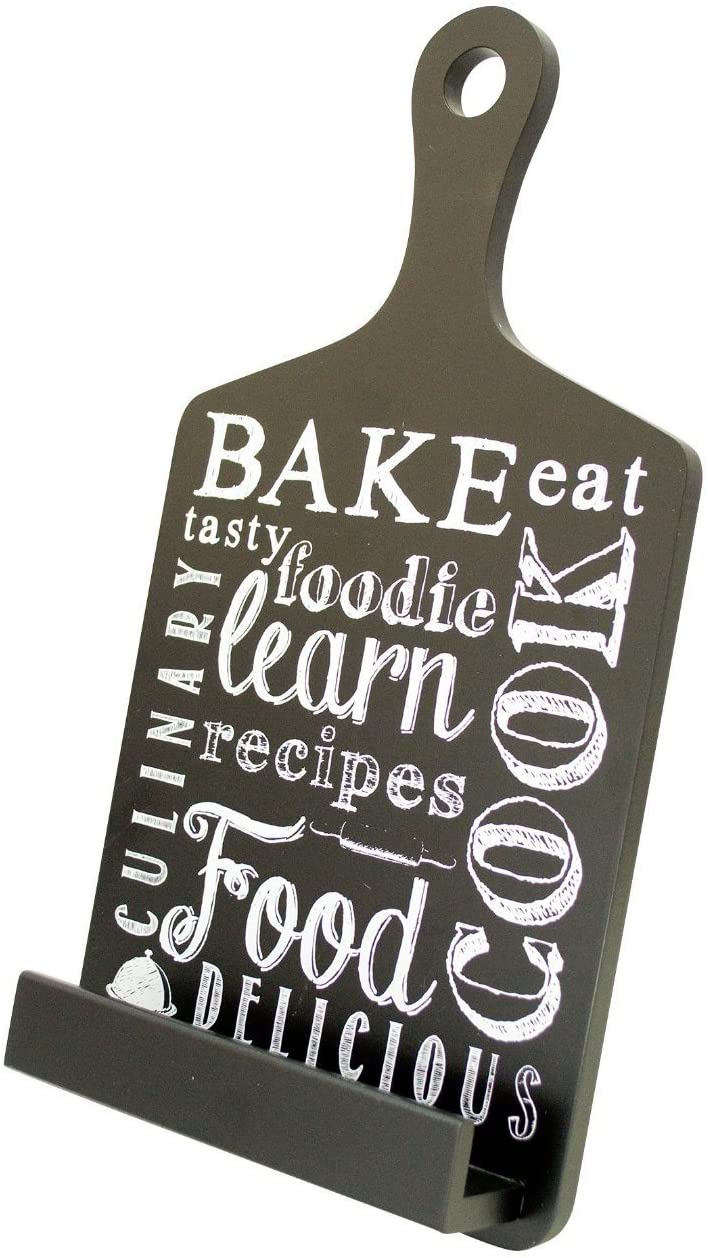 Stylish Holder
This decorative holder works great as a mainstay in the kitchen.
What We Liked
With its painted graphics and easy folding easel leg, this is a holder that gets the job done and looks right at home in the kitchen while doing it. Choose from several different designs, from purely aesthetic choices like the "Bake" words to more functional options, like cooking measurements or recipes. This recipe holder is a fashionable addition to just about any kitchen, and it works with everything from cookbooks to iPads to Kindles. The easel leg is less sturdy than other options on anything less than a flat surface, so it's not great for use on the go, but for those looking for a stylish addition to their cooking space that's functional as well, this Boston Warehouse holder is a surefire choice. Get It Here.
Best Spill Protection
Norpro Acrylic CookBook / iPad / Tablet Holder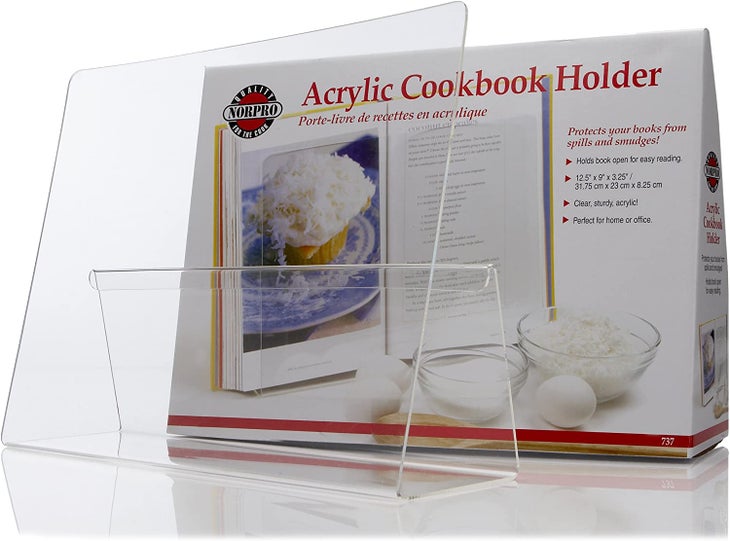 Sleek and Protective
This thin acrylic stand will keep a cookbook or iPad safe from any spills or splashes in the kitchen.
What We Liked
This is the most minimalist of the group, weighing only 14.9 ounces and constructed of clear acrylic, but it's the only one that offers front coverage from spills and splashes. This is especially useful if you're using an electronic cookbook, such as an iPad or phone. It's also thin and light, meaning it takes up the least amount of space on the countertop. One downside is you can't access the pages or screen of your device easily, as they're behind the acrylic screen, so this holder is best if you're going to be cooking from a single page in the cookbook, or not needing to swipe on your iPad or other device. As it's basically just a piece of clear plastic, you probably aren't going to keep it out on the counter when not in use, unlike some of the other options, but it's a great tool to bust out when getting messy in the kitchen, or if you want to save counter space. Buy Now.