Best Soda Makers
If you're a huge fan of soda, acquiring your very own soda maker is one of the best investments you can make. With your own carbonated beverage creator, you can infuse your own water and craft sweetened drinks from home, saving you money over time. In this brief article, we'll offer up four of our favorite soda makers for your convenience. With a wide variety of carbonation processes and drink capacities, you'll certainly be able to find the best soda maker for your needs. Amp up your sipping game today!
Heading out the door? Read this article on the new Outside+ app available now on iOS devices for members! Download the app.
Best for Beginners
SodaStream Fizzi Sparkling Water Maker Bundle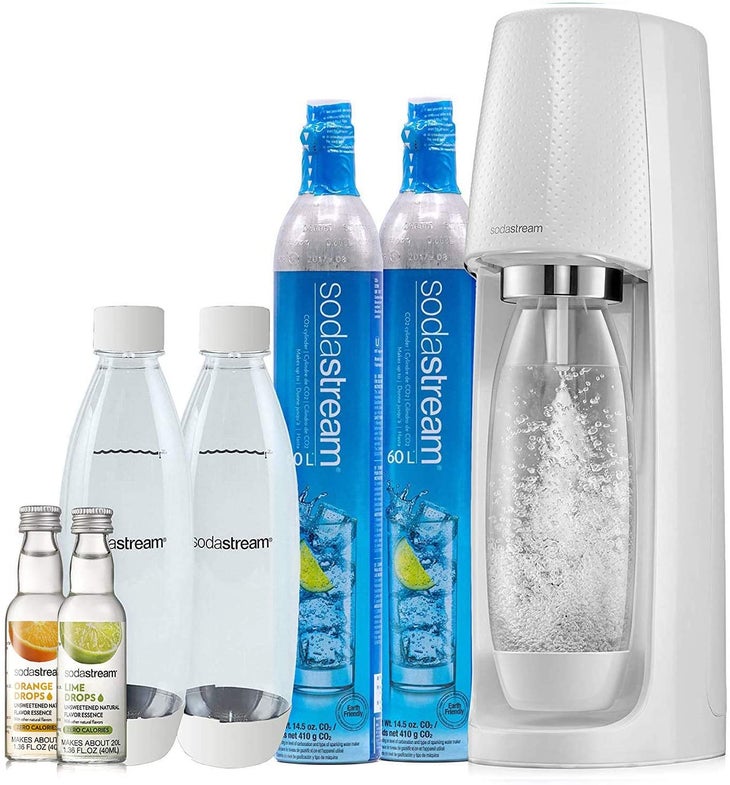 Comprehensive Soda Maker Kit. This kit includes everything you need to start making your own sparkling beverages from the comfort of your home.
What We Liked
If you're looking for an all-in-one soda making kit, this bundle by SodaStream is an excellent choice. With your purchase, you'll get a seltzer water maker, 60L CO2 cylinder, and 1-liter BPA-free reusable carbonating bottle. A single SodaStream filter can carbonate a whopping 60L of water. You'll also get two different citrus essence drops to start making fruity seltzer and drinks from home as soon as you receive the bundle. Buy one today!
Most Efficient
DrinkMate Sparkling Water and Soda Maker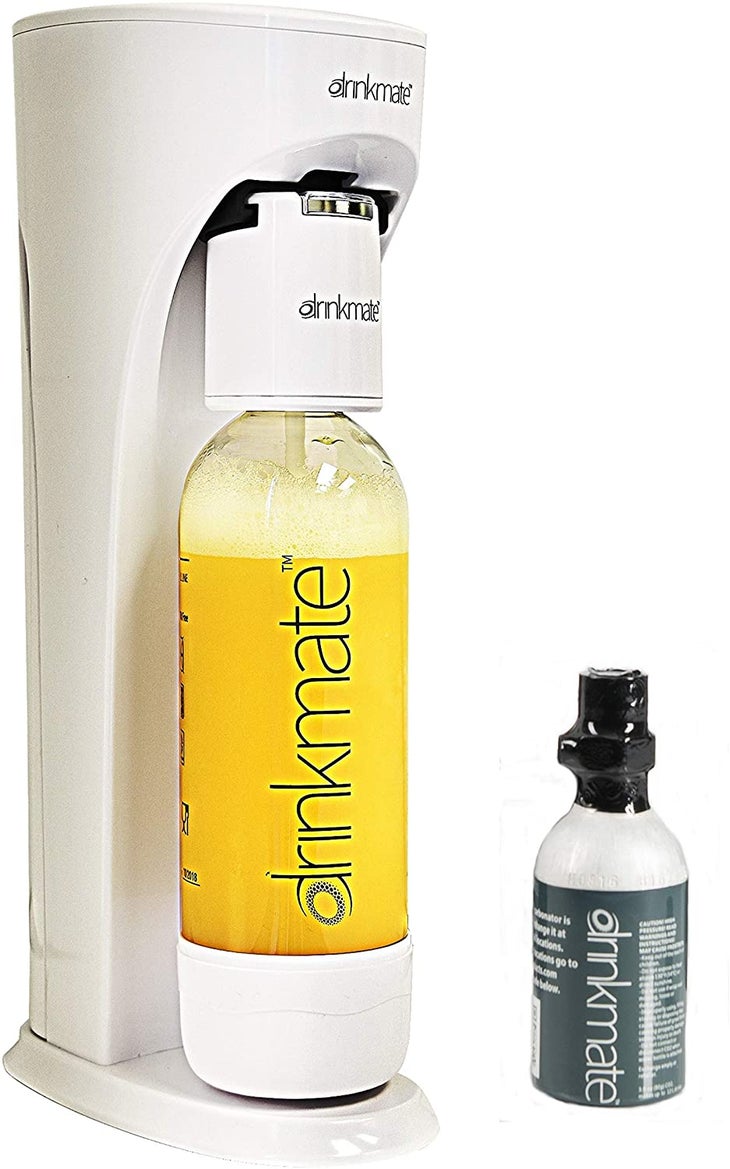 Speedy Soda Maker. This soda maker is perfect for jumpstarting your day with a homemade sparkling beverage. It's quick and easy!
What We Liked
DrinkMate offers a flexible solution for sparkling drink lovers everywhere. The soda maker carbonates a drink of your choice directly into a portable bottle for convenience. We love that the DrinkMate can carbonate other drinks besides water. Try juice, tea, coconut water – the sky is the limit! Plus, with a 2-year limited warranty, you can be sure that your purchase is protected. Get one on Amazon
Best Value
Carbonating Bottle and Patented Fizz Infuser

Effective Fizz Infuser. This soda maker will instantly transform your favorite beverage at a fraction of the price. It's the most budget-friendly on our list.
What We Liked
This sparkling infuser seamlessly carbonates your drink in a matter of seconds. We love the unique red appearance of this soda maker, which is compatible with any 60L Carbon Dioxide cartridge. This soda maker's small footprint makes it great for conserving kitchen counter space as well. With an embedded warranty, you're bound to be satisfied with your new fizz infuser. Get one today!
Best for Professionals
KitchenAid RKSS1121CU Sparkling Beverage Maker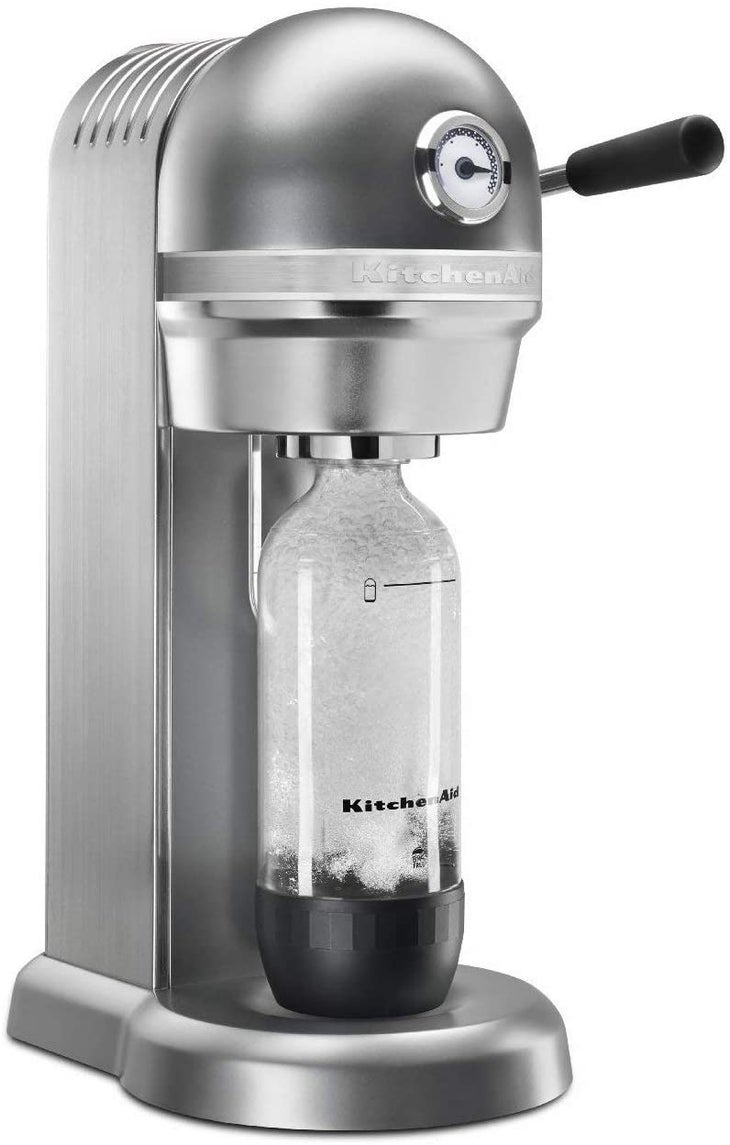 Sleek Soda Maker. This sparkling beverage maker has a beautiful, stainless steel appearance that will look great in any personal or professional environment.
What We Liked
If you're looking for a sparkling beverage maker to use at home or in a professional setting, this is an excellent choice. The beverage maker features premium die-cast metal housing, speaking to its high-quality construction. Plus, the embedded combination handle makes the soda maker especially efficient and easy to use. Overall, this is a sleek, effective soda maker that is sure to fit in perfectly in any style environment with its neutral, classy appearance. Get yours here.