Best Stainless-Steel Cocktail Shakers
Like the world's best cocktails, there's seemingly not much to the equipment that makes the mixology magic happen: a good stainless-steel shaker, a cup or jigger for measuring out your alcohol ingredients and a few tools to twist, stir and pour. Truly, the art behind the cocktail craft really lies in the individual mixologist's instincts, nose and taste for different flavors and the performance that goes into blending the perfect pour. Having the right tool to expertly shake your creation elevates the taste and performance of making cocktails. We've rounded up our top picks to help you find the right shaker for cocktail mixing.
Heading out the door? Read this article on the new Outside+ app available now on iOS devices for members! Download the app.
Best for Aspiring Bartenders
Cresimo Three-Piece Cocktail Shaker Bar Set with Accessories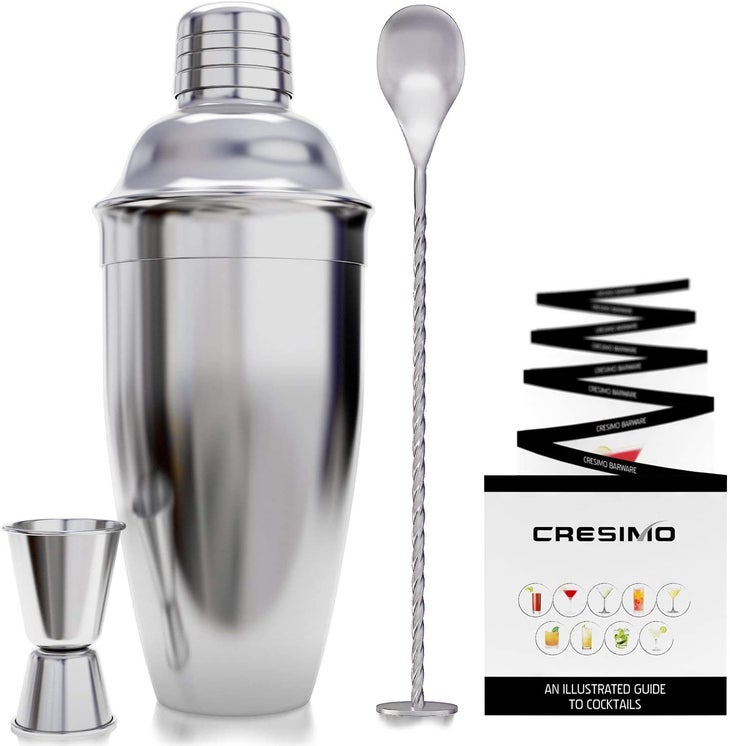 Mixology Made Easy. Everything you need to make it all come together in one smooth pour.
What We Liked
Made by a brand specializing in stainless-steel barware, this three-piece starter kit contains all the pieces you need to get started on your mixology adventure: a 24-ounce shaker with strainer and lid; jigger for measuring out your spirits; and a bar spoon for stirring the ingredients. All you need now is to practice your masterful creation, whether that's a classic martini or some homespun creation. Buy Yours Here.
Best for Parties
Elite Cocktail Shaker Set Bartender Kit by Barillio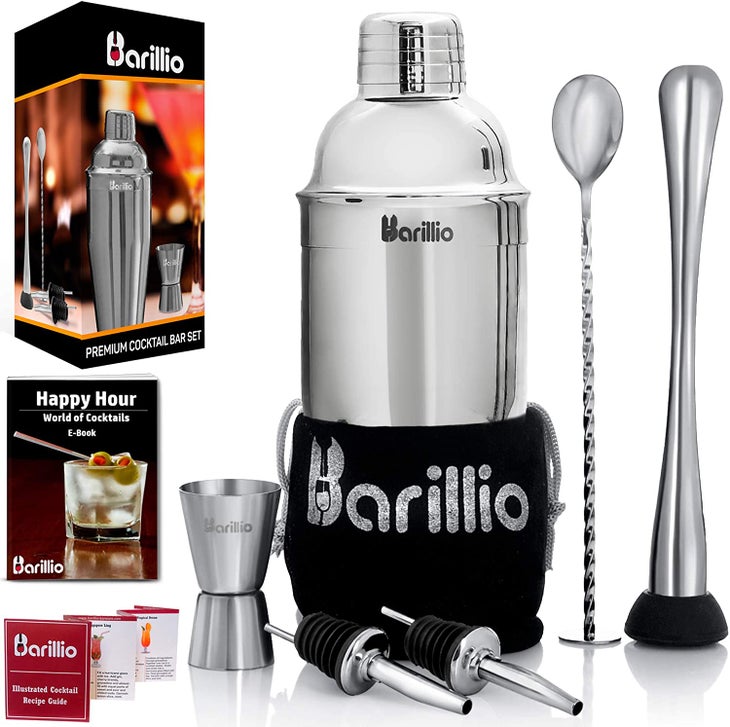 Grab & Shake. Cocktails to-go never tasted or looked so good.
What We Liked
Impress all your favorite drinking buddies with this bartending-kit-in-a-box, which includes a 24-ounce stainless-steel mixer, two spirit pourers, mixing spoon and a mudder for crushing and releasing the essential aromas of ingredients like lime and mint. A handy velvet carrying bag means you'll be the life and soul of the next party to which you're invited. Order Online.
Best for Mixologists
Premium Two-Piece Pro Boston Cocktail Shaker Set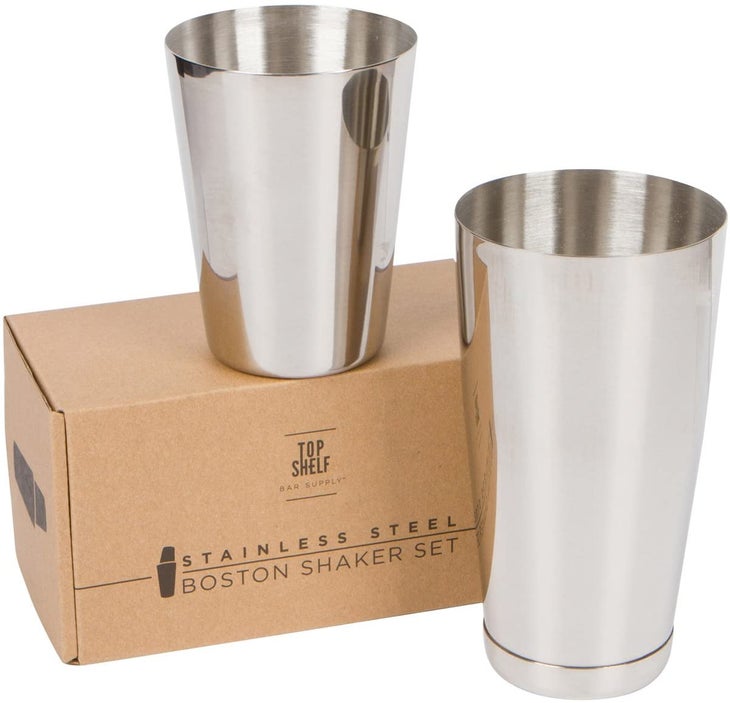 Premium Two-Piece Pro Boston Cocktail Shaker Set. The Pro Bartender's Choice
What We Liked
Avoid having the mixer-lid combo freeze up on you after you're done shaking with the setup preferred by bartenders the world over. It can take a little practice to get the watertight seal between cups, but you'll be mixing your best bar-quality martinis, Manhattans and margaritas in no time. Made by a longtime bartender for other bartenders, this set offers a bigger 28-ounce shaker that's also weighted at the bottom to make it easier to handle as well as pour. Purchase Today.
Best Budget Pick
LUCKYGOOBO Cocktail Shaker Set

Simplicity Rules. Every bar needs a good shaker; it just doesn't need to break the bank.
What We Liked
Sometimes you just need a basic shaker on the shelf to meet that cocktail o'clock craving, which is what you'll get with this no-frills set. Add the spirit measures and ingredients to the 24-ounce stainless-steel shaker, shake it up and pour out through the built-in strainer and repeat. Doesn't get much simpler than that. Get It Here.