Best Stainless-Steel Flatware Sets
Gone are the days when you'd only bring out the good china and flatware for special occasions. With today's low cost of materials, manufacturing and distribution, flatware sets are incredibly affordable and customizable in terms of style, feel and finishes. That said, the original "technology" is still the best technology: higher-grade silverware that should include a higher chromium-nickel concentration as part of the alloy to assure strength as well as resistance to corrosion, typically an 18/10, 18/8 or 18/0 grading, to indicate the percentage of chromium and nickel in each type of stainless steel. Flatware made to have a weight and heft that feels good to the end user; and a simple design that's free of excess rivets or plating to complicate future use and maintenance. We're sharing our top picks for the best stainless-steel flatware sets.
Heading out the door? Read this article on the new Outside+ app available now on iOS devices for members! Download the app.
Best for Everyday Use
Lianyu 20-Piece Stainless-Steel Flatware Set
Dinner for Four. A classic cutlery design that will work for every occasion.
What We Liked
A functional and simple five-piece place setting offering dinner knife, fork and spoon along with accompanying salad fork and teaspoon. The design has a rounded, curved element without being overly fancy. Of course, the simplicity makes all the flatware easy to clean and dry. Order Online.
Best for Entertaining
Lenox 65-Piece Portola Stainless-Steel Flatware Set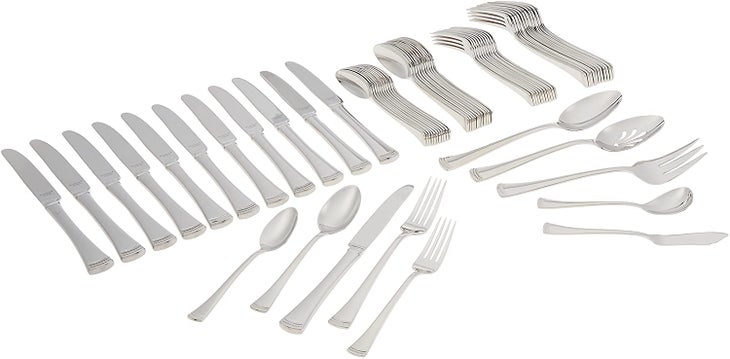 Table for 12. Perfect for dinner parties and group entertaining.
What We Liked
Enjoy the backing of trusted dinnerware brand Lenox, which offers a breakage replacement program. This flatware set will service a party of 12 and comes with five additional serving utensils. The design is contemporary with an elegant yet subtle embossing at the base of each piece, which also flares out slightly to feel good in the palm while in use. Dishwasher-safe and tarnish-resistant, the Portola's stainless-steel grade is listed at 18/10. Purchase Yours Today.
Best Value
AmazonBasics 45-Piece Stainless-Steel Silverware Set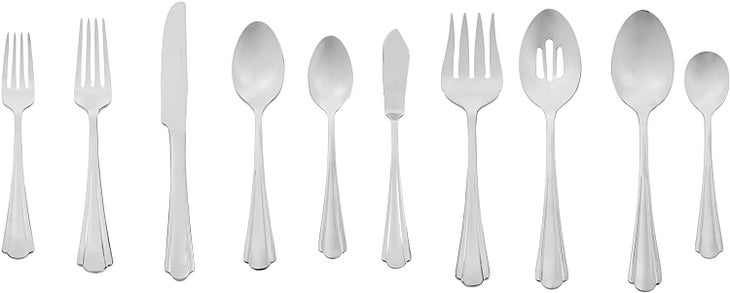 Multipurpose Flatware. Silverware made for all occasions.
What We Liked
Equip a new home or prepare for entertaining groups of eight or more with this affordable flatware set from AmazonBasics. Available in sets of 20, 45 or 65 pieces, this product also features a range of finishes as well as styles including scalloped, pearled or square edges. A solid, cost-conscious option for the home kitchen, local bistro or even commercial cafeteria. Get It Here.
Best Contemporary Design
Oneida 45-Piece Mooncrest Flatware Set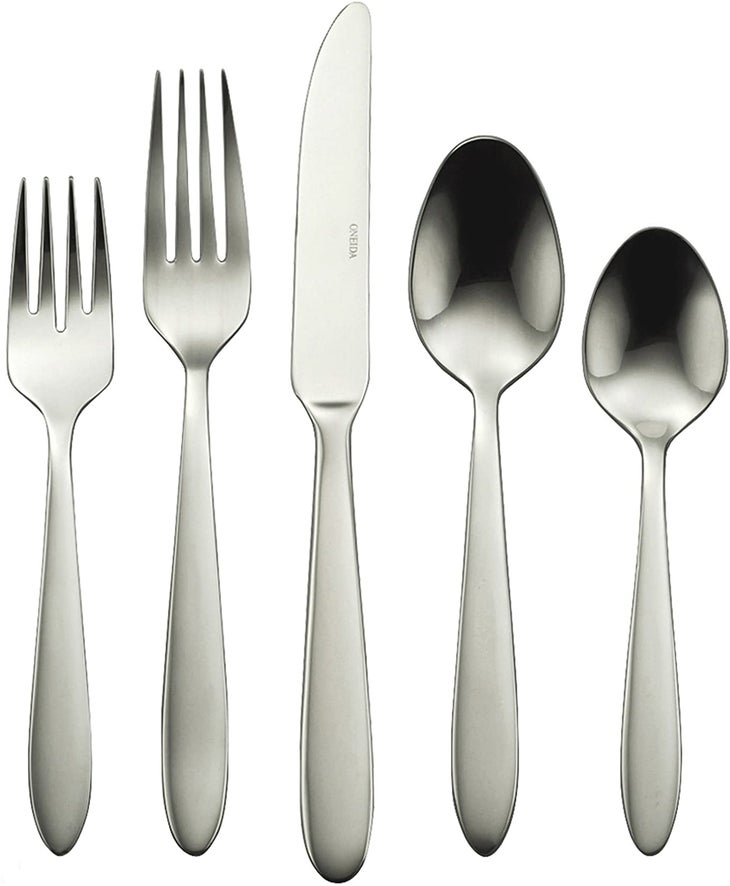 Welcome Homeware. Quality flatware backed by a brand with over 140 years in the business.
What We Liked
A simply-crafted flatware set that will stand up well to the rigors of everyday use just as it will look stylish in a dinner-party setting. The long, slightly rounded handles will feel good to the touch, while the bright, reflective finish adds a touch of understated elegance. An 18/0 chromium-nickel grading, the set comes backed by Oneida's 25-year warranty for added peace of mind. Buy Now.