Best Stainless-Steel Serving Spoons
A good stainless-steel serving spoon might be something you buy once and not think about much again despite thousands of subsequent uses in your home kitchen. Or, you might suddenly find yourself in need of a large set of these essential utensils to cater an event or gathering without having to worry about cost, breakage, damage or loss. Here is our selection of the most versatile stainless-steel serving spoons to cover all your needs, from intimate family-style meals at home to the rowdiest neighborhood block-party buffet.
Photo: Getty Images/iStockphoto
Heading out the door? Read this article on the new Outside+ app available now on iOS devices for members! Download the app.
Best for Dinner Parties
AOOSY Set of 3x Serving Spoons and 3x Slotted Spoons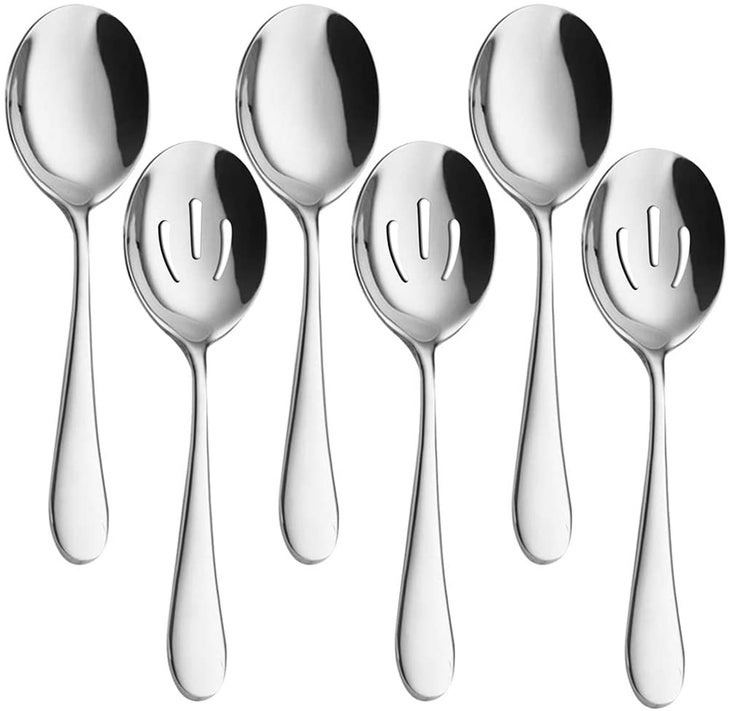 Kitchen Mates. Six serving spoons to cover all your bases.
What We Liked
With a slightly shorter length of just under nine inches, this set of spoons fits the bill between your standard ten-inch serving spoon and smaller tablespoon. The result? A collection of spoons that will feel less cluttered on your table and in your kitchen drawer. Chefs will enjoy the versatility of the slotted spoons for stirring and straining off excess fat and juices before and during serving. Get them here.
Best for Chefs
KitchenAid Gourmet Stainless-Steel Serving Spoon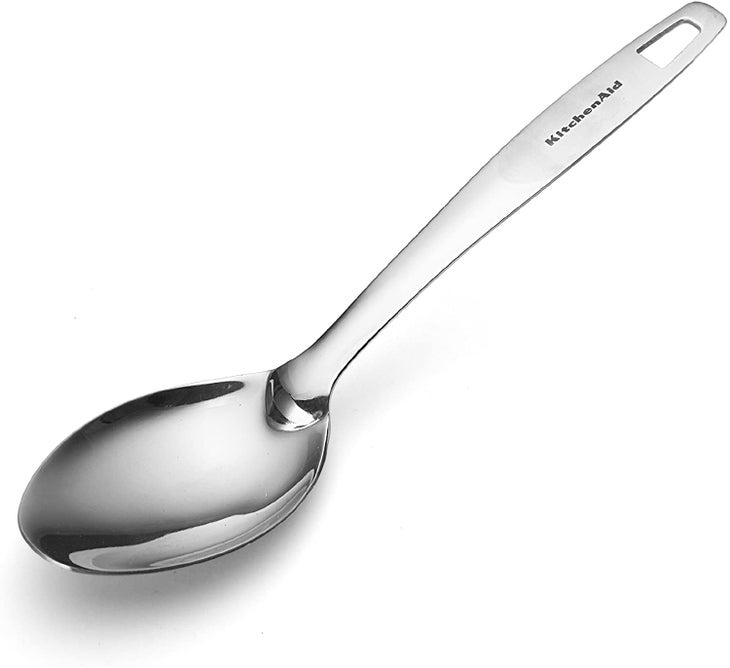 Kitchen Essential. From stirring to serving, a must-have serving spoon.
What We Liked
This is one of those utensils that's a must on any kitchen counter. Reach for the ten-inch-long KitchenAid spoon as you're preparing meals on your stovetop, whether it's stirring a soup or mixing the ingredients in a stir-fry. The handle includes a hole for hanging when not in use, while the stainless-steel finish gives the serving spoon greater durability than similar rubberized products. Buy it now.
Best for Family-Style Meals
Stainless Steel X-Large Serving Spoons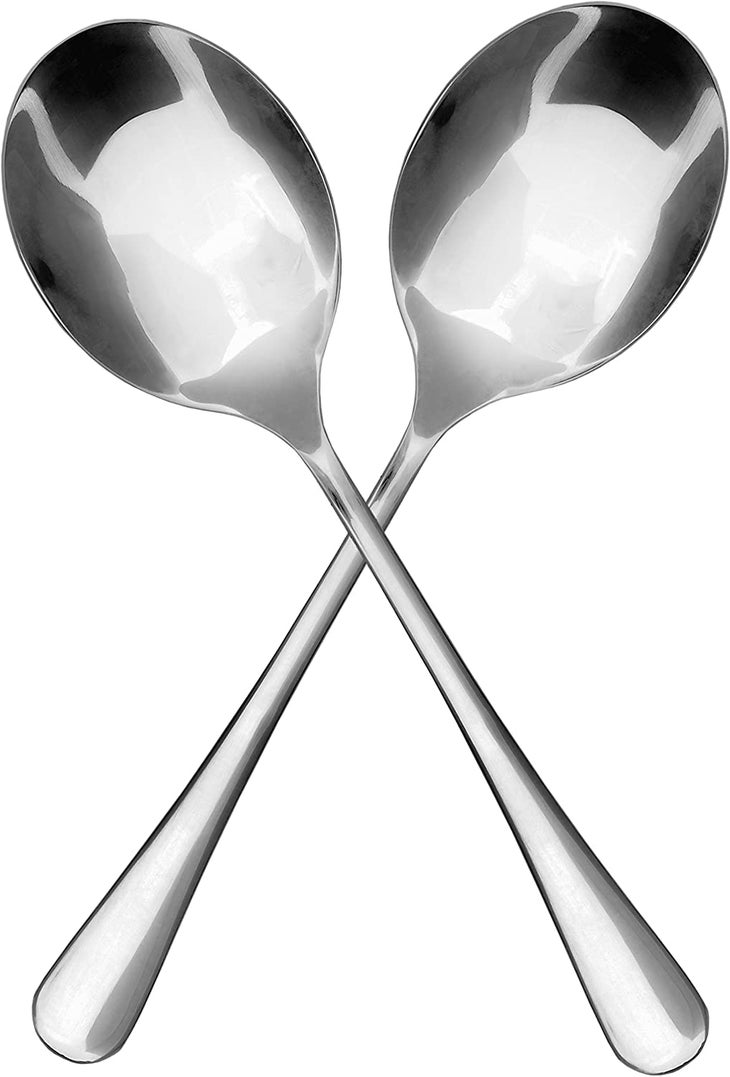 Pair of Aces. Helpful utility from the kitchen to the dining table.
What We Liked
Enjoy the versatility of a pair of serving spoons made for dishing up everything from soups to salads to desserts. Forgo cheaper plastic serving spoons to class it up a notch with these ten-inch utensils made from stainless-steel. Note the 2.5-inch-wide spoon head has a more pointed oval shade compared to rounded soup serving spoons, which is helpful for serving dishes with chunkier contents like fruit or potato salads. Buy it here.
Best for Large Groups
Kekow 8-Piece Stainless Steel Buffet Serving Spoons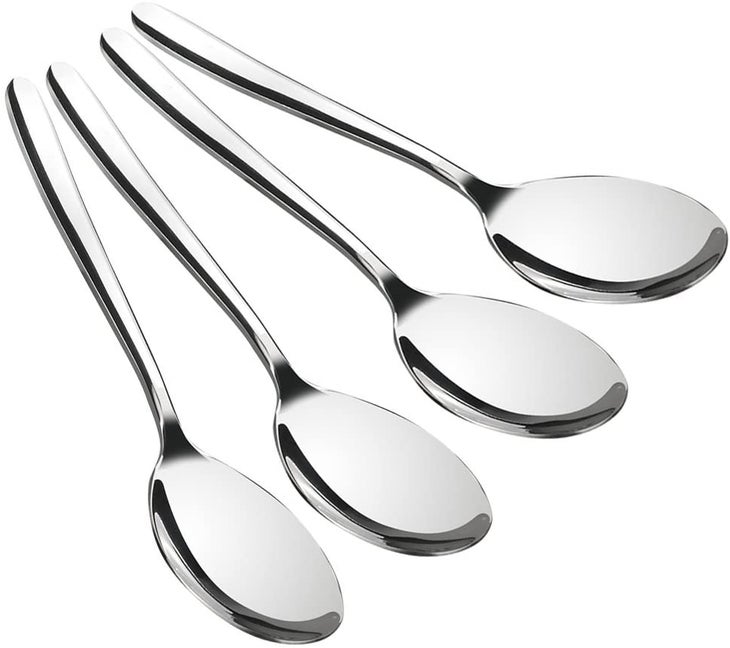 Platter Partners. Gear up for your next catered event.
What We Liked
Looking polished and professional but at an affordable price point for a set of eight, these Kekow serving spoons will work perfectly for large servings at your next block party, family reunion or other large group event. The long handle and large spoon head are ideal for scooping and serving all kinds of different dishes, plus will stand up to the rigors of frequent use and cleaning. Get it now.