Best Tablespoons
Measuring spoons allow you to accurately follow recipes and reduce errors that could result in over/under seasoned dishes or baked goods that fail to rise. Measuring spoons are a must-have in the kitchen. When it comes to often finicky ingredients like baking soda and baking powder, you never want to eyeball your measurements–doing so could ruin the whole outcome. The same is true with powerful spices like chili powder and curry, where a little bit goes a long way and too much can make a dish unpalatable. When following a recipe, your best bet is to adhere to the measurements that are laid out for you. That's why it's important to have a good set of measuring spoons in your kitchen drawer at all times. Just in case you don't, we went ahead and checked out some of the tablespoon options available and sorted through until we found the best.
Heading out the door? Read this article on the new Outside+ app available now on iOS devices for members! Download the app.
Most Versatile
U-Taste Measuring Spoons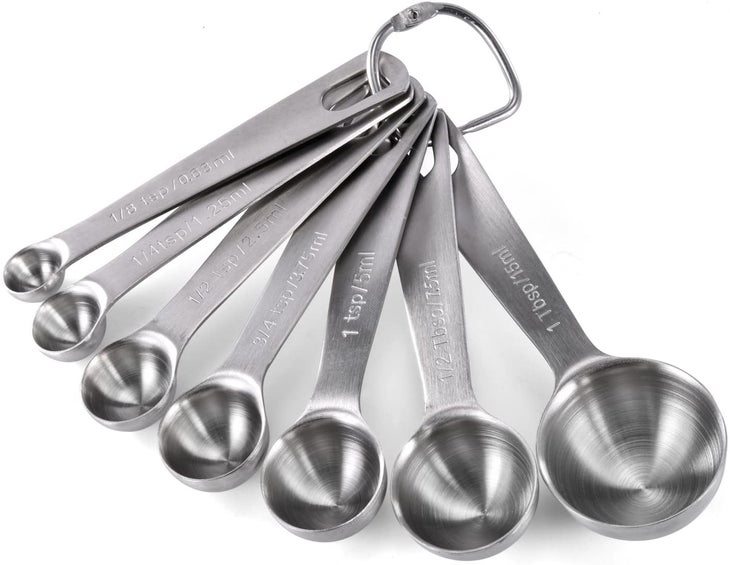 Labeled & Accurate Measuring
In this set of 7 measuring spoons, each spoon is made of a single piece of food grade stainless steel with both imperial and metric measurements engraved into the handle.
What We Liked
Available in sets of 6, 7, 8, or 9 spoons, these U-Taste Measuring Spoons offer a space-saving way to achieve accurate measurements in any dish or baked goods. In the set of 7, you get spoons ranging from 1/8 teaspoon up to 1 tablespoon, which allows you to adhere to the majority of recipe guidelines. The spoons nestle into one another and the handles each clip on to the included D-ring so you won't have to worry about digging around for a lost spoon when you need it. The long handles are designed to easily fit into most spice jars and bags and the round spoons make it easy to measure both wet and dry ingredients. Get them here.
Most Functional
1EasyLife 18/8 Stainless Steel Measuring Spoons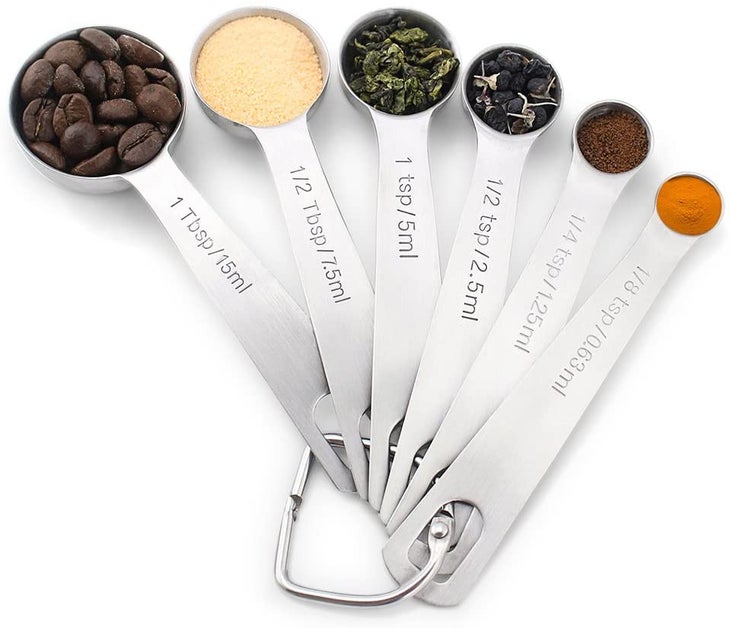 Set of 6 Stainless Steel Spoons
This set of 6 stainless steel measuring spoons feature a stylish brushed-satin finish that adds a professional touch to any kitchen while providing the accuracy needed to achieve perfectly accurate measurements.
What We Liked
Never worry about misplacing a spoon after you put it down again, thanks to this set of 6 measuring spoons, each of which conveniently clips onto the attached D-ring to keep them together and organized. The spoons are made of a single piece of food grade stainless steel with a brushed satin finish, proving an elegant and professional appearance. The elongated handles allow you to reach into deep spice containers and the level rims help achieve accurate measurements. Each spoon has the size marking engraved onto the handle, which won't fade away even after hundreds of uses or runs through the dishwasher. Buy them now.
Most Stylish
Frieling USA 1-Tablespoon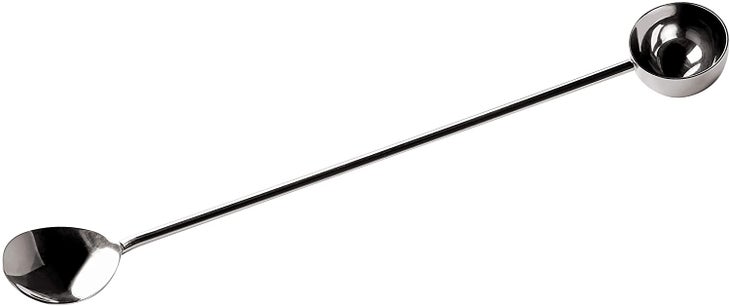 Perfectly Measured Coffee & Tea
Designed as a designated coffee or tea, scooping tool, this 11-inch spoon features a 1-tablespoon scoop on one size and flattened stirrer on the other to help create and mix perfectly balanced drinks.
What We Liked
If you drink your coffee from a French Press each morning, this is the tool for you. It's an 11-inch long, one-tablespoon spoon made of food grade and BPA-free stainless steel that allows you to scoop your desired amount of coffee from the bag into your French Press. The opposite end from the spoon features a flattened stirring tool for mixing your grounds, even in extra-tall French Press designs. The scoop can then be used again to empty out the grounds after you've consumed your coffee, and the tool can be hand washed or washed into the dishwasher. In addition to coffee, this makes a great tool for measuring and mixing teas, cocktails, and a variety of other drinks. Buy it here.
Most Professional
Jasni Liu Stainless Steel 1 Tablespoon Measuring Coffee Scoop Spoon, Set of 3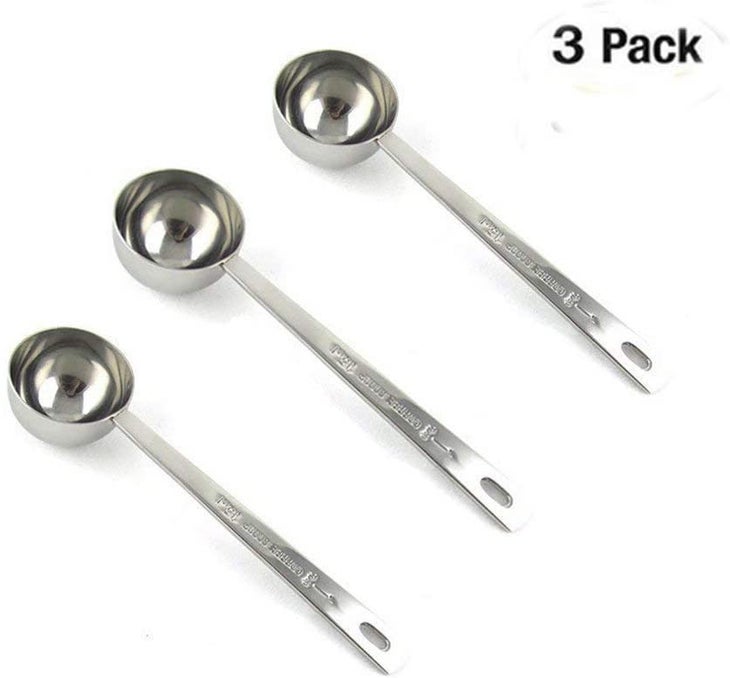 Set of 3 Perfectly-Level Tablespoons
This set includes three tablespoons measuring just over 4-inches long that are perfect for scooping coffee, cocoa, tea, or any combination of wet and dry ingredients.
What We Liked
What's better than one measuring spoon? How about three? After all, if you cook or bake frequently, you often have to pause to rinse and clean the one spoon you have to use for the next ingredient. But it's also nice to have a designated spoon for your coffee container, tea, cocoa, flour, sugar, and anything else you use frequently. This set of three, 1-tablespoon scoops measure just over 4-inches long and provide the perfect solution to keeping your most commonly used scoop inside those containers or otherwise prevent you from having to constantly clean your one tablespoon scoop throughout your cooking process. Get them now.