Best Taco Holders
Who doesn't love a good taco? Whether soft shell, hard shell, corn tortilla or flour, everyone's got their favorite filling and toppings. And there's nothing cooler than going to a restaurant and having your tacos delivered to you in a stand designed to keep them upright and ready to bite into. After all, you eat with your eyes before your mouth. Fortunately, those same taco holders can become a staple in your own kitchen when it comes time to serve your next family taco dinner. Some are designed to be strictly functional, while others have stylish flairs and themes. Ready to take your taco serving game up a notch? Check out some of the best taco holders we could find below.
Heading out the door? Read this article on the new Outside+ app available now on iOS devices for members! Download the app.
Most Professional
Kibaga Taco Holder Set of 4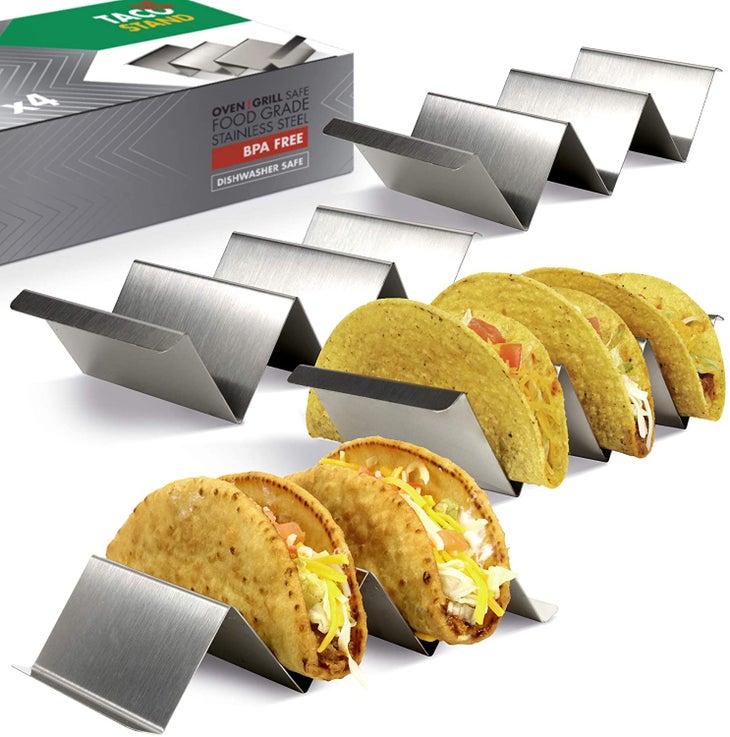 Sleek & Stylish. This set from Kibaga includes four stainless steel, food grade taco holders that hold three tacos each. The freestanding, reversible design includes handles for transport and handling straight from the oven and can be used upside down for larger shells and fajitas.
What We Liked
Made of BPA-free, dishwasher safe stainless steel, these taco holders safely support even the messiest of tacos and make cleanup a breeze. The sleek design can hold three soft or hard-shell regular sized tacos when standing upright, or can be flipped upside down for two tacos, fajitas and a variety of other hand-held foods. They are both oven and grill safe for warming up your favorite shells or heating up already-filled tacos. The set of four holders is great for feeding the family or setting up a grab-and-go taco station at your next party or BBQ. Get Yours Now.
Most Family-Friendly
Aichoof Taco Holder Stand Set of 6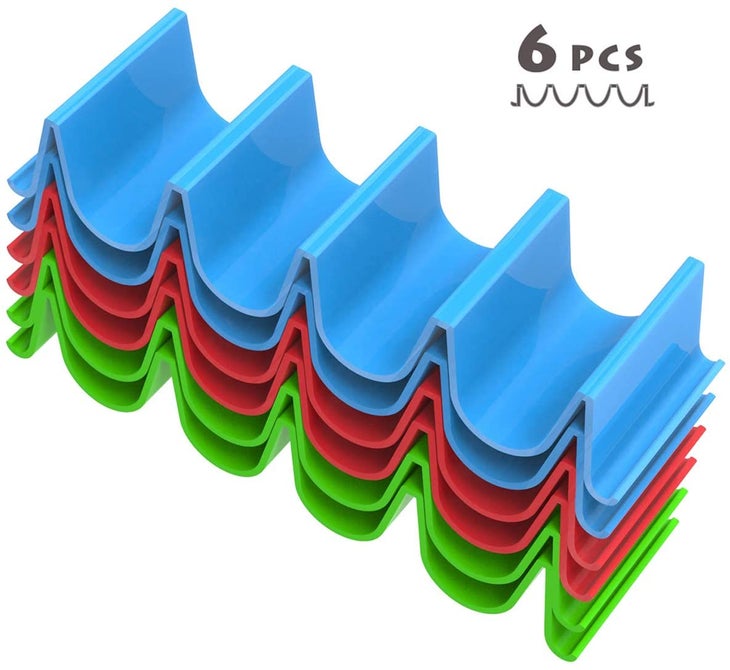 Colorful & Functional. With six taco holders, each with a four taco capacity, this colorful set is sure to stand out at your next taco party or family dinner. Stackable, dishwasher safe, and easy to fill, the simple design is functional and kid-friendly.
What We Liked
Serve up to 24 tacos at a time with this set of six taco holders, perfect for parties. The fun colors, plastic design, and rounded shape is sure to bring out the kid in anyone. The BPA-free plastic is top-rack dishwasher safe and easy to rinse clean. When the party's over, the stands easily stack together to take up minimal space in your kitchen cabinet. Purchase It Here.
Best Quality
OH Ovation Home Taco Holder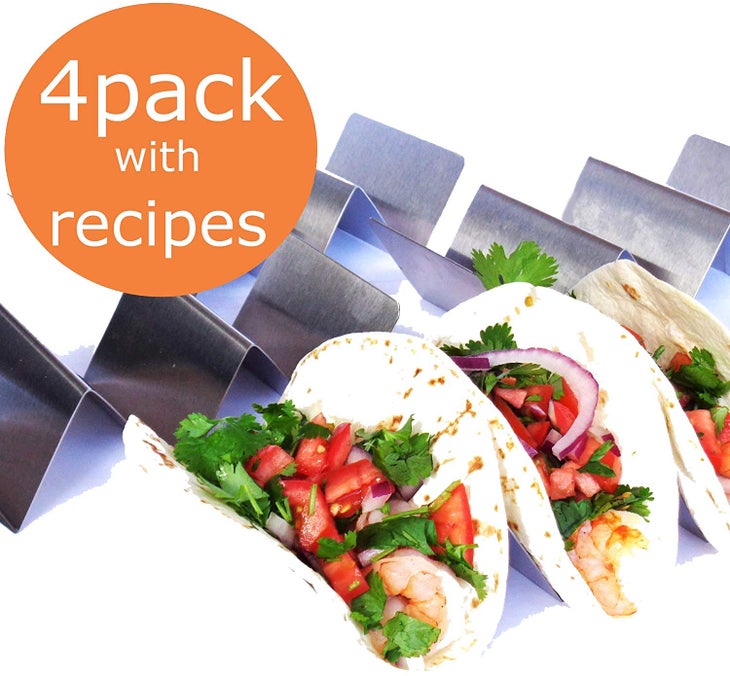 Restaurant Quality for the Home. This stainless steel, restaurant grade taco holder set is available with or without handles in sets of two or four. The oven and grill-safe design is perfect for filling, displaying and keeping your tacos warm.
What We Liked
When you want your homemade tacos to look master chef quality, this set from Ovation Home has you covered. The no-frills, stainless steel design is exactly like what your tacos are served in at your favorite restaurant. Whether breakfast tacos with scrambled eggs, lunch tacos of pork carnitas, or American-style ground beef and cheese for dinner, these taco holders are sleek, easy to clean, and make serving more fun. To keep your tacos warmer for longer, you can heat the racks directly in the oven or backyard BBQ, insert your favorite style of tortilla, and spoon in the ingredients, reducing serving time and creating presentation-ready meals for your family and party guests. Order Online.
Most Stylish
Funwares TriceraTaco Taco Holder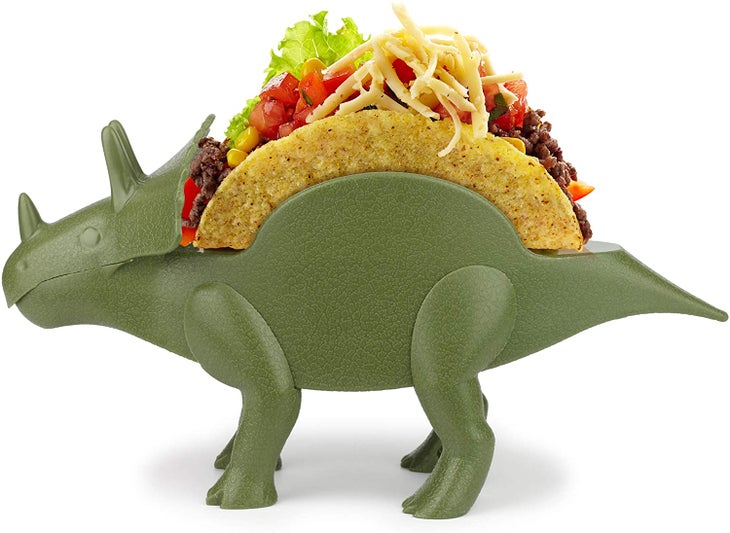 Ultimate Dinosaur Taco Stand. Taco meets dinosaur, need we say more? This taco holder is the ultimate dinner companion for kids and dinosaur-loving adults alike. A guaranteed conversation starter, the design holds two hardshell tacos and also comes in Tacosaurus Rex and Nachosaurus models in addition to the original TriceraTaco design.
What We Liked
Made of food-grade ABS plastic that's BPA-free and FDA-approved, this novelty dinosaur shaped taco holder makes a great gift. For picky eating children, the fun-factor of these dinosaur designs makes mealtime all the more desirable and fun. Plus, though intended for hard-shell tacos, the TriceraTaco, Tacosaurus and Nachosaurus are great for holding donuts, waffles, toast, sandwiches, and a variety of other snacks to give flair and bring a smile to whomever you're serving. Get It Here.