Finding the Best Grill Brush
When the weather starts getting nicer, many people start thinking about firing up the grill in anticipation of gatherings with friends and family. Whether you favor gas grills, charcoal, or another option, you'll need the proper grilling tools to keep it clean between or during uses. That means getting yourself a grill brush that is dependable and will last a whole season. You'll want one that is made of tough materials that will stand up to cooked-on food residue. A quality grill brush should be ergonomically designed, so you won't injure your hands while using it. You'll also want control and leverage as you clean every part of the cooking surface, and finally, you'll want to locate a grill brush that is the proper size and length to get the job done.
Heading out the door? Read this article on the new Outside+ app available now on iOS devices for members! Download the app.
Best Design
Weber 6494 12-Inch 3-Sided Grill Brush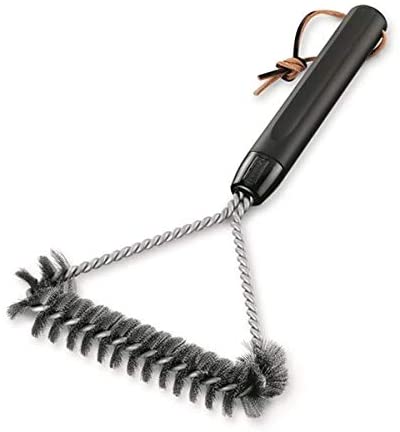 Grill Brush with Ergonomic Design. This grill brush, brought to you by Weber, takes a no-frills approach to cleaning grills of all varieties.
What We Liked
Weber brings you this three-sided brush that is suitable for use on all sorts of grills. It is ergonomically designed, with a molded handle that is comfortable in the hand and provides both leverage and superior control. It measures a full 12 inches long. The extra-wide brush head cleans surfaces quickly and efficiently, and the pair of shorter side areas can also be employed to clean cooking surface edges and dislodge debris that has fallen between grates. To top it off, the bristles are made of heat-resistant stainless steel, and they should not dislodge or come loose, even when applying pressure. Buy Online.
Longest Reach
Kona 360 Clean Grill Brush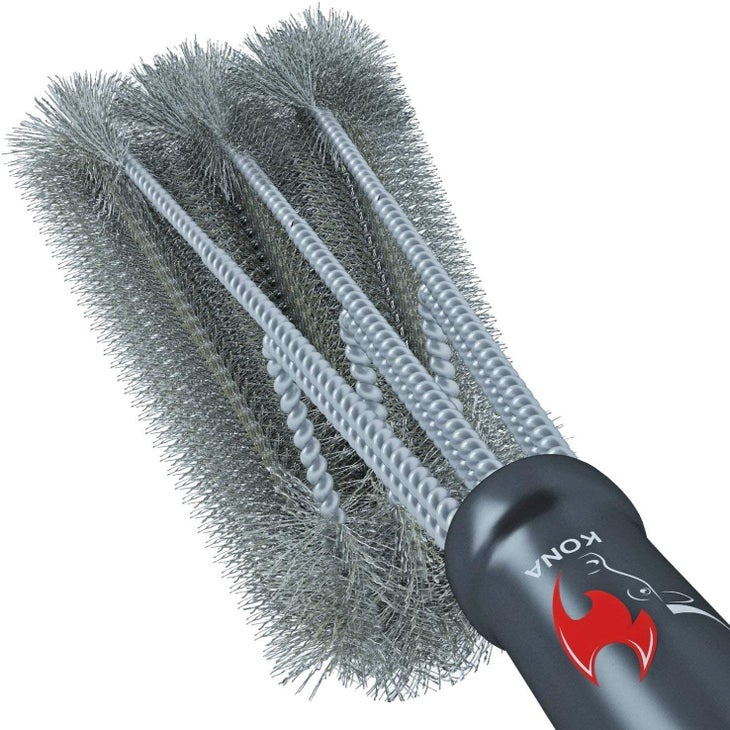 Brush for Any Grill Type. This three-in-one grill brush provides you with extra length to get those hard-to-reach areas.
What We Liked
The Kona 360 Clean Grill Brush can quickly remove burnt-on residue from virtually any style of grill. It works great on porcelain, ceramic, or char-broil cooking surfaces. The extra-wide, three-brush design lets you do the job much faster than with many other options on the market. For maximum performance, dip the brushes in water and use them on the grill as it is heating up. This brush is built to never bend or warp. Plus, the handle length is also a full 18 inches long, longer than many competing brushes, which will enable you to keep your hands and forearms away from the heated areas as you use it. Purchase Now.
Most Versatile
GRILLART Grill Brush and Scraper Best BBQ Brush for Grill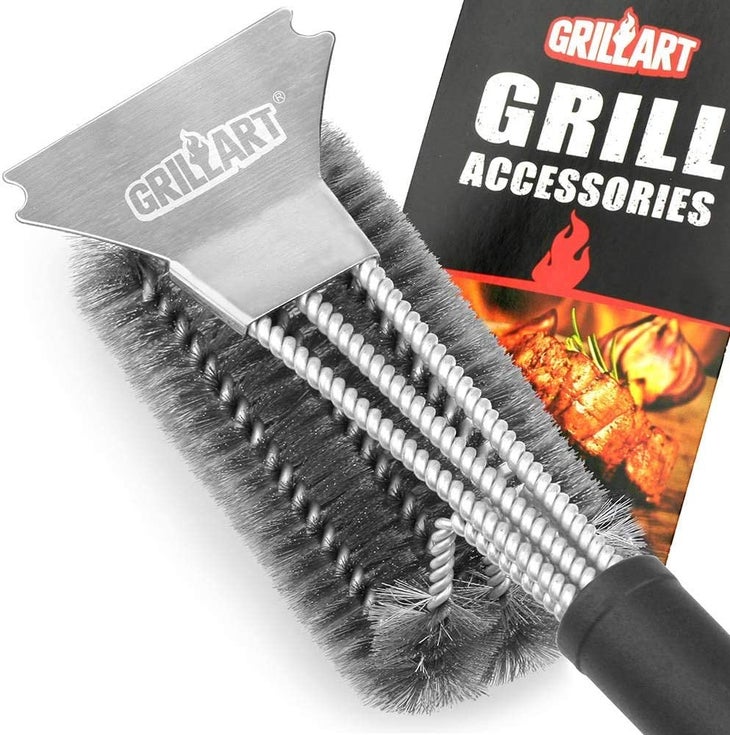 Heavy-Duty Grill Brush. This brush-and-scraper grill tool has a unique design that is sure to deep-clean the cooking surface every time you use it.
What We Liked
The GRILLART Grill Brush and Scraper is the perfect tool to do battle with stubborn stains or cooked-on residue. It has three brushes attached to one another, so you get more surface area for faster cleaning. The brushes on the side also provide 360 degree cleaning capabilities. The handle is a full 18 inches long, so your hands and forearms are safely kept away from the intense heat, and it's also angled so you don't need to apply very much pressure to get a strong scrape. This brush is suitable for use on smokers, porcelain, gas, charcoal, or infrared grills, making it an incredibly versatile tool. Order Yours Online.
Most Comfortable
Cuisinart CCB-5014 Grill Cleaning Brush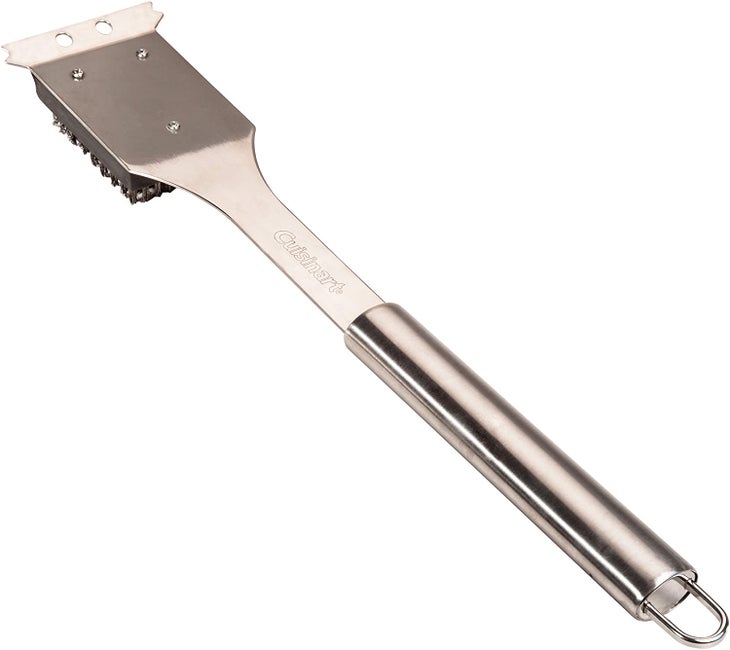 Grill Brush with Sensible Design. This grill cleaning brush offers a simple but effective design that provides both comfort and safety.
What We Liked
Even the most seasoned backyard grill masters will be pleased with the simple, elegant design of this brush. It measures 16.5 inches, so you can use it to safely reach all of the nooks and crevasses of the grill where stubborn grease or food residue clings. Both the brush and scraper are made of stainless steel that will never rust or tarnish. The wires are woven into rows of aluminum coils, and they will not break or come loose, even under intense pressure. Plus, the stainless steel handle provides comfort and durability. This grill brush is also easy to clean — just hot water and a sponge is all it takes to get it looking like new again. Click Here to Order.