Four of the Best Tea Kettles on the Market
When it comes to tea kettles, you have a lot of choices. Keep in mind, tea kettles aren't just for tea, and they are actually quite handy to have all year round. We searched wide and picked out some beauties in a range of prices and materials. We chose to bring you three stovetop models and one electric model. Compare weights, capacities, finishes, and material types to see which one will not only look great in your kitchen but will suit your hot beverage needs.
Photo: Getty Images/iStockphoto
Heading out the door? Read this article on the new Outside+ app available now on iOS devices for members! Download the app.
Most Convenient
COSORI Electric Gooseneck Kettle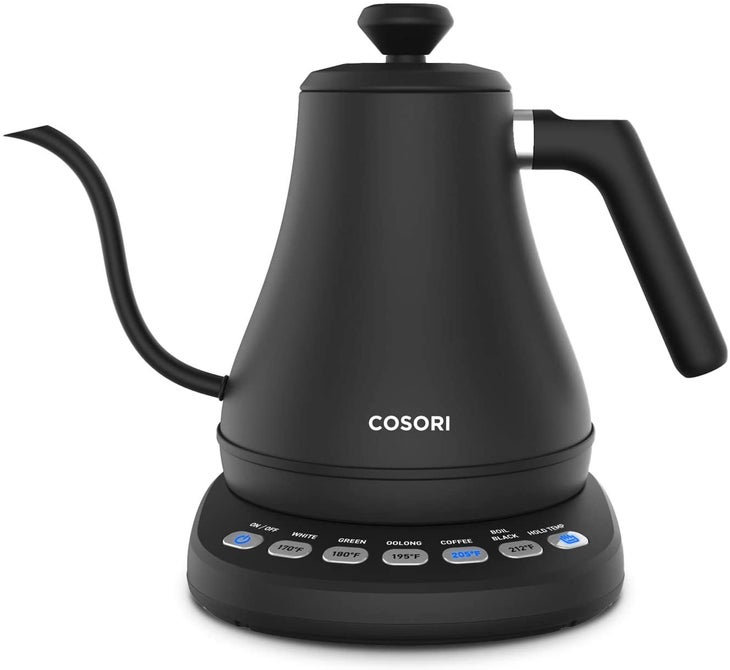 You're In Control. Five temperature presets, a warming function, and auto shut-off put you in control. Decide the temperature, whether or not you want an alarm, and whether or not to keep the water temperature consistent for the next 60 minutes. Cosori's Gooseneck Kettle offers full freedom!
What We Liked
You won't burn coffee or tea leaves with the Keep Warm function on this kettle. Set it and forget it for up to an hour. Want to know when the water is at the right temp? Just listen for the alarm. The counterbalanced handle and pour spout are smartly designed to give a slow, comfortable pour. But one of the best parts about this kettle is that it's made with food-grade stainless steel — no chemical or Teflon here. There's safety beyond the metal, too. British STRIX thermostat technology provides temperature control while the auto shut-off and boil-dry safety features protect you and your kettle. Three and a half minutes is all it takes to reward yourself. The Gooseneck runs off of 1200 watts and has a capacity of 0.85 quarts. Buy it here.
Most Durable
Willow & Everett Stainless Steel Stovetop Whistling Tea Pot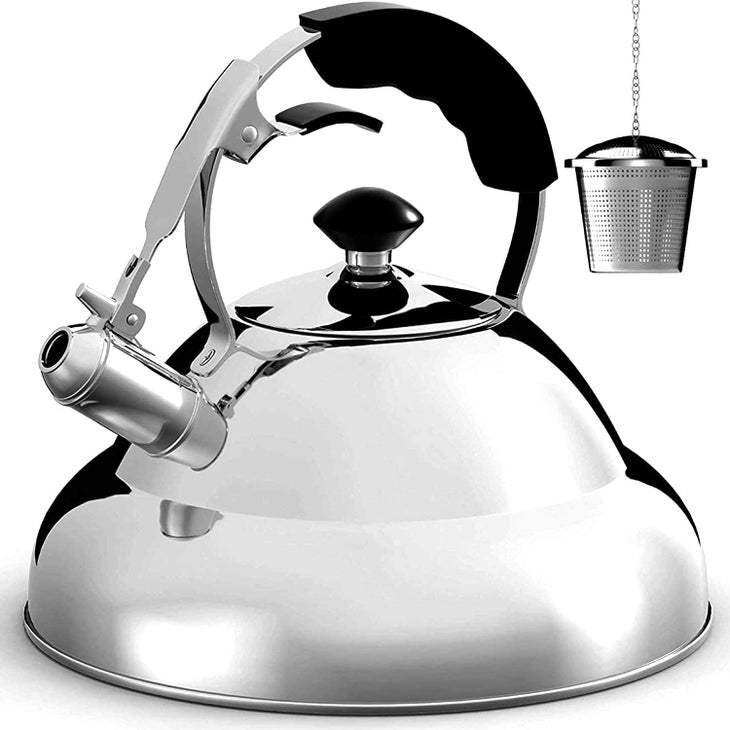 Strength From the Bottom Up. Two or three layers of metal may be enough for others, but Willow & Everett made this three-liter pot with five layers of iron, steel, and aluminum for its super-wide bottom. Heating is quick and even.
What We Liked
This whistling stovetop teapot is made from surgical grade stainless steel, aluminum, and iron. It'll stand up against rust, corrosion, dents, and scratches. It's also BPA-free for your health. The premium stainless steel infuser is perfect for a single cup of tea. Safety and comfort are provided with a spring-loaded spout lever and handle coated in a non-slip material that protects you from the heat. Weighing in at 3.85 pounds, this kettle holds more than double (three liters) than that of standard pots. From the moment you pick it up, you'll feel its quality and durability. Get it here.
Top Choice
Hiware Glass Teapot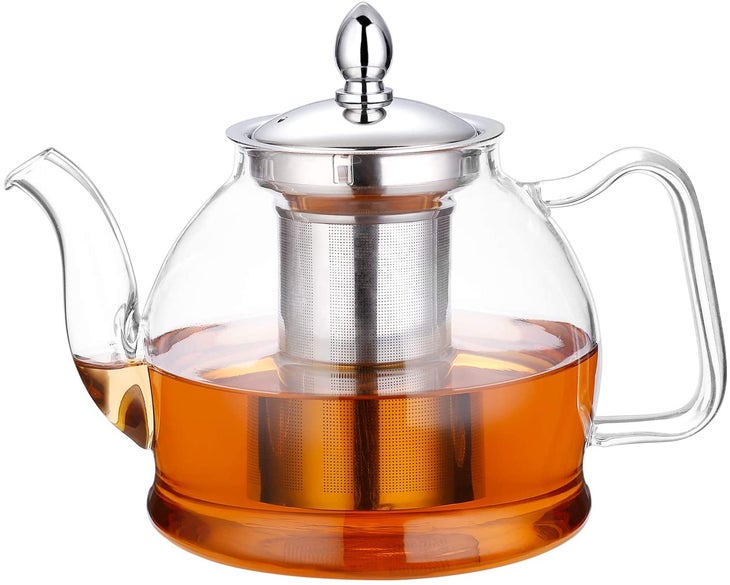 Tough and Attractive. Don't be fooled by the fine design of this elegant borosilicate glass.This kettle is thick and tough. Place it in the dishwasher, the microwave, or on any stovetop, and walk away without worry.
What We Liked
The Hiware teapot is constructed so you can take the metal parts off. In just a few seconds, you can pop it into the microwave for a quick warm-up. The ergonomic handle offers a sturdy grip, while the non-dripping spout makes stains a thing of the past. For easy cleanup, the high-grade 18/10 stainless steel mesh infuser is removable. It's lightweight at 1.21 pounds, and it has a one-liter capacity. Buy it now.
Most Classic Design
Mr. Coffee Carterton Whistling Tea Kettle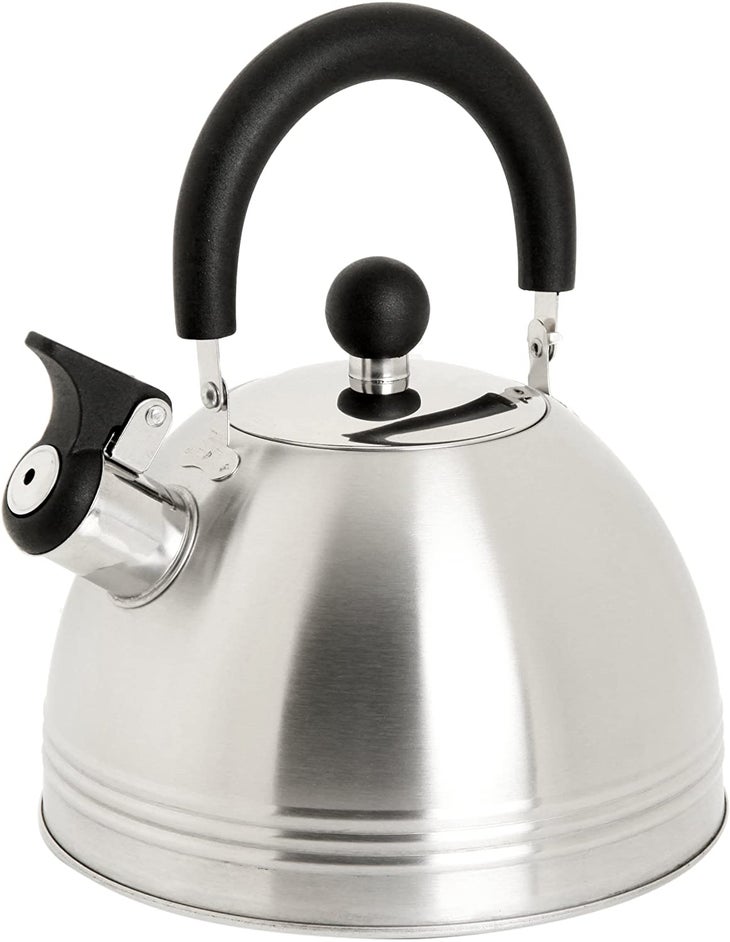 Timeless Look. No matter what your kitchen decor consists of, this tea kettle has a distinctive look that accents any stove or countertop.
What We Liked
Simple and practical, Mr. Coffee has produced a 1.5-quart, stainless steel, whistling tea kettle with a flip-up spout and safety trigger. While made in China, this kettle is designed and developed in California. This bargain kettle is available in three colors, holds 1.5 quarts, and weighs 1.17 pounds. It's a classic choice for those who like traditional, time-tested practicality. Get it now.